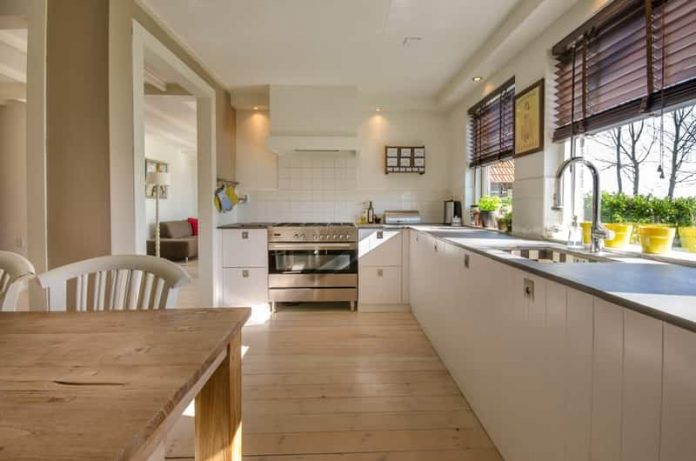 When it comes to home improvement in the busiest corners – you know, kitchens and bathrooms, it's hard to know where to start and what is worth investing in. Fortunately, interior designers have an idea of what these "hot" areas need for a change: a good selection of window treatments that mix gorgeous style with top functionality.
But there are so many types and trends for window coverings nowadays. Indeed, how can you make sure you invest in high-quality products that are practical and affordable while keeping a modern, fashionable vibe just like you want?
We spoke with Loganova Shades, a custom window treatment company designing their products in NY and handcrafting them in Toronto. We discovered six important keys to choosing the best shades for your kitchen or bathroom, which always need a bit more attention when remodeling.
The Best Kitchen Window Treatments: 3 Things to Consider
We all know that a lot happens in the kitchen: trying new recipes, playing with kids, enjoying intimate talks with your friends and, as always, cleaning up after to start over again! Since it can get messy around there you may want to look for highly durable, easy to clean, practical window treatments without leaving aside the style factor that brings greater vibes into the room!
Here are three things to consider when choosing your cool kitchen shades.
1. Easy to Clean Roman Shades in Splash Areas
The go-to choice for window treatments above the kitchen sink is the highly resistant, everyday use window covering. Think about all the stains, grease splatters and splashes that appear everywhere when prepping meals, washing dishes and getting busy around the sink.
A low maintenance window treatment made from faux linen fabric is ideal in this case. This type of hypoallergenic polyester fabric is specially designed to keep its high-quality look for a long time, no matter how many times you wash it. This modern type of covering is best suited for a busy kitchen because it isn't attacked by mold and doesn't retain moisture, which are risk factors in such a space. Choose a clean, chic Roman shade and add a splash of color to your kitchen. This Greek key design at the corners will add a subtle twist to a classic decor, among many designs and styles you can choose from.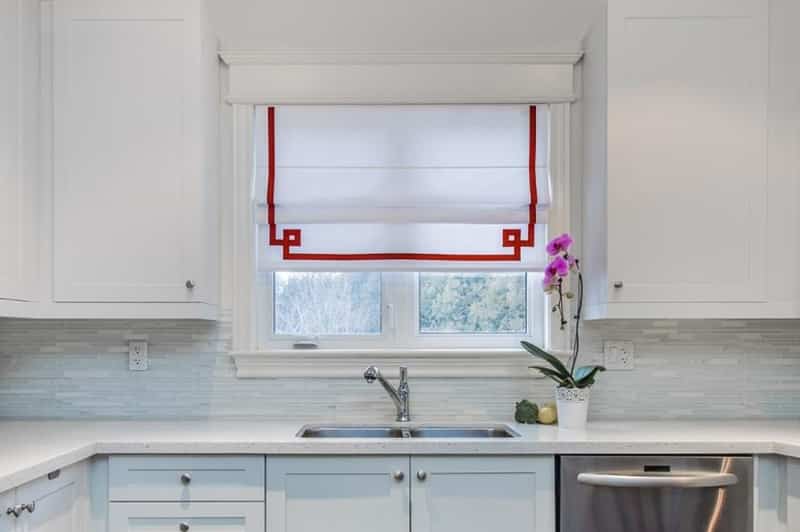 2. Blackout Window Treatments for Energy Efficiency
When we talk about smart home improvement, we also want to avoid unnecessary energy costs. Choosing a blackout window covering for your kitchen will prove extremely practical.
Not only does it offer you complete privacy and noise insulation, but a stylish blackout Roman shade helps you balance the room temperature while keeping away unwanted cold and heat. Saving money in the long term with a beautiful designer window treatment is definitely a winning choice!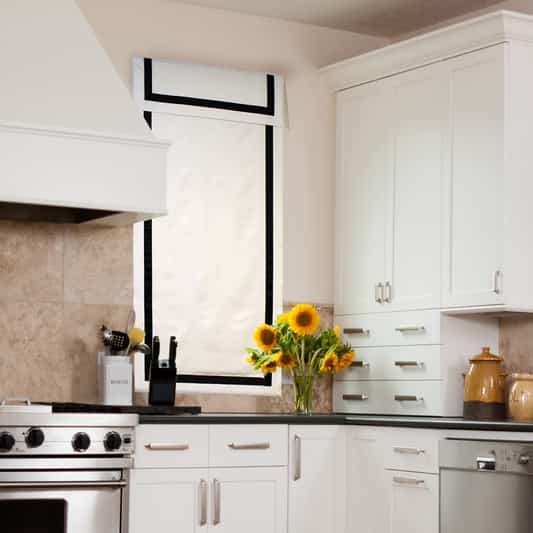 3. Modern Blinds are Resistant to Heat and Moisture
Another aspect you should consider when dressing up your kitchen windows is how resistant the chosen shades are to water and heat. Being prone to water splashes and high temperatures (especially when a window is close to the sink, the oven, or stove) a practical choice is a faux-linen window covering that keeps its gorgeous look no matter the challenge!
Speaking about gorgeous, you can enjoy your favorite kitchen blinds even when it comes to the most difficult window types (half-moon, arched, tall). "A custom Roman shade is always a good option for busy rooms because you can choose exactly what you need in terms of functionality and design. Plus, custom treatments are handcrafted from durable fabrics to the precise measurements of any window, and come in so many different patterns and styles", adds Loganova Shades.
From floral designs and bohemian types, to more colorful and sophisticated patterns, there's so much freedom for choosing what's both practical and fashionable for your kitchen.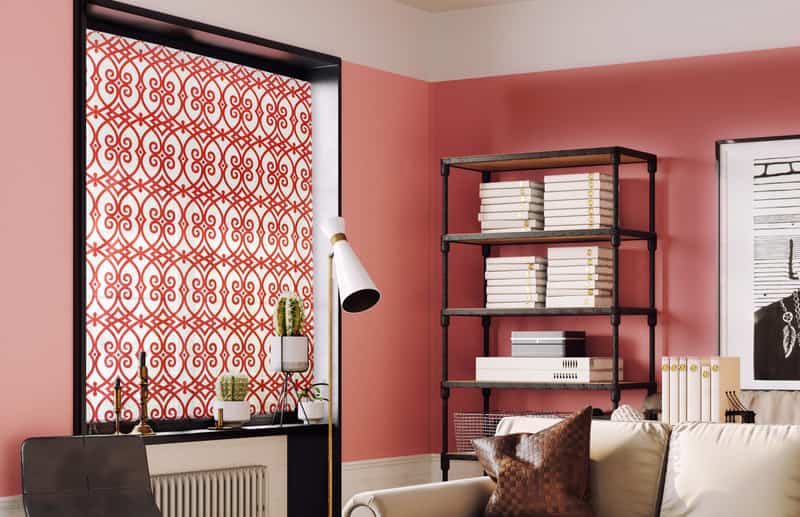 Top Bathroom Window Treatments: What Are the Most Suitable?
Another room that deserves particular window treatment attention is the bathroom. The best types of window dressings for this area are highly functional and can tackle heat, humidity, and moisture. Moreover, they should offer complete privacy, without overlooking the decorative aspect, which can make a space look airy, neat, or wider (if it's a tiny bathroom, for example).
1. Top-down Bottom-up Window Dressings for Privacy Control
When it comes to remodeling, it's important to make sure you'll have a relaxing and enjoyable time as much as possible without worrying about anything. In this case, how do you make sure you choose the right coverings?
Whether you love natural light or complete intimacy, a top-down bottom-up window treatment is definitely the go-to choice. This type offers you complete control over how much light gets in, due to its special mechanism that allows raising or lowering it, depending on your level of comfort.
Besides, you can choose a unique design to match your personality, from simple geometric motifs to luxurious patterns. Roman shades make any large bathroom look exquisite.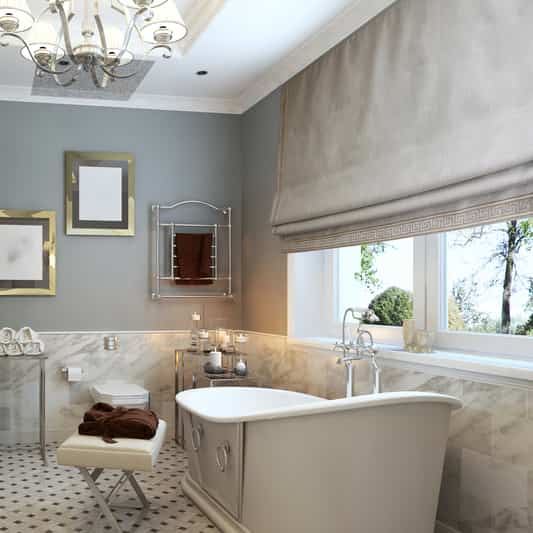 2. Waterproof Window Treatments for Hot or Humid Areas
If you want to make sure your investment is correct – especially when it comes to dressing up windows in a highly hot or humid bathroom – opt for a waterproof faux linen Roman shade.
This hypoallergenic fabric is the most recommended one for bathrooms – or any other humid room in the house – because moisture simply slides off. Also, it keeps looking great no matter how often you clean it. For a dramatic but contemporary visual effect, you can choose a custom black relaxed Roman shade with valance. Its super soft 3-layer blackout lining provides light control as well.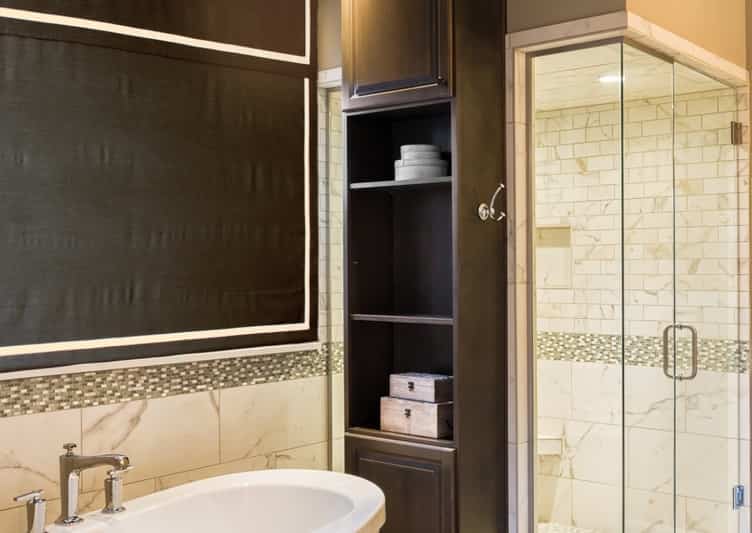 3. Highly Durable Bathroom Treatments with Dazzling Designs
If you love making bold statements, but don't know for sure how much freedom you have in choosing the bathroom design, you have nothing to worry about. From warm whites and beiges with splashes of color to opulent Greek-style patterns to neat, modern designs there is a dream window treatment style for each home decor and décorateur!
Just don't forget about mixing function and fashion when considering window coverings. In this case, choosing high-quality designer fabrics like polycotton, blackout linings that are highly durable for bathroom windows is a must. If you're at a loss of inspiration these days, check below the astonishing blue floral pattern Roman shade that goes perfectly with a well-deserved, relaxing bathing time.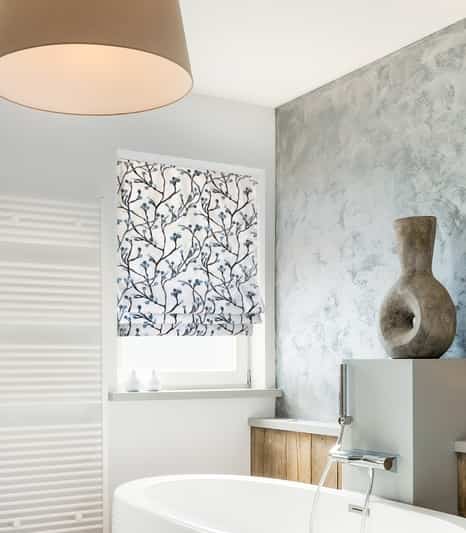 Are You Ready to Dress Up the "Hottest" Rooms in Your Home?
We hope these professional recommendations and practical tips will help you easily make the best choices when you are dressing up your bathroom or kitchen windows.

If you need more creative examples of modern window treatments, check out the Loganova collection and get inspiration to make your time spent at home as comfortable and joyful as possible!