Your home is your sanctuary. Your safe space.
After a bone-breaking day at work, it is the one place that brings utmost comfort to you.
To ensure that your house keeps on being as secure and comfortable as you would like it to be, it is essential to invest your time, money, and efforts in home improvement measures.
You are not the only homeowner choosing between various types of home improvements, ranging from renovation to repair. Instead, the industry is one of the most fast-growing sectors! According to Statista, In the US alone, it is predicted to account for over 464.5 billion dollars' worth of sales.
As per a research conducted by iProperty Management, 68 percent of USA consumers used home improvement websites for guidance while 57 percent of consumers finally gained enough purchasing power to invest in home improvements.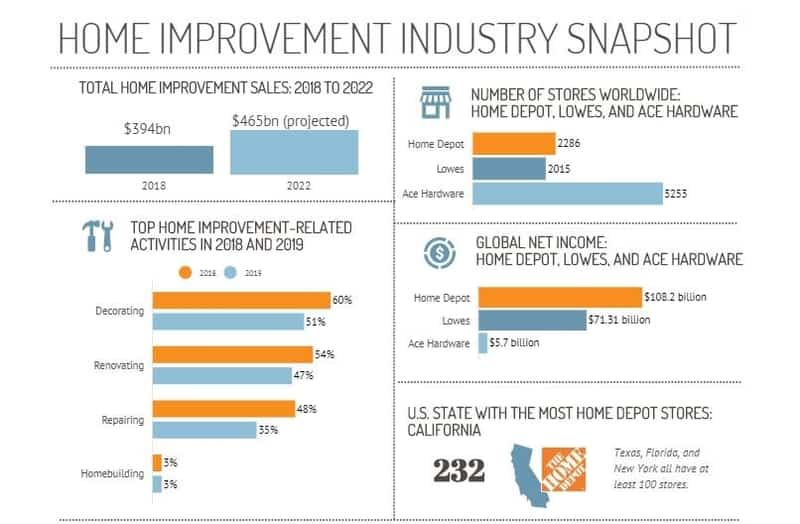 Since the home improvement industry is quite diverse and complicated, as a homeowner, it is easy to feel overwhelmed.
Don't worry! We are here to guide you through the entire process. Here are some home improvement tips you should consider whenever you wish to liven up your abode.
1. Think about what adds value to your house the most
One of the first things most homeowners do when they decide on a budget for home improvements is to make a list of all the things that are trending. Whether it be changing the entire living room furniture or refinishing all the hardwood floors, many let trends sway them into investing in aspects that their abodes don't require.
This is something you should strive to avoid at all costs!
Rather than dividing your budget on changes your house can do without, first take a step back and analyze what measures will add the most value to your home. Here, the amount signifies functional, aesthetic, and commercial appeal.
In other words, the home improvement steps you take should make your house more comfortable to live in, more visually pleasing for others and should amplify the price of your home in the market.
Want to find out how much your house is worth? The Property Buying Company can help you achieve a quick sale and free valuation.
2. Consider the urgency of each project
Some improvements are not just more expensive but also more time-consuming. Others might take less than a few minutes to complete. Usually, the first instinct is to focus on short-term projects while leaving the time-consuming ones for when you have free time on your hand.
However, rather than making your decision based on the time duration of each project, it is much better to look at the urgency of it.
For starters, let's say your roof starts leaking, and it require complete reconstruction. While this is a time-consuming process, if you ignore this issue, you will end up causing devastating damage to your precious abode.
Make sure to gauge the urgency of each repair and renovation and prioritize accordingly.
3. Ponder between doing it yourself or hiring a contractor
Some people have a creative bone in them, which allows them to redo the look of their entire house without any third-party help. This is especially true for painting the walls of different rooms. Some of the DIY projects done look exemplary.
There are various other types of home improvements that can be made by the homeowner. This can include small repairs like pipe leaks. To cut steel pipes for your project, you may need a pipe threading machine. However, various other types of home improvement measures cannot be done without professional help.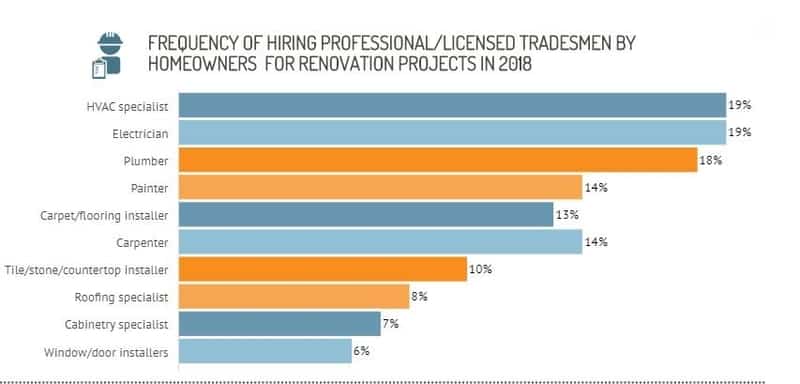 You must draw the line between what is possible and what is not. Know what your limits are and don't stretch your horizons too much. This is because unless you are good at them, certain repairs are best left for professionals. After all, the safety and beauty of your house depend on it.
4. Find inspiration
For homeowners, there can be no better platform than Pinterest! The site allows you to draw inspiration from different people and collectively build the look you want for each room of your house.
The smart idea is to look at references online for home renovations rather than going in blindly. This will reduce the risk. Think about it. The last thing any homeowner wishes to do is end up investing in home décor that you don't even like when it is finished!
At the same time, don't take trends to heart. Only utilize those who will bring value to you. For example, filing cabinets tend to be excellent for storage needs. This is one trend that has great utility and hence should be adopted.
The idea is to take inspiration from different sources and then analyze each idea. Implement those which work best for you.
5. Choose your contractor carefully
At the end of the day, if homeowners don't hire the right contractor, it doesn't matter what home improvement measures you choose. All you are required to do is go online and read some of the horror stories narrated by homeowners who had to suffer due to scams by amateur contractors.
You will learn one major lesson via it all- never settle for a contractor solely based on the price they charge. Trying to save a few bucks here will end up costing you thousands of dollars as you redo your entire house!
Hence, make sure that you select your contractor very carefully. Ask around in your friend circle. Read reviews of potential contractors online. Look at their portfolios. Once each of these boxes ticks, you can then focus on the budget.
Understandably, not everyone can afford to spend thousands of dollars on home improvements. Cost is an important metric. Here too, you must strike the right balance. Set the right budget, and you will surely find a contractor that matches your requirements.
Verdict
These five home improvement tips can end up making all the difference to your house. Your abode is your sanctuary. Treat it like one by periodically investing in it! This way, your home will always remain as safe and comfortable as you want it to.