We live in a fast-paced world. Times are stressful and erratic. There are deadlines to meet and responsibilities to address.
Even when we are not working, our minds are continually functioning. Stress relief is essential to ensure that you do not lose your soul amidst the chaos. However, as times get tougher, finding tranquility can be quite a challenge.
Your home is your place of comfort and peace. If you have a hectic routine, there is one way to ensure relaxation, and that is by turning your abode into a peaceful haven. Interior design focuses on beautifying spaces while utilizing them in the best way possible.
You may also like this article "Hiring an Interior Designer"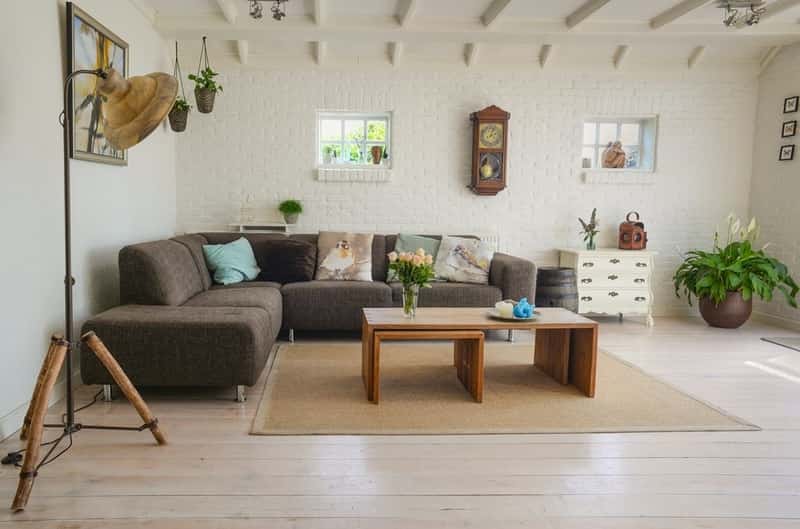 Zen means meditation. In the world of interior design, it means relaxation, harmony, and balance. Zen principles are an integral part of interior design study. The concept behind it is to stimulate creativity and curating a space that channels peace and harmony into your life. Not so surprisingly enough, Zen interior design models are an up and coming trend as life continues to become more stringent.
If you are wondering what Zen interior design looks like, there are no special rules to it. This area of interior design bases itself on minimalism, simplicity, and purity. It is not about design as much as it is about placement and creating a stress-releasing atmosphere.
Are you looking to amp up the tranquility in your humble abode? Here are ten ways to feng shui your personal space.
1) Earthy Tones
Nature always incites a feeling of peace and tranquil. The moment you step outside in an open space and find yourself surrounded by colors, scents, and sights. Similarly, to mimic that concept, to create a more peaceful interior, we recommend you opt for soft natural hues for your space. Soft hues have been studied to induce calmness and relaxation. Colors like white, beige, grey, and pale pink are some of the best and most versatile picks.
It is not just about what colors you choose. You must also be mindful of perfecting chromatic harmony between the elements of your room. Everything must complement one another. To establish contrast, you need a dominant hue to contrast the primary color palette. Not only does it add contour to an otherwise blank canvas, but it also breathes life into it.
2) Plant Soft Steps
Hard floors exude an energetic vibe. They are polished and professional. To give your home a more comfortable and homely aura, you should opt for flooring that is softer and more inviting.
Wooden flooring is a tried and tested winner. It is less intimidating and gives off a rustic vibe. You can switch up their colors to match the room's aesthetic.
Aside from wooden flooring, resin floor finishing is also highly recommended. Some believe that an open floor can also be quite dull and sullen. For additional accents, look into carpets and rugs. Woolen carpets feel supremely lux and comfortable.
3) Light and Natural Fabrics
Your fabric choices should fall in line with your color choices. Keep it light, comfortable, and natural. Curtains are a significant component of any living space. They are essential for light-blocking, noise cancellation, drafts, as well as privacy.
Your curtains deserve a considerable amount of thought. We advise opting for natural fabrics like wool, linen, or cotton. Make sure to keep their color tones breezy and straightforward.
Apart from the colors, be mindful of the print. For a minimalistic outlook, it is best to stick to a plain canvas. There is nothing quite like a monochromatic curtain. However, if you enjoy prints, steer clear of loud and bold prints. Play with pastels and pure hues instead.
4) Opulent and Natural Lighting
Lights can make or break the outlook of your home. Bright fluorescent lights can disrupt the calm of your home with their harshness.
To create your own tranquil space, the lighting of your home should be diffused, opulent, and soft. Controlled lighting systems work best in such cases as they allow you to control light intensity. While an intense ceiling light works best in the workplace, at home, we advise you to opt for a mix of lamps, natural light, candles, wall-mounted reading lights, and more.
5) Sleek Furniture
Sleek furniture embraces simplicity. There are no complicated details, ornamentations, or excess detailing. Instead, it reflects purity by keeping it classy, warm, and elegant. If you look into luxury home furnishings, you will notice that they are all making a shift toward simpler and sleeker aesthetics. Opt for high-quality pieces that are made with natural materials. You can switch up the color tones depending on your personal preference, so it ties well with the overall aesthetic of the room.
In addition to the design and color of your furniture, you must also work with its placement to make sure you achieve your goal. For the best natural light, place your bed near a natural source like a window. The height of your bed does not matter, but experts say higher beds exude a more comforting aura. Upholstered leather and patchwork headboards are more popular for the same reason.
Add elements to your living space that are warm and relaxing like an armchair or recliner, fleeced and woolen covers, cushions, books, mini plants, etc.
6) Minimal Decorations
Your home must be a space that makes you feel stress-free. It enables you to clear your mind and think freely. For that reason, experts advise that you keep your décor as minimal as possible. Wall décor should be simple and clean. Avoid plastering your walls with an excess of memoirs or paintings and instead focus on creating a simple palette. Reduce ornaments to the max and remember to keep is clean.
7) Natural Scents
Similar to the sight and sound of nature, the smell of nature induces a natural calm in you. To create a perfectly calm and serene interior, you need natural scents. Invest in a humidifier that you can use to diffuse natural scents in your home. Essential oils are tried and tested winners.
Additionally, soy or beeswax candles are great too. For a real nature-inspired feel, home plants give your home a fresh and relaxing scent as well. Pick your favorites.
8) Reduced Electronic Disturbance
Electrical devices, as essential as they are, can quite stress-inducing. We are surrounded by sounds all day. On the road, you hear cars honking. At work, you have phones ringing. The sound of electrical devices can be very distracting and, therefore, does not vibe well with a tranquil setup. Minimize electrical device derived sounds. Place your devices in a relatively discrete place, so the sound does not travel.
9) Indoor Plants
Green is a color that breathes life into a dull interior. Indoor plants are the best way to introduce green elements into your décor without worrying about it clashing with anything else.
Not only are plants beautiful for your interior, but they are excellent from a health point of view as they give you oxygen keeping the air in your home fresh. Other options include bonsai trees, aloe plants, cactuses, and orchids.
If you are into growing your herbs, consider growing them in potted plants for fresh herbs. Your home should rejuvenate you. What could be a better way to rejuvenate your mind and body than with plants?
10) Declutter
Perhaps, the most critical part of creating a tranquil living space is decluttering the mess. The mess is overwhelming and stressful to deal with. The lesser the mess, the lesser is your stress.
Clear your room of items that are of no use to you. They are only occupying space that you can utilize for something much more important. Stick to the essentials and introduce comforting new accents. Make sure not to get carried away because the essence of curating a serene space is keeping it simple.
– Parting Thoughts
Your home should be your sanctuary. Everyone has a different definition of peace. While some of us may find comfort in some things, others may find happiness in others. Regardless of your inclination, it is vital to create a happy place that relieves you of your worries at the end of the day.
If you cannot implement the change in your entire house, start with your room. Our advice is to keep it simple. The rest is up to you. The sky is the limit. Learn to make it your own.