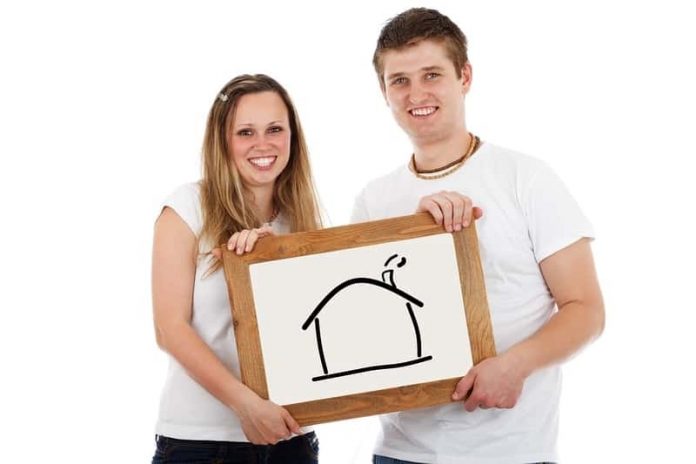 Autumn is typically the second-best time of year for home sales, so you want to make sure you bring your A-game this fall. Everyone loves to sell their home fast, and autumn selling is no exception, given the holidays looming in the background. These 6 DIY projects will help your home sale this fall so you can deck the halls in a new abode.
1. Clear and cut
Never underestimate the value of curb appeal. With potential buyers scrolling through photos online, helping them narrow down their choices, you need to make sure your home is photo-ready when it's time to list and looking amazing when it's time to show.
Some of the most inexpensive DIY projects fall under landscaping and can be completed with a little extra time and elbow grease. With summer flowers fading, beds can go from vibrant to pathetic overnight. Clear out dead leaves and blooms and refresh the mulch in your flower beds. Take the time to rake — or blow — dead leaves from the lawn and ensure that the grass manicured. If you have hedges around your home, make sure any overgrowth is trimmed and that they're looking neatly groomed.
2. Stay mum
You don't want your home to have a quiet presence in fall, so you should spruce up your home's exterior with the fall plant de jour: chrysanthemums. Frame your front entrance with potted mums, or replace your summer beds with mums in beautiful fall colors. If chrysanthemums aren't your thing, consider using marigolds to give your home's exterior a pop of color and added curb appeal.
3. Go out of your gourd
Yep. Even if you're not one to decorate your home's exterior according to the season, step outside of your comfort zone and decorate your front entrance or other focal points of your home's exterior with gourds. Fall is a beautiful time of year, and incorporating the warm seasonal colors make your home seem warm and welcoming to prospective buyers. These days you can find an interesting assortment of pumpkins in unique shapes and colors, so there's something even for people who aren't fans of the traditional orange carving or field pumpkins.
You may also like "Simple And Best Interior Decorating Secrets"
4. Update where you can
Trends come and go, and there is a slew of home decor trends to avoid when selling. That accent wall that was hot five years ago isn't appealing anymore. As a side note: I once looked at a home where the owner had a bright magenta accent wall for a piece of artwork. The wall was visible as soon as you walked in the door and I was distracted for the entire walkthrough. All I could think about was that the owner would be taking their painting with them when they moved and I would be left trying to cover up the hideous wall with coat after coat of paint. I ended-up crossing that home off of my list while I was still inside. Do yourself a favor and give that accent wall a nice coat of neutral paint.
If you don't want to tolerate bulky, obsolete, and almost non-functioning fixtures, you can make your life easier and more efficient by upgrading your bathroom fixture to a sanicompact upflush one. This is a great upgrade that you and your loved ones will enjoy.
Take a look around your home and refresh anything that is outdated. Those brass fixtures that were all the rage? It's time to swap them out with a more neutral and modern version. Try toning down a bold bathroom with neutrals and consider swapping out your Edison bulb lamps with more traditional fixtures.
5. Hearth and home
Those chilly days in fall are the perfect time to get cozy around the fireplace. While you may not use your fireplace, your potential buyers may consider the fireplace a standout feature. Make sure your hearth is cleared of any accumulated dust and debris, and consider adding a decorative touch to it if you don't regularly use it, or simply stacking logs to create the feel. Whatever you do, make sure your fireplace looks clean and tidy.
If you do use your fireplace, consider having a fire blazing for walkthroughs. There's nothing greater than a fire on a chilly, rainy fall day, and keeping the home fire burning creates a cozy feel and allows prospective buyers to envision themselves at home in your home. As an added bonus, have your chimney inspected — and cleaned — before listing your house on the market so that your agent can let potential buyers know that it's ready for them to use upon move-in.
6. Just do it
That home improvement project you've been putting off for years? Now is the time to tackle it. Get any outstanding projects or fixes completed before listing your home to increase offers and decrease the amount of time your house spends on the market. If your baseboards need to be cleaned or painted, take care of the detail work now. Overdue for a fresh coat of paint on the walls? Take care of it. Putting off decluttering? You don't have time to waste and prospective buyers want to be able to clearly see the space they're considering, as well as the possible storage options.
While your weekends may have just gotten busier, and your to-do list is even longer than before, you'll be happy when your home sells this fall. And when you find yourself becoming overwhelmed, just think of how great you'll feel signing the documents when you close on your home sale!