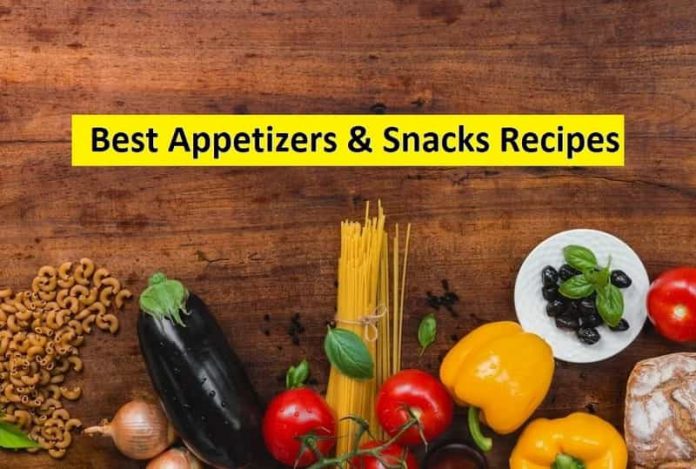 The recipes are easy to prepare so you can enjoy more time with your guests.
Full Recipes: https://cook.me
1. The Best Salmon Deviled Eggs
Stop what you're doing right now. I'm about to share the recipe for The Best Salmon Deviled Eggs. These delicious appetizers will go down a treat at your next party. If you're not a fan of salmon, feel free to use something else like chicken fillet, ham, cheese, mushrooms, caviar or tinned fish.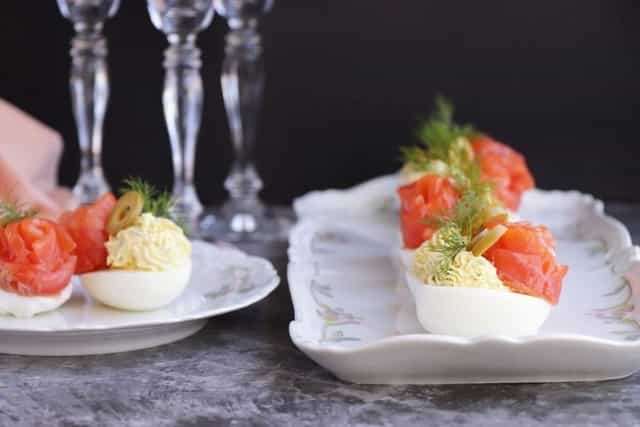 Ingredients for Salmon Deviled Eggs:
200 g light-salted Salmon
4 Eggs
3-4 Olives
1-2 tbsp Yogurt
Dill, to taste
Salt, to taste
Black pepper, to taste
2. Stilton Stuffed Dates Wrapped in Pancetta
These Stilton Stuffed Dates Wrapped in Pancetta are perfect for parties! Who wants to see an appetizer a little less carby and a little more quick and easy to prepare with only three main ingredients? Yes, please! So be ready for our magical party appetizer that disappears in minutes.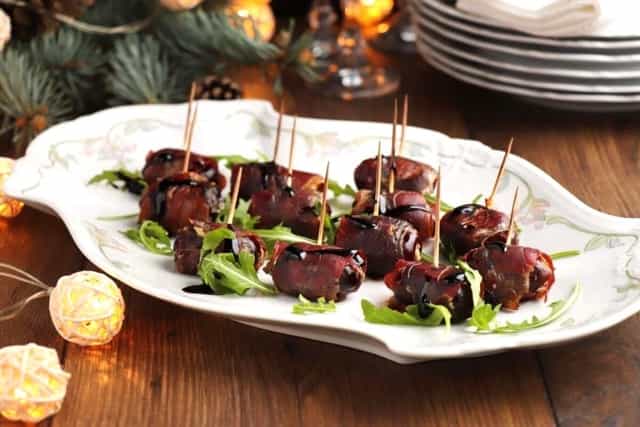 Ingredients for Stilton Stuffed Dates Wrapped in Pancetta:
12 Medjool dates
2 oz Blue Stilton Cheese
6 rashers Pancetta
1 tbsp Balsamic glaze
3 tbsp Arugula
3. Pizza-Stuffed Mushrooms
Pizza-Stuffed Mushrooms are a super delicious and healthy holiday appetizer to serve at one of your festive gatherings this year! All the flavor of pizza in each but none of the carbs! Make sure you add these tasty mushrooms to your New Year's recipes!
To make these mushrooms, start by filling each mushroom one with marinara sauce.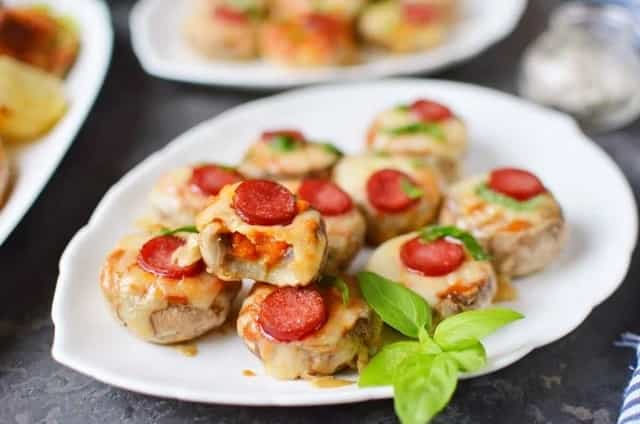 Ingredients for Pizza-Stuffed Mushrooms:
20 Mushroom caps
1 jar Marinara sauce
100 g Mozzarella
1 package mini Pepperoni
1 tbsp Basil
4. Shrimp and Goat Cheese Tarts
I think the thing I love most about these scrumptious Shrimp and Goat Cheese Tarts are not just their 'out of this world' flavor but the fact that in just 25 minutes I can feed 10 people, if not more! That is why this recipe is a great choice for when you're hosting bigger parties with lots of hungry bellies.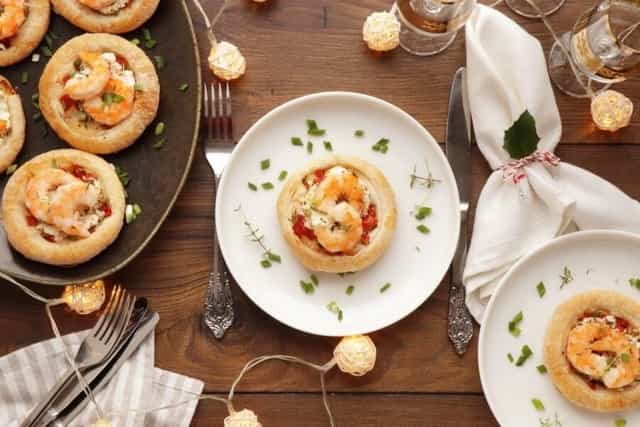 Ingredients for Shrimp and Goat Cheese Tarts:
2 sheets (1 package) Frozen puff pastry
4 ounces Goat Cheese
1 cup Cherry tomatoes
½ tbsp Fresh thyme
20 Shrimp
½ cup Green onion
5. Baked Biscuit Wreath Dip
This Baked Biscuit Wreath Dip recipe is a super impressive holiday appetizer which you can add to your New Year's recipes this year. So simple because you can use refrigerated biscuits such as Pillsbury. The dip is cheesy and creamy and perfect for the holiday season.
To make this wreath dip, cut each of the biscuits in half and flatten them out. Roll each one into a ball and place on an oven-proof skillet and arrange in a ring around the edge.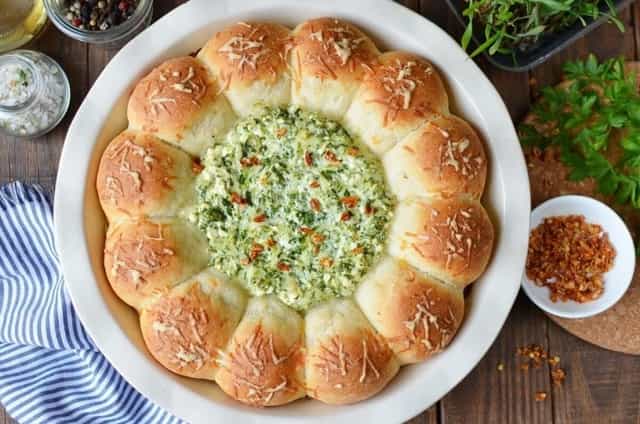 Ingredients for Baked Biscuit Wreath Dip:
1 can Refrigerated biscuits
Extra virgin olive oil, for brushing biscuits
½ cup plus 1 tbsp Parmesan cheese
2 cups Mozzarella
1 cup Ricotta cheese
¾ cup Spinach
¼ cup Mayonnaise
2 tsp Garlic powder
1 tsp Kosher Salt
FOR GARNISH: Red pepper flakes
6. Sweet Potato Rounds with Herbed Ricotta
These Sweet Potato Rounds with Herbed Ricotta, Cranberries and Walnuts are a fantastic healthy holiday appetizer. They are a perfect recipe for any vegetarian guests who you are feeding this festive season! They are a great party snack to try this year too.
Start by making the herbed ricotta. Place the sweet potato slices in a large mixing bowl and drizzle with oil. Sprinkle with sea salt and ground cinnamon.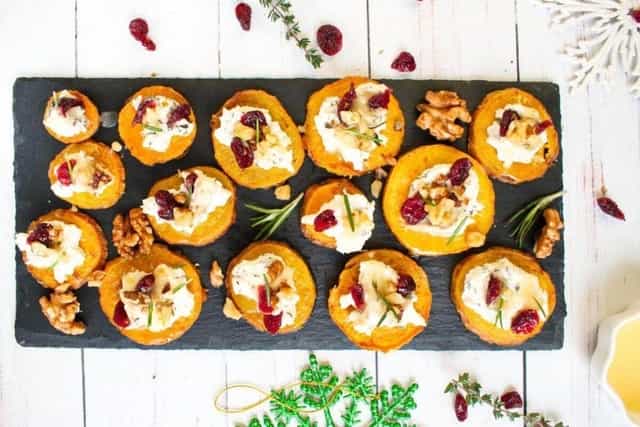 Ingredients for Sweet Potato Rounds with Herbed Ricotta:
1 lb Sweet potatoes
1 tbsp Olive oil
1 pinch Cinnamon
FOR HERBED RICOTTA:
1 cup Ricotta cheese
1 tsp Rosemary
1 tsp Basil
1 tsp Honey
1/8 tsp Sea salt
FOR SERVING:
1 cup Walnuts
¾ cup Cranberries
Honey
7. Gruyere, Mushroom & Caramelized Onion Bites
These Gruyere, Mushroom & Caramelized Onion Bites make a delicious Christmas side dish or they are perfect to serve as a canapé at any party you might be hosting this year. This is right at the top of my list of favorite Christmas side dish recipes. Everyone in my family adores these tasty little bites. You can also add caramel popcorn as an add-on.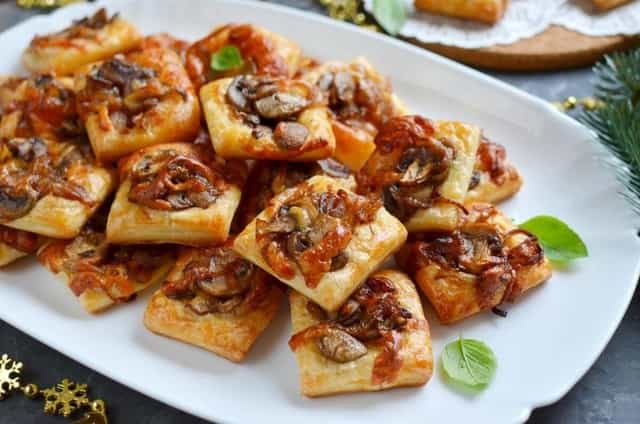 Ingredients for Gruyere, Mushroom & Caramelized Onion Bites:
4 tbsp Salted butter
2 tbsp Vegetable oil
5-6 oz Button mushrooms
2 Yellow onions
¼ tsp Dried thyme
1 tbsp Sugar
1½ tbsp Balsamic vinegar
¼ tsp Garlic powder
Salt
Black pepper
4 oz Gruyère cheese
1 package (1 lb) Frozen puff pastry
1 Egg
8. Lemon Beet Hummus
This easy Lemon Beet Hummus is extremely good for health. High in fiber and packed with protein, it is also a rich source of minerals and vitamins. Make this effortless, healthy and delicious recipe and take your hummus up a notch with steamed beets, cumin, and garlic. It's not only tasty, but it also has beautiful vibrant color!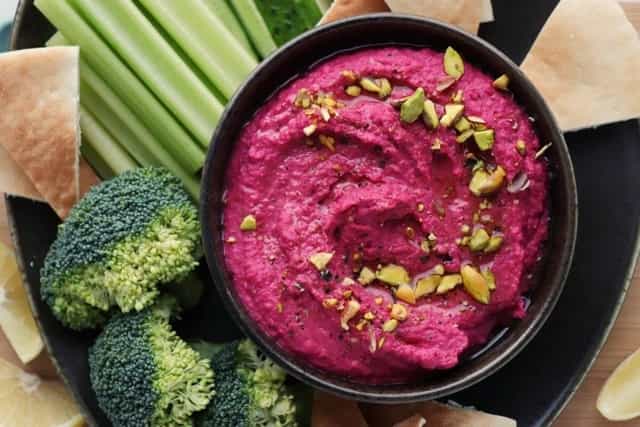 Ingredients for Lemon Beet Hummus:
8 oz Beets, steamed and peeled
1 (15-oz can) Garbanzo beans
¼ cup Tahini
1 Lemon
2 Garlic clove
2 tbsp Parsley
½ tsp Cumin
1 tsp Kosher Salt
¼ cup Olive oil
OPTIONAL
2 tbsp Pistachio nuts
2 tbsp Olive oil
9. Greek Nachos
My Greek Nachos recipe is inspired by my travels in Greece. I fell in love with Greek food and flavor combinations when I was there. Fresh salads with tomatoes, olives and feta. Sprinkled with the freshest oregano, mint and olive oil with a slight hint of spice. Invariably, our meals there featured the most famous Greek ingredient in some form: feta cheese.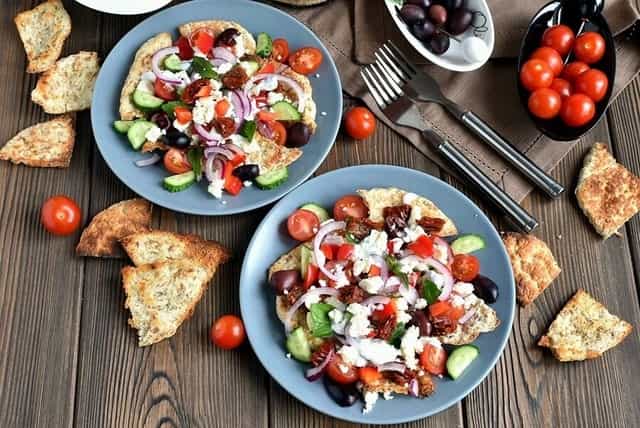 Ingredients for Greek Nachos:
FOR THE PITA CHIPS:
8 Whole-wheat pitas
to taste Olive oil
to taste Salt
FOR THE MINT SAUCE:
6 oz Greek yogurt
2 tsp Lemon juice
1 tbsp Fresh mint
1 ½ tsp Olive oil
TOPPINGS:
1 Red bell pepper
¼ cup Sun-dried tomatoes
½ Red onion
½ Cucumber
½ cup Cherry tomatoes
½ cup Kalamata olives
½ cup Feta cheese
10. Pigs in a Blanket
When I was a child, I found the name Pigs In A Blanket hilarious as I would picture cute little pigs wrapped in fluffy blankets! Little did I know that these pork snacks would become one of my favorite party foods when I grew up! I make batches of these every time I have a party and there is never even one left at the end.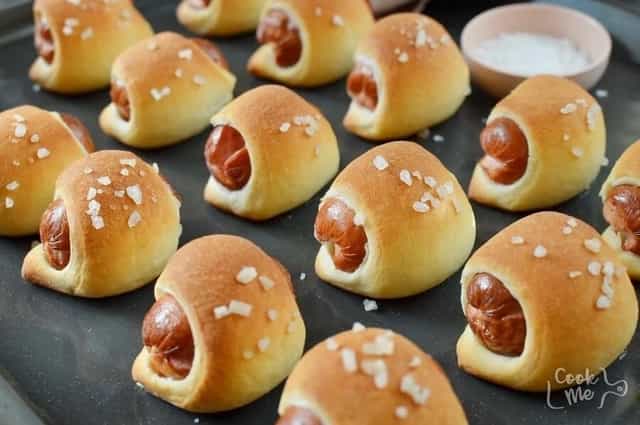 Ingredients for Pigs in a Blanket:
1 (8 oz) tube Crescent rolls
1 (12 oz) package Cocktail weiners
4 tbsp Butter
Coarse salt