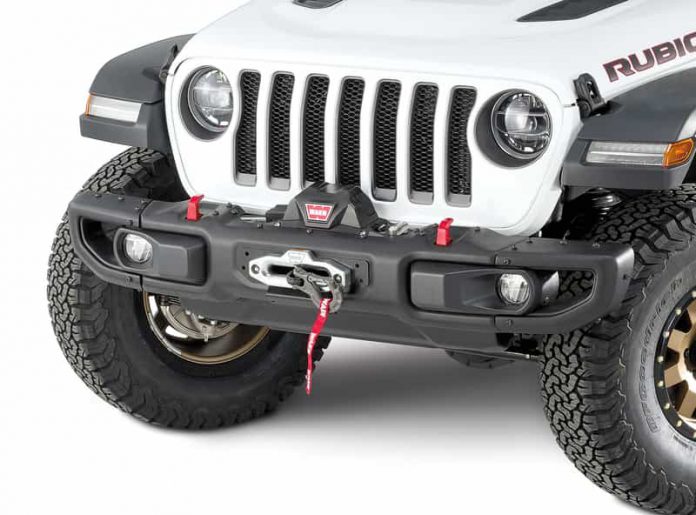 A Jeep winch is one of the most useful accessories if you are serious about heading off-road. They can be used to help recover your vehicle from a tough spot by attaching the winch to an anchor point. Better yet, they can be used to help your friends recover (thus earning you bragging rights). Winches are also immensely practical if you use your Jeep for any manual work. However, you may be a little overwhelmed by the number of choices.
Selecting the Right Winch
There are two major things to consider when selecting a winch: its capacity and physical size. The former is the amount of load that the winch can handle. The latter is the actual size of the equipment. Unsurprisingly, these tend to be correlated. However, there are some surprisingly small but powerful winches and vice versa.
If you want to find the right size winch for your needs, you will need to balance both the capacity and physical size. Plus, you may want to think about other factors such as motor type, cable material and looks.
Capacity
Capacity for winches is measured in weight. You can think of it a lot like calculating the necessary towing capacity of a vehicle. Think about how you will use your winch. Will it just be for recovery situations? Do you plan to use it for any work or other functional purposes?
Typically, a good rule of thumb is to double the weight of your vehicle. The curb weight of a JL Wrangler (Rubicon Unlimited) is 4,439 pounds. So, you would want to get a winch with at least 9,000 pounds of capacity. This is a fairly modest number, so you will be able to find lots of options at this capacity.
If you are unsure, it is usually best to get a higher capacity. Of course, this usually costs more. So, balance your capacity needs against your budget.
Physical Size
Next, you will need to consider the actual size of the winch. Frankly, this is largely up to personal preference. Bigger winches are less wieldy and can get in the way on the trail sometimes. Remember, everything needs to be considered as a cumulative package. Once you start adding Jeep fender flares, accessories and more, you can end up with a big package. This can make it difficult to fit through tight spaces.
The most important considerations when you are on the trail are your approach angle. This is the maximum angle between your front wheels and the front of your vehicle. The more length you add to the front of the vehicle, the lower your maximum approach angle will be. So, getting a low-profile winch may be worthwhile.
Order Your Winch Today
With the right winch, you can be ready to take on the most challenging obstacles on the trail. Plus, it will add to the awesome aesthetics of your vehicle. With a great Jeep wheel and tire combo, winch and a few other upgrades, you will be ready to go. So, explore some of your winch options and place an order today.