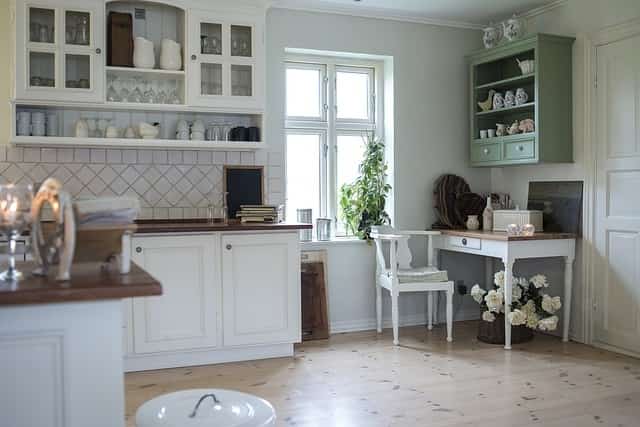 Who among us couldn't benefit from more space in our home? Whether you have a smaller home and need clever solutions to maximize space, or you can't help accumulating more stuff despite the growing piles, we're here to help you stay organized.
We have solutions for DIYers and for those who prefer to leave it to the professionals; for people who just need some extra space to those who need to stack their possessions high. Read on to learn how you can make more space in your home without adding more square footage.
1. Add Shelving to Existing Storage
This one's easy and affordable enough for anyone. Landlords are especially fond on this one, says Sun Pro Realty & Management. Have you ever noticed how some of your existing cabinets or the shelves in your pantry leave a lot of unused headroom? By making a few simple measurements, you can buy and install simple shelving in your existing storage spaces to give you more room.
This is particularly useful for spice cabinets, where most of the bottles are very short, or in the pantry when you want some shelves for cans and others for boxes of cereal.
2. Cupboard and Pantry Door Storage
After installing the additional shelving, you may notice that the doors of some of your shelves or pantry provide free real estate. Some clever ideas include putting hooks or magnets on the insides of cupboard doors to hang items like measuring spoons. Those big door hangers usually reserved for shoes are perfect for the insides of pantries and can hold and organize everything from plastic bags to snacks.
3. Portable Pantry
We promise this is the last pantry-inspired tip, but this one is too good not to include. If your kitchen is too cozy to include a full pantry or enough cabinet space, you have the option to commission or create a roll-out pantry to fit neatly beside your refrigerator when not in use. Even if you have plenty of room in your kitchen, investigate getting an additional portable pantry to increase your organization and impress your friends.
4. Valet Storage
For those of you who have struggled with public storage options in the past, valet storage is about to change your life. Instead of the typical solution, which is entrusting your things to a cramped room on a big lot where you must go to in order to take inventory or move your things, valet storage services come to your home and ship your items to a warehouse for safe keeping.
Once there, you can monitor your inventory online and order your items to be brought back to your home whenever you want. It gives you full control of your items without the hassle of transporting your items yourself or trying to remember what's stored where.
5. Raise the Bed
If you're sleeping on a low bed or one without drawer's underneath, you're missing out on lots of storage space. By simply raising your bed a foot or two off the ground, you've created space for all that extra luggage or exercise equipment, for shoes or guest linens. The possibilities are endless but do consider investing in a taller bed, or better yet, a frame which includes drawers underneath.
6. Coffee Table Alternatives
Coffee tables provide a great function but take up a lot of space. Luckily, there are alternatives to give your living room more space. Fold-away tables are great for meals and computers, and if you're feeling particularly handy you can create hard wooden covers for your sofa arms. These ingenious inventions turn any couch or armchair into a table in seconds.
7. Conjoin Your Sink and Toilet
Small bathrooms are no fun for the people who must use them, but with a little elbow grease you can create a whole new corner to your tiny bathroom. Using the same water source, sinks can be installed into the top of your toilet to save time and water consumption. The results look much better than you imagine and could be the perfect solution to your bathroom woes.
So, what will you do with all your new free space? Roll up your sleeves today and you could have the space and home of your dreams tomorrow.