Do you feel like your living room is in need of a little update? Perhaps you've considered replacing the existing colour scheme with something a little bolder, or you feel the coffee table has seen its day. Whatever it is that's stopping you from being completely in love with your living room, it's time to introduce some change. There are lots of interesting ways in which you can revamp your living room, from huge design projects to smaller budget friendly ideas. Continue reading to find out the most interesting ways to inject more life and character into one of the most lived in rooms in the home.
Introduce Bold Lighting
One of the most overlooked features within any room is the lighting. Whilst everyone knows a room needs plenty of natural and artificial lighting to create the perfect homely atmosphere, people don't realise just how important the aesthetic of the lighting fixture is too. From side lamps to ceiling fixtures, if you fail to impress with your lighting choice then you'll feel it letting the room down all together. By adding a bold, stylish and on-trend lighting feature to your living room, you can instantly transform the overall look and feel of the room, with added character shining through.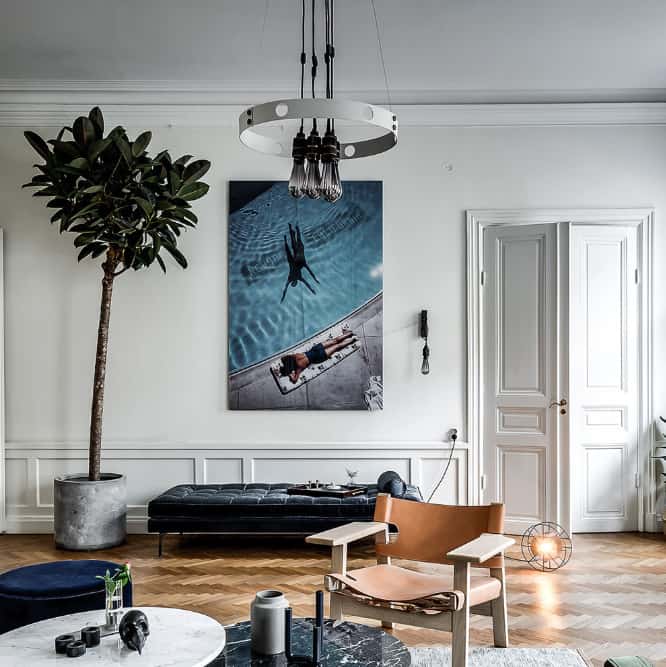 Hero Light / Stone / Steel – Buster + Punch £1,065
Get Jazzy with Wallpaper
If you're looking for ways to really transform your living room and create a whole new look, now is the time to gather some wallpaper samples and get creative with the space you have. Wallpaper is a great way of introducing colour, style and life to your interiors with plenty of control. From one main feature wall, to a whole set of wallpapered walls, you can instantly create a whole new aesthetic for your interiors. Take a look online at leading retailers such as Designer Wallpapers, Wallpaper Direct and Graham Brown to find a range of high-quality wallpaper samples and designs for you to choose from.
You may also like, "7 Simple And Best Interior Decorating Secrets"
Invest in Artwork
It's no secret that artwork can be the perfect finishing touch within any room and with the right design, you can really use artwork to your advantage. Art is an extremely personal addition to the home, with your own personality and style often being portrayed through the art that you choose. There are some incredibly talented artists out there who are able to capture unique and wonderful designs to add a personal touch to your home, all you need to do is take a look and see what suits you best. There really is no limit when it comes to art, if you want to add a piece to every room in the home then go for it. Art is a great way to express your personal style whilst enhancing your existing décor, so it's really beneficial to add it to your home.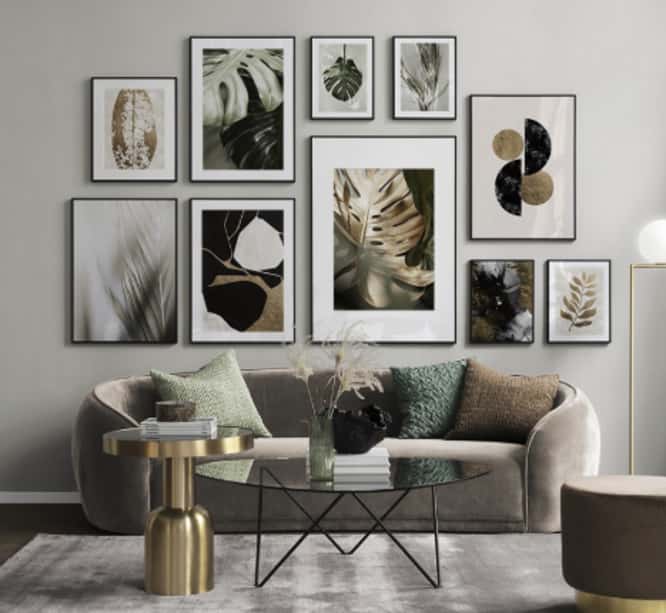 Gallery Wall – Desenio £340
Add Stylish Curtains
For added privacy and style, curtains are a great choice for the living room. Curtains are perfect for blocking out the light, or simply adding more character to the window area and bringing it to life. The moment you add a stylish set of curtains to your living room, you'll notice a warm and welcoming atmosphere, creating a cosy set up within your living areas.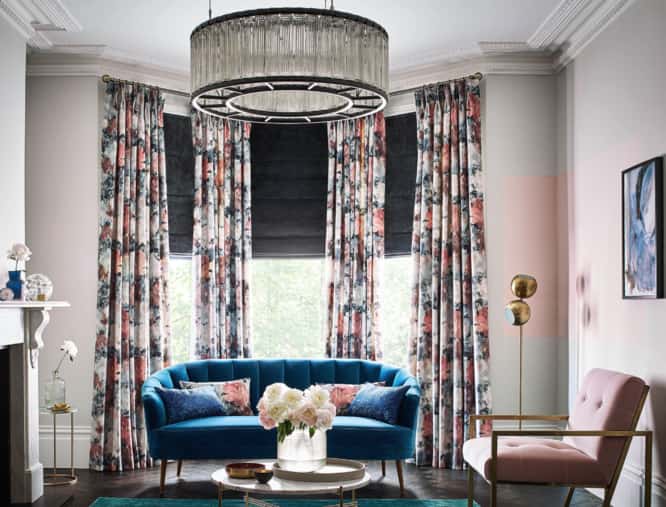 Aurora Moonlight Curtains – Hilarys