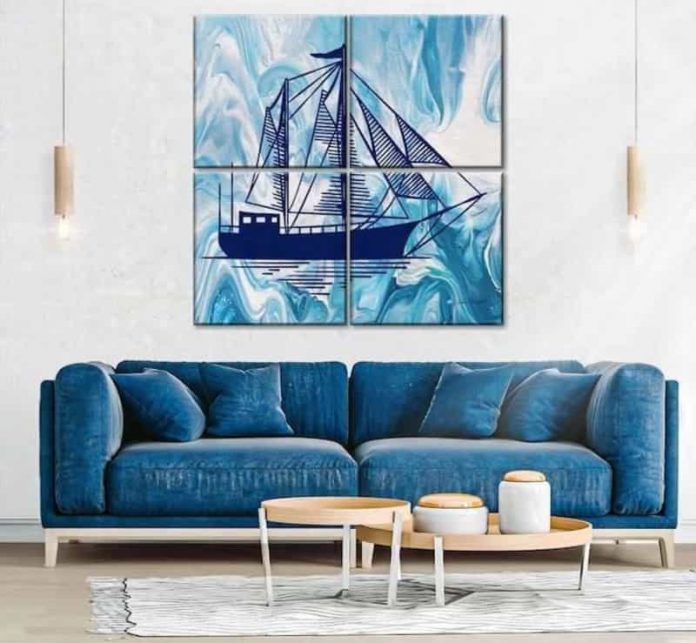 Are you thinking of using nautical blue as one of your home décor colors? You rarely go wrong with your décor when using nautical blue as your base color. Maybe because it is the color of the sea and the sky, blue hues give clarity, pureness, and high intuition. Using a nautical blue in your home will produce calmness and make your space welcoming.
Nautical blue palette is a versatile color that adapts to suit most color and décor styles. This guide will provide you with information on the colors to pair with nautical blue paint to create an amazing room décor and build color schemes that maximize the impact of this rich color. Let's find out!
1. Nautical Blue and White
White color goes so well with nautical blue paint and will give a lively lift to its appearance in your room. Combining blue furniture or cabinetry with a crisp white wall as a backdrop will give your room an energizing effect. In contrast, you may go for blue walls and balance them with white furniture, fabrics, or curtains. Snow-white, off-whites, and creams will make a perfect mixture of nautical blue and give your room a fantastic décor.
2. Nautical Blue and Bright
You may light up nautical blue by mixing with vibrant colors to fit your dream décor. For instance, a balance of green, yellow, or orange will produce an energetic mood and welcoming vibe in your room.
Another great way to demonstrate the beauty of nautical blue in your space is to introduce a colorful wallpaper pattern. Just look for designs that combine nautical blue with other colors in the suitable manner that you want.
3. Nautical Blue and Neutrals
This is one of the best choices for living rooms as the colors are so soothing and balancing. Also, you can layer the wall with neutral wall arts on the blue wall to create harmony. And on a neutral wall, you can hang radiant nautical colors. The perfect marine setup will come up when you introduce the right texture, layering in the form of wall arts. So, explore an array of living room wall arts to give the nautical style a polished look.
You can create a peaceful room when you choose to blend earthen textures with blue. Introduce nature-inspired elements like wood furniture and warm neutral paint colors to complement nautical blue hues. Pick neutral accessories and lighter or darker materials than your room's blue finishes and furnishings to show color differences.
4. Nautical Blue and Red
Blending red and white with nautical blue is a fantastic way to decorate a patriotic country-style space and playful nautical-inspired kids' room. Vibrant red accents can also provide obvious contrast against nautical blue in modern room designs. However, this may look more fantastic in some home areas like the kitchen, entryways, and living room.
5. Nautical Blue and Gold
The gold color makes an excellent combination with nautical blue. Having metallic gold accents or gold wood furniture can be a backdrop for blue color in your room. Gold hues will light up your blue color to remove the gloomy appearance. In addition, hanging a gold mirror on a nautical blue wall will reflect light around the space and make your room appear larger.
6. Nautical Blue and Pink
Blending blue walls with pink accessories may create beautiful feminine vibes in your space. You can get throw pillows with splashes of pink and other decorative elements to add warmth to the blue hues on the walls.
Final Note
Colors have been shown to have a significant effect on home décor. The types of colors you use in home décor, either on your walls or home accessories, will influence your mood and the general feeling of your home. If you're unsure of the color to combine with nautical blue, the above décor ideas and blue color scheme will work in any room. So explore!