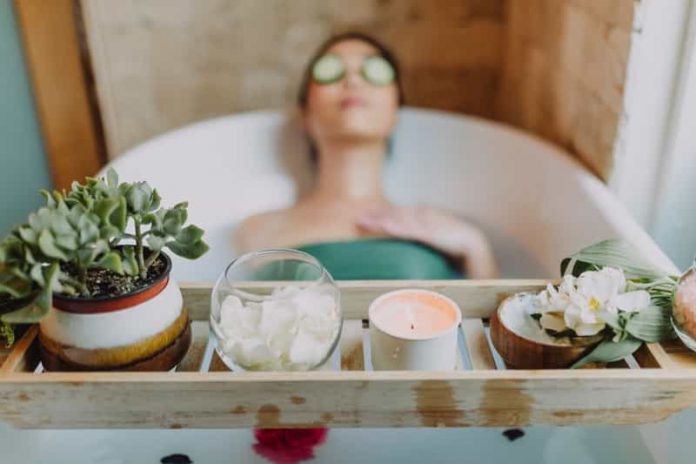 We can all use a major spa day session to lift our moods, especially with the holiday rush upon us. There are numerous ways you can enjoy a self-pampering day, whether it be at home or out on the town. Taking part in a beauty routine can offer some real stress-relieving benefits to your daily life. Whether you choose to take a two-minute bath or go all out for a soothing neck massage, there is something for everyone.
Chill Out
There is no doubt that cannabidiol or CBD products have made their way to the mainstream consumer. Whether you've seen oil on a particular social media platform or checked out the best deals for CBD oil on CBDNerds.com, there are fantastic options. Suppose you are choosing to make your home into a mini day spa. In that case, you can think about sipping on a CBD beverage or soaking in an enhanced bath, as there is virtually no category left untouched by this popular cannabinoid. CBD is now being incorporated into scrubs, facials, and massages. Even though CBD isn't viewed as a medical drug by the FDA in the United States, there are still various strengths that can affect each CBD user differently. It is always good to check with your doctor for medical advice before trying something new.
Dry Brush
A new beauty tip to recently hit the circuit as the latest product news is to dry brush. Dry brushing is a daily body massage performed with a stiff-bristled brush, if you're not totally familiar with the technique. The purpose is to help get rid of any unwanted dry skin, and it helps to increase the body's circulation. Most women love this technique because it can help with the appearance of cellulite and is perfect for doing every day before a shower.
This spa treatment is guaranteed to help you unwind in the privacy of your own home. The best way to start is at the top of your feet and move the brush upward toward your chest. It is best to try it right before you step into your warm bath since your stress will literally melt away.
Blast Fat
Maybe you are looking to really ramp up your beauty regimen with a top-of-the-line beauty treatment like the Emsculpt Neo. The Emsculpt Neo is a revolutionary body treatment that helps build muscle and reduce fat simultaneously. This handy new gadget helps you to get the ultimate body contour. The machine combines radiofrequency with high-intensity focused electromagnetic (HIFEM) energy to provide the human body with even better muscle-building and fat-reduction results. There is also the added benefit of your skin becoming tighter and younger. This spa special is perfect for the patient on the go since there is little downtime. If that didn't sell you, each treatment is like doing 20,000 crunches or squats!
Go International
We all know Korean beauty products have been the rage for years. The beauty market in Korea focuses on skin care that keeps your face hydrated, which, if you didn't know, is the key to flawless skin. Keeping your skin hydrated helps make fine lines and wrinkles look smaller and gives you a healthy glow.
If you are taking part in a home spa, try a balm cleanser to give yourself a little more pampering. Korean skin care is known for its multistep process, but you, too, can give it a go for your day of pampering, as you will leave feeling like a real queen.
No matter what ideas you choose to utilize for your major spa day session, your face and body will feel intoxicating results by the end with these tips.