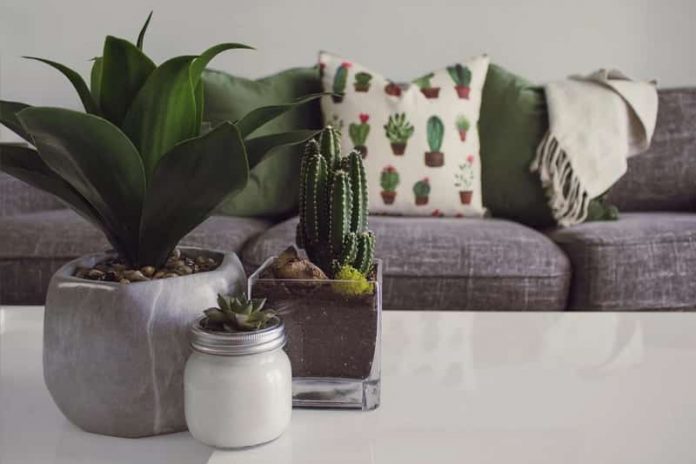 We all want our guests to feel welcome and invited when visiting our homes. No one wants to gather in a cold, empty space. Here are some ways to make your home more welcoming to your friends, family, and, most importantly, you.
Front-Door Decor
If you want your guests to feel welcome you should first greet them with an inviting space. Your front door and entryway will be the first thing they see when coming to your home. Add a decorative wreath to your front door, consider painting your front door a new color than basic white or black, and maybe add a cute welcome mat that matches your personality. In the hall or entryway, you can add art or a cool mirror to draw them into the rest of the house.
Indoor Plants
Another way to create a cozy environment is to bring the outdoors in! Fill your home with real, living plants. They can be large floor plants, hanging, on shelves or adorning a table. Succulents and philodendron are easy to manage, or if you have a green thumb go for more care intensive plants like a pretty orchid.
Fresh Paint
No one feels comfortable in a space with bare, white walls.Try a fresh coat of paint, whether it be a bold color or warm earth tones (which are SO in right now). Also add variety and a reason to catch the eye by hanging art, decorated shelves, clocks, or wall tapestries. Remember – when hanging art or shelves, hang them at general eye level. Too high or low on the wall makes it look awkward and difficult to interact with.
Textures and Layers
For a really cozy feel, bring soft textures into your home. This can be with blankets, pillows, or even reupholstering your furniture. Fabrics like velvets, cheneile, or sherpa will all bring comfort, warmth and relaxation to your home. Try adding floor cushions for an extra boho vibe and extra seating for guests without breaking the bank. You can curl up with a good book or movie when you've got soft comfy spaces to relax in.
Sweet Smells
Not only do you want your home to look appealing for you and your guests, but you want the entire experience of your home to give them a sense of enjoyment. This means you want to engage all their senses, and one way you can do this is by making your home smell nice. Whether you like fresh scents like cotton or the ocean, warm scents like vanilla and cedarwood, fruity scents like apple or citrus, or floral scents like lavender or gardenia, you and your guests will feel the ambience when you light a candle or use an oil diffuser. For even more interaction with the space, use crackling wood candles or diffusers with sound to employ the sense of hearing. These often provide a calming effect. They also give the added benefit of dim lighting, which brings me to my next suggestion.
Lighting
For some, hospitals are typically considered to be cold and uninviting. Why? Because they're filled with bright, overhead lighting. While all spaces require overhead lighting, usually as task lighting, or lighting required to accomplish work, this is not always the most relaxed or inviting for a space. Your home, unlike a hospital, should not feel so sterile. Adding accent lighting or opening a space up to natural lighting often feels more warm and gives ambiance to a room. You can also use warm, yellow-colored light bulbs as opposed to blue or white light to provide a warmer feel. LED lights now come in all colors so you can ditch the incandescent bulbs and stay environmentally conscious while adding the right feel to your home.
Whether you're just beginning to look for El Paso houses for sale or you've lived in your home for years, it's never too late to make a change for the better. Make your home the hangout spot for friends and family, or even just a sanctuary for yourself, by using these tips to add comfort and warmth to your home.