UK Prime Minister Boris Johnson blames Chinese for coronavirus pandemic telling world leaders it was triggered by 'demented' people who 'grind up the scales of a pangolin' in bid to become more 'potent'
He risked a diplomatic row with the remarks in a virtual speech to the One Planet Summit yesterday
Pangolins are heavily-trafficked scaly anteater-like creatures found across Asia used in Chinese medicine
Endangered species blamed for transmitting the virus from wild bats to humans via wet market in Wuhan
Boris Johnson has launched a blistering attack on China, blaming its 'demented' traditional medical practices for the coronavirus pandemic.
In a speech to world leaders yesterday he attacked people who 'grind up the scales of a pangolin' in a bid to become more 'potent'.
He made the remarks, which risk a furious diplomatic row – in a speech to the One Planet Summit, hosted by France's President Macron.
Pangolins are heavily-trafficked scaly anteater-like creatures, which have been blamed for transmitting the virus from bats to humans.
The first documented cases of the Covid-19 were in the Chinese city of Wuhan, with a wet market trading in exotic animals being seen as the probable source.
In comments that are likely to risk fury from Beijing, Mr Johnson said: 'Obviously it's right to focus on climate change, obviously it's right to cut CO2 emissions, but we won't achieve a real balance with our planet unless we protect nature as well.
'One final thought, don't forget that the coronavirus pandemic was the product of an imbalance in man's relationship with the natural world.
'Like the original plague which struck the Greeks I seem to remember in book one of the Iliad, it is a zoonotic disease.
'It originates from bats or pangolins, from the demented belief that if you grind up the scales of a pangolin you will somehow become more potent or whatever it is people believe, it originates from this collision between mankind and the natural world and we've got to stop it.'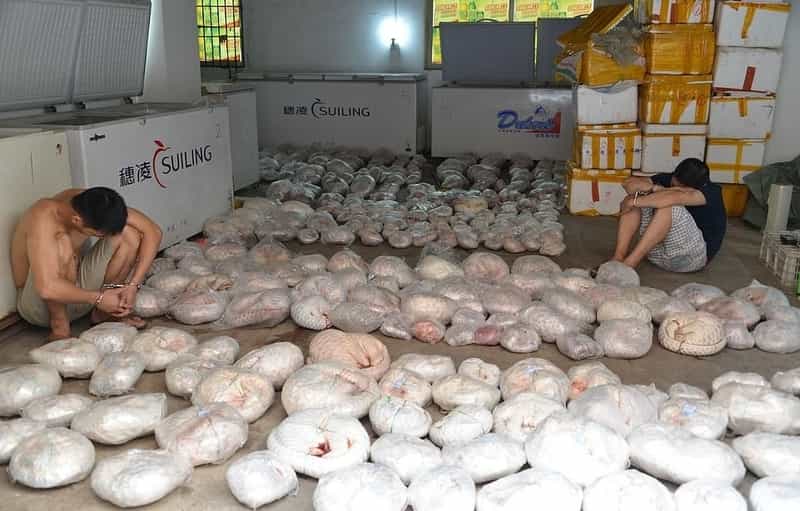 But China hit back at the PM after his comments. Today Foreign Ministry spokesman Zhao Lijian said: 'We've said many times that origin tracing is a scientific matter.
'There is no room, no place, for people making speculations, hyping up – otherwise it will only disrupt international co-operation.'
On another day of chaos for Britons battling the worst crisis for a generation:
Bank of England governor Andrew Bailey warned furlough is masking unemployment and the true rate could be 6.5 per cent not 4.9 per cent;
The government is facing more pressure to make the vaccination programme 24-hours and start giving more frontline workers jabs;
Matt Hancock has denied there is a national oxygen shortage as the strain on the NHS increases but admitted patients might have to be moved to where there are supplies;
One in every three deaths in England and Wales was linked to coronavirus in the final days of 2020, official figures revealed today as a separate analysis claimed the virus was behind the sharpest rise in fatalities since 1940;
Downing Street has admitted pictures of the random contents in some free school meal food parcels are 'completely unacceptable' after the issue was highlighted by Marcus Rashford;
Seven vaccination hubs have come into use, including London's ExCeL and Birmingham's Millennium Point;
Derbyshire Police has cancelled £200 fines for two women penalised for driving five miles to go for a walk;
Nearly a quarter of care home residents have received their first shot of Covid vaccine, with nearly 2.7million doses now administered across the UK;
Hospitals started rationing oxygen as it emerged that one in four coronavirus patients is under 55.
Mr Johnson's attack on China was followed today by a broadside by Foreign Secretary Dominic Raab over the treatment of the Uighur minority.
He said British firms will face heavy fines if they are lined to Chinese human rights abuse and companies will have to meet requirements showing their supply chains are free from forced labour in the Xinjiang province, the Foreign Secretary told the Commons this afternoon.
The Beijing government has been accused of widespread abuse in the area, home to the Muslim Uighurs, including allegations of forced sterilisation, slave labour and mass internment.
Members of the Uighur minority group have reportedly been made to pick cotton in Xinjiang province, leading to concerns British consumers could inadvertently be buying tainted goods.
Mr Raab said companies will be given robust guidance on how to carry out due diligence checks to make sure they are not sourcing products tainted by the human rights violations in the province.
He told MPs the picture of human rights abuses in Xinjiang was 'harrowing' and the UK had a 'moral duty to respond'.
Pangolins inhabit tropical forests in India, China, south-east Asia and parts of Africa.
Out of the eight existing sub-species, three are critically endangered, and all of them are protected by international treaty.
The general hunting and trading of pangolins have been banned in China since the late 1980s, but the exotic mammals are still trafficked by the thousands for their perceived nutritional value.
Their scales are deemed as a previous ingredient by believers of traditional Chinese medicine and its than 123 tons were sold in 2019 on the black market.
People also eat their meat for the supposed health benefits and the animals' blood is seen as a healing tonic.
Chinese web users labelled Boris Johson 'laughable' and 'very ignorant'.
Under a Weibo post by the state-run Vhina Daily, one user who claimed to be a medical student said: 'As a medical student majoring in traditional Chinese medicine, I feel the comment from the British Prime Minister is very ignorant, to be honest.'
Another critic wrote: 'This is laughable. Does the British Prime Minister have a brain?'
Some took a step further and suggested that coronavirus had affected the PM's ability to think.
One such user stated: 'It seems that the novel coronavirus has affected not only Johnson's lungs but also his brain.'
China has previously denied pangolin are a vector for moving the virus from bats to humans.
Last year researchers in the Communist state found that the animals are indeed natural hosts for various coronaviruses, but do not appear to be the direct source of Covid-19.
In November a different team from the Chinese Academy of Sciences claimed the virus likely originated in India in summer 2019 – jumping from animals to humans via contaminated water – before travelling unnoticed to Wuhan, where it was first detected.
Mr Johnson has previously called for greater protection for pangolins.
In 2018 he wrote a newspaper article calling for greater efforts to track down on hunting and smuggling the mammal.
He wrote: 'As we get older we human beings are capable of all manner of self-deception. We go under the knife in the hope of looking younger. We take pills and potions of dubious efficacity.
'But in the annals of human folly there is surely nothing more delusional than the belief still prevalent in large parts of Asia that a man can somehow rectify his waning virility by grinding and eating the scales of a pangolin.
'And yet that is what they do. The tragedy is that all eight species of pangolin are now endangered, two of them critically so.
'We are losing them to poachers at a rate of 100,000 a year. They are smuggled, butchered and cooked – all for the sake of their mythical medicinal qualities.'
Mr Johnson gathered Cabinet today amid fears lockdown could be tightened within days unless coronavirus numbers ease.
The PM has been holding a virtual meeting with his senior team as they consider the next move in the crisis wreaking havoc on the country.
Ministers have been desperately pleading with Britons to limit their contacts as the NHS struggles to cope with the volume of Covid patients, as police ramp up enforcement of the brutal restrictions.
But the government has made clear it is ready to get even tougher, with leading figures on SAGE pushing for a three metre social rule distancing rule and threats to axe the loophole allowing people to exercise with a friend from another household.
Other options thought to have been considered include stopping non-essential click-and-collect shopping, and closing more workplaces.
Matt Hancock hinted at a crackdown on exercising with one other person at a Downing Street briefing last night, saying the exception was being abused to socialise.
In another ominous sign this morning, Mr Johnson tweeted saying that 'meeting others from outside your household or support bubble puts you and others at risk of serious disease'.
However, in a round of interviews policing minister Kit Malthouse risked muddying the message by saying a 70-mile cycle ride would count as 'staying local' under the lockdown rules.
Read more at Dailymail.co.uk