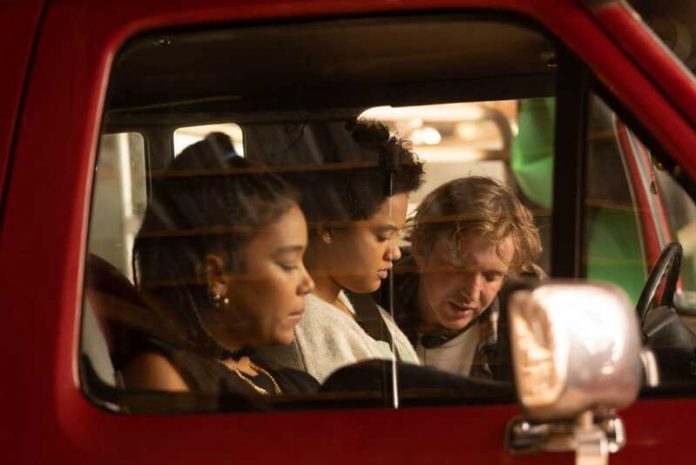 Eamon O'Rourke won a ReFrame Stamp for his directorial debut Asking for It and it's a moment he says he will never forget. The award is only given to select films and TV shows promoting gender equality and inclusivity for historically overlooked individuals. O'Rourke has never been one to shy away from crafting a powerful female protagonist — and in the case of Asking for It, she also happens to be a woman of color.
Asking for It, which was filmed in a quaint Oklahoma town, chronicles a band of marginalized vigilante women seeking justice against sexual assault and other wrongdoings.
The film was met with plenty of critical acclaims, including accolades from Carla Renata of thecurvyfilmcritic.com, who praised O'Rourke for creating "a thought-provoking, kinetic tale where women are taking their power and control back while kicking butt and taking names."
Renata added that she appreciated the femme-forward narrative of Asking for It.
"O'Rourke's approach to these very serious, timely, and vital issues [is] fresh, awe-inspiring, and a glimpse into a filmmaker with his finger on the pulse while blowing any and all precious expectations in how cinema approaches and tells these stories moving forward," she observed.
When Eamon O'Rourke was assembling the cast and crew for Asking for It, he said he wanted to create a strong flow of diversity on set while fostering a solid sense of balance and community.
Eamon O'Rourke Keeps the Cultural Conversation Open
"I think that the ReFrame Stamp is one of the things that I'm the most proud of, because it is an indication of our commitment to prioritizing what the process was going to be," O'Rourke explained.
Having worked on multiple movie sets throughout his career in a variety of genres, Eamon O'Rourke said he's seen some people mistreated on sets and he used those experiences to create a totally opposite vibe while he's in the director's chair. He explained that having his cast and crew walk away feeling positive, safe, and respected will always be paramount to his filmmaking magic.
With the lead characters and most of the primary roles in Asking for It being portrayed by women of color, O'Rourke said he also wanted to feature LGBTQ+ and Indigenous people alongside actors from an array of ethnicities.
"The project is one that very much lends itself to a wide variety of voices," O'Rourke pointed out. "And a lot of voices are included that are not always necessarily at the forefront of the media that we consume. Particularly, I mean, the main characters and most of the primary characters are all women of color. There's a lot of queer characters and Native [American] and Indigenous characters."
Having women in positions of power was something Eamon O'Rourke said he wanted to represent both on and off the screen.
"I wanted to make sure that at the very least, all of our key department heads were women and were ideally women of color or Native women," Eamon O'Rourke said. "People who are going to be in positions of power, it felt really important to have them mirror the people that we were representing on screen
Bringing authenticity to the characters in his films is another priority O'Rourke said is high on his list.
"The purpose of trying to achieve diversity is not to check boxes, but rather to create a fuller and more comfortable experience," O'Rourke revealed.
And Eamon O'Rourke does exactly that during his film productions. He said he can't ask actors to put themselves in a vulnerable position without ensuring he's taken every precaution to make them feel at home while doing so.
"Alongside the comfort of actors or other people who they're working for, et cetera, is also for me, and I feel this about all projects, but with this project in particular, something that felt really important was understanding the gaps in my own knowledge and understanding the limits of my inherent personal bias," O'Rourke candidly confessed. "We all have those things. Just the perspectives that we're able to understand quite quickly and some things that we've had less access with [or] we had no access with, which just creates these gaps."
Diversity Continues To Play Leading Role in O'Rourke's Work
O'Rourke admitted he doesn't see it as a negative thing and instead perceives it as an opportunity to grow. "It's just a part of being a person. It felt really important to me to be able to recognize those things within myself and be surrounded by people who can help me in those moments, help me fill in the gaps," he added.
He described being on a film set surrounded by a strong sense of diversity has given him an opportunity to ask deeper questions on whether or not a line or a certain scene feels authentic. It gave the Brooklyn, New York-based creative a chance to make adjustments and build accountability and honesty.
"Luckily, I was working with a lot of really, really wonderful people who we were able to gain a lot of trust between us," Eamon O'Rourke said. "They were very comfortable giving their opinions and sharing their perspectives in those moments, which I think really just helped the movie overall."
Delivering purpose-driven projects is another element O'Rourke said he intends to continue to inject into his work. Much like his desire for his cast and crew members to feel at ease on set, he wants his audience to connect with his work in such an effortless way that they will want to watch his films over and over again. He says he's been known to watch his favorite films on repeat over the years and hopes to instill the same vibe in his own work.
"I like to watch movies that I'm very familiar with a lot of the time," O'Rourke revealed. "The experience of nostalgia that comes along with doing something that is familiar to you is something that I love."
With his latest work, Eamon O'Rourke is aiming to find a happy medium between timely topics while also remaining entertaining. "[I want to make] a movie that hopefully has a lot of rewatch-ability. I think that trying to balance those things is something that I think about a lot with all of the work that I have done and I'm trying to do."