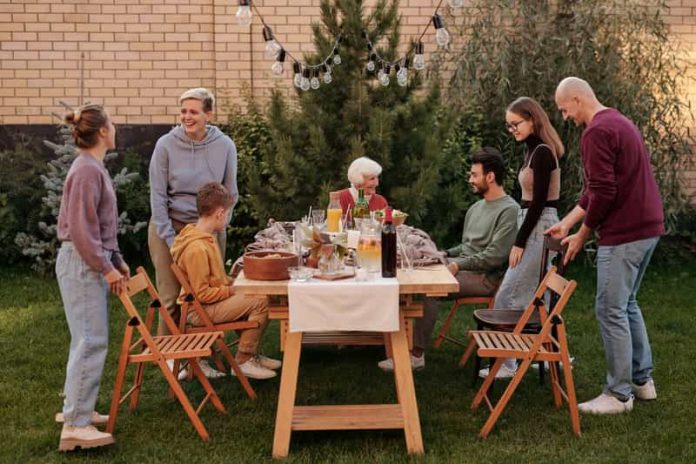 After a long winter of COVID-19 case spikes and the rollout of the vaccine, we are all looking forward to a fun summer season. People are eager to gather with friends and family this summer, especially as it's now becoming safer to host large gatherings. According to the CDC, small outdoor gatherings lower the risk of COVID transmission compared to indoor gatherings.
Over the past year, the popularity of outdoor events like BBQs, birthday parties, and weddings has grown significantly. It allows for people to stay safer distances from each other to lower the risk of spreading diseases. Plus, there is truly nothing better than spending time with loved ones in nature.
Fortunately, summer is the perfect time of year to host family and friends right in your own backyard. But to accommodate a large number of people in your outdoor space, there are some decor items that are truly essential for creating an outdoor entertainment space.
1) Plants and Flowers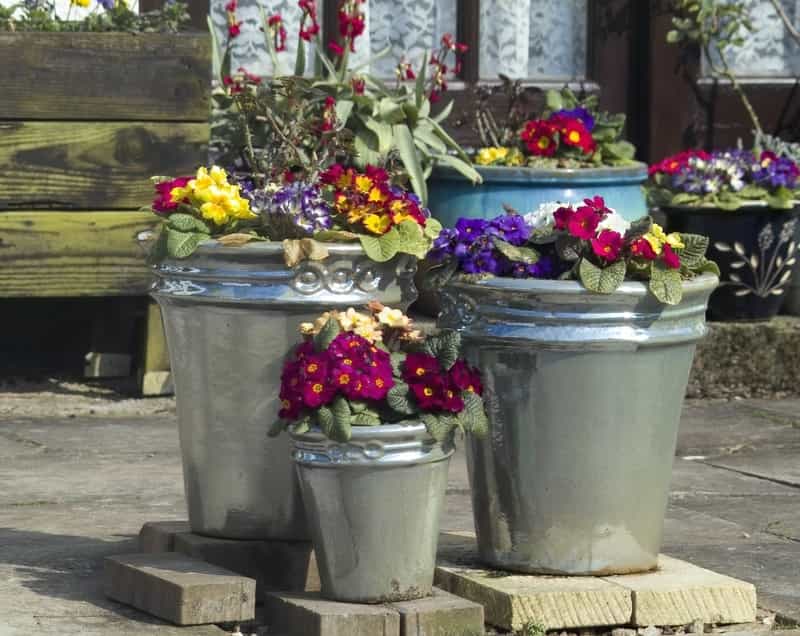 A garden can be a major design element in your outdoor entertainment space. Not only is it eye-catching, but it is also a great way to incorporate beautiful color and create an impressive design in even the smallest of spaces.
If you only have a limited area with sunlight or a small porch, potted plants are a great idea. Flower boxes and trellis walls are also wonderful for making the most of tiny patio areas.
However, if you have a large yard, then make the most of your space with some garden beds. Take your weather patterns and climate into consideration, though – as well as your "green thumb." There are plenty of plants that will thrive in spaces with little sunlight and water and are great for gardening newbies.
2) Outdoor Lighting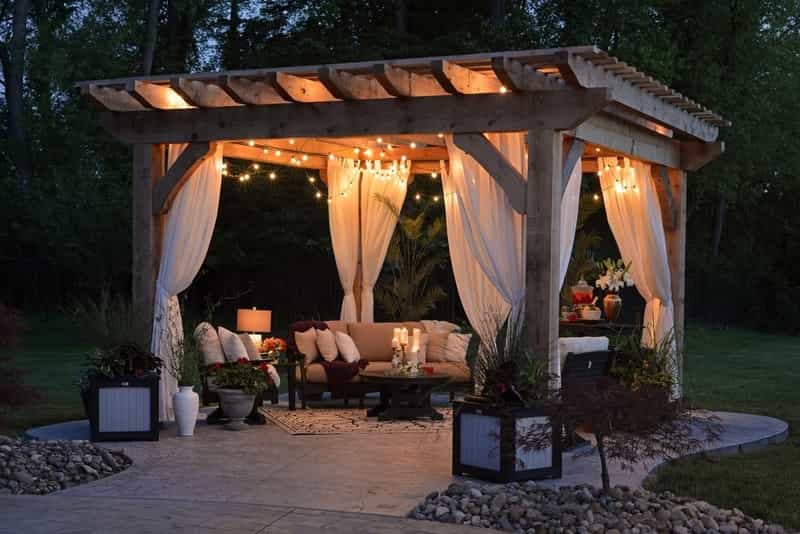 One often overlooked backyard decor element is lighting. You don't think about the lights much until the sun goes down – and you don't want the party to end just because everyone's out in the dark! So, before any party begins, plan out some lighting setups which will keep things illuminated long into the night.
If you have a patio or deck, you can string outdoor lights through the beams around the edges or overhead. Just make sure that they are waterproof if there are any chances of rain in the forecast.
You can also purchase lanterns or torches which can be placed throughout your yard. It is generally best to use them around the perimeter and to illuminate walkways for your guests' safety.
3) Pillows and Cushions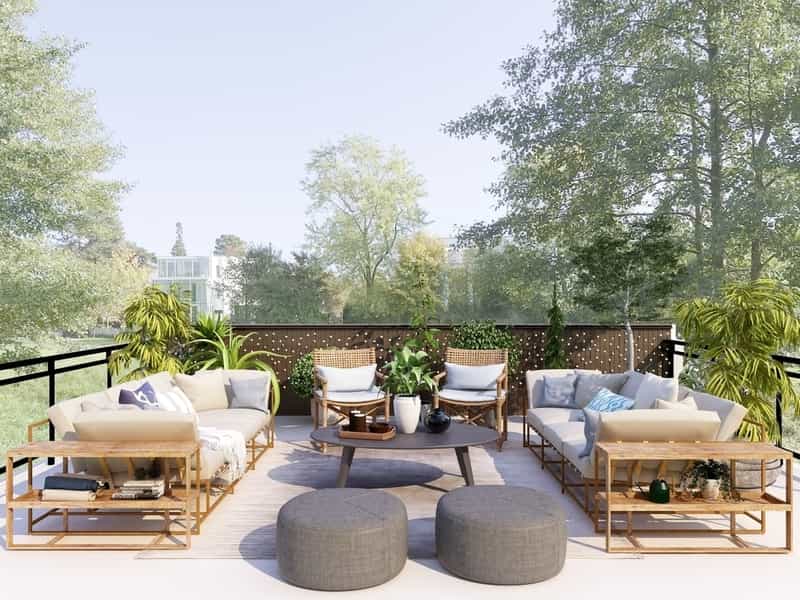 Adding outdoor furniture is key for designing entertainment spaces for people to sit and lounge. But one key part to keep in mind here is comfort and overall style. Most patio furniture is rather boring on its own, as they often come in neutral tones.
You can improve the overall style and comfort of your outdoor living space by adding decorative pillows and all-weather cushions to your sitting areas. Just be sure to look for cushions and pillows that are made from water-resistant fabrics and can withstand hot weather.
Some cushion and pillow fabrics to look for include acrylic, olefin, and polyester. All three are durable and resistant to mold and mildew. You can also refer to a patio furniture buying guide to see which materials will work best for the climate in your area.
4) Umbrellas for Shading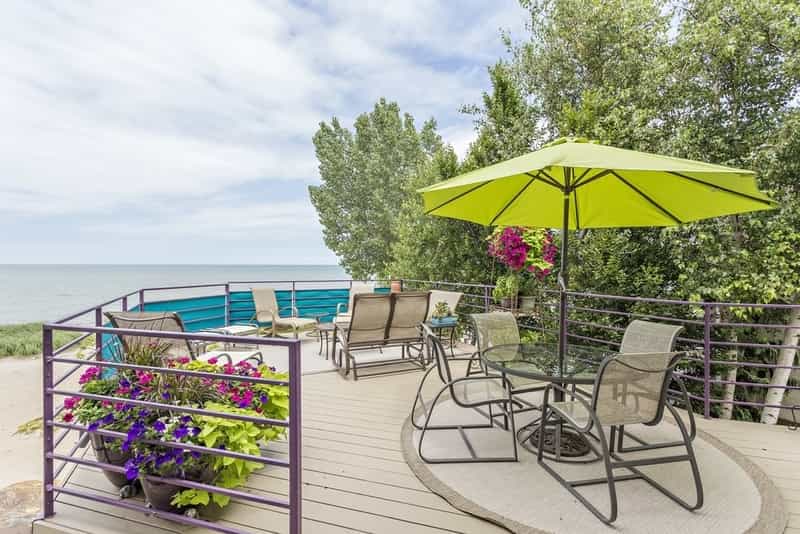 Patio umbrellas are also very important for both sunny and rainy days. No one wants to sit around in direct sunlight for long periods at an outdoor party. If you have an outdoor furniture set up with a patio table, there will likely be an umbrella holder already installed in the center.
Make sure that you purchase an umbrella that is large enough to shade the table beneath, as well as the seats. It is important to purchase an outdoor umbrella that is waterproof, too, so you can stay dry if the weather turns.
If you don't have the space for a large patio umbrella setup but still need share coverage, there are other options. You can purchase individually sized umbrellas that will attach to the back or sides of chairs to give some shade. There are also large patio shade covers that can be strung overhead.
5) Outdoor Rugs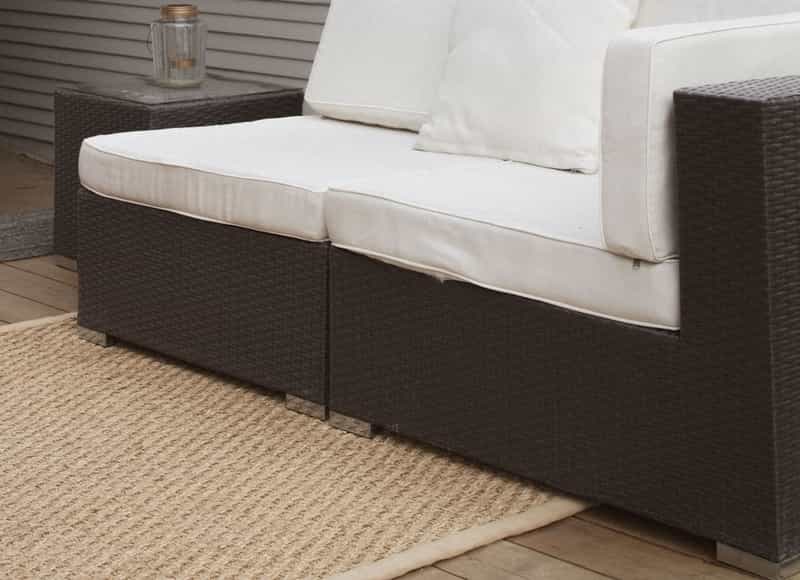 Outdoor rugs are an essential part of making an outdoor living area feel complete. This essential outdoor piece acts as a base for your furniture to be placed on. Plus, it protects bare feet from scorching hot concrete and splinters in wooden planks.
There are tons of different colors, shapes, and sizes of outdoor rugs available. But remember that the material of your outdoor rug needs to be durable. These rugs will have to withstand rain, humidity, and long periods of sunshine.
Synthetic materials like polyester, polypropylene, and nylon are usually best as they are water, mold, and fade resistant. These materials also do not get overly heated in direct sunlight – plus they do not stain easily and are safe for kids and pets.
Rugs will also make your outdoor entertainment space look far more inviting and stylish. You can even make your outdoor area look larger by positioning the front legs of your chairs on the rug and the back legs off. When you allow more rug to be exposed it gives off the illusion of bigger patio space.
In Conclusion
Summer is just around the corner – and so are all of the events, dinners, and parties to plan. Make sure that your backyard is ready to host your friends and family with these décor tips and necessities to make it a summer to remember!