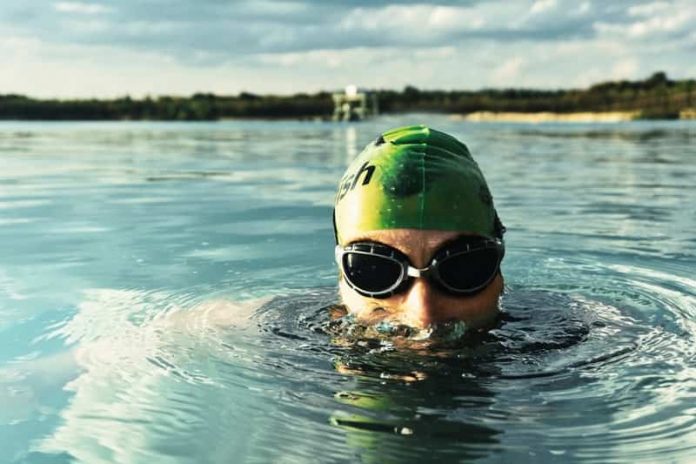 Sports and imperfect vision can go together like oil and water.
With swimming especially, comes a set of tough optical challenges due to the water, sun, and fog.
It can be quite tricky to find a solution—but there are top-notch prescription goggles on the market. These models will make your efforts in the swimming pool, specifically, a lot less blurry and obstructed.
Read on, for our list of athletic prescription goggles:
1. WAVE Prescription Mirrored Goggles
Not too surprisingly, given the not-so-subtle brand name, these prescription mirrored goggles have been designed for outdoor use. The WAVEs, namely, are tinted, which will deflect the sun as you're grinding out laps during your swimming routine.
Now, WAVE is willing to back their product with a lifetime warranty. This fact speaks directly to the manufacturer's confidence in such a fantastic product. Furthermore, comfort is at the essence of these prescription goggles with its silicone eye gasket that's also leak-proof to boot.
Sadly, the WAVE prescription mirrored goggles aren't without one specific flaw. We wouldn't necessarily call it a fatal flaw—but the overall thickness of the gasket frame will hinder your peripheral vision.
Verdict:
If you enjoy a splash of style and panache while poolside, these goggles are what we assume rock stars would wear if they swam. After all, mirrored goggles are the trendy choice for swimmers.
So, if you own these Wave prescription goggles, we insist that you wear them with some rock and roll swagger.
2. Speedo Vanquisher Prescription Goggles
Have you ever noticed just how utterly irritating it is to deal with flimsy latex goggle straps?
Well, thankfully – in the Speed Vanquishers – you'll have durable prescription goggles that won't spring leaks. Plus, they've got an undeniable aesthetic appeal.
In all honesty, you'd be hard-pressed to go wrong with Speedo products in general—and the Vanquishers don't disappoint in that regard.
These prescription goggles impressed us with these features:
Four different nose pieces so they're guaranteed to fit your face.
Made from polycarbonate, meaning they are shatter-proof, speaking to their durability.
The anti-fog lasts longer than most other goggles.
The UV protection makes these versatile prescription goggles fit for outdoor swimming as much as indoor swimming.
Verdict:
The Speedo Vanquishers are, no doubt, a product worth celebrating. Whether you're an avid swimmer who requires high-performance goggles, or someone hesitant to swim because you're concerned about vision, these bad boys will satisfy.
3. Sklz Court Vision
This model is the only option on our list that isn't for swimming and dedicated to basketball.
The Sklz Court Vision model helps ballplayers dribble with their heads up because it impedes downward vision. They are ideal for youngsters who require a little bit of seasoning with their game.
Beyond that, these feather-light goggles won't weigh you down, and the adjustable strap provides an unobtrusive comfort.
Verdict:
With these goggles being our honorary basketball pick, we've donned these the choice of champion ballers. When you buy these, you'll have the vision to hit the big shot at the right time.
4. Dr. B Barracuda Optical Swim Goggles
The first thing we noticed about the Dr. B Barracudas was the optimal peripheral vision they provided. It's to the point that it sets them apart from almost all other prescription goggles—because the overall vision of these goggles – beyond side-to-side – is also immaculate.
On top of tremendous optics comes the cushy comfort of rubberized gaskets pressed against your face, along with silicone straps. As such, this Dr. B Barracuda prescription model is invaluable if you're a swimmer that prefers longer sessions in the pool.
These goggles also boast a bracket and strap system. This is where instead of the bracket and straps looping into the gaskets, they meet halfway around your head.
Lastly, outdoor and open water swimmers will appreciate the mirrored look—the cherry on top of a dynamic list of features.
Verdict:
Naturally, given these goggles are brimming with premium features, they're pricier than most other pairs.
If you're going to purchase these impressive goggles, you should be a serious swimmer—so you can get the most bang for your buck.
5. Splaqua Clear Prescription Goggles
Before we delve into the Splaqua Clears, let's discuss the notion of 'anti-fog' in goggles.
Generally, all anti-fog works…to a point. As a rule, this stuff wears out—it's only a matter of when. Some goggles' anti-fog lasts longer than others. Still, there must be some form of contingency plan after it's worn off.
And that unhampered vision is precisely what the Splaqua's offer due to their clearness—especially compared to darker tinted goggles. The shatter-proof polycarbonate and silicone-based straps and gaskets are both welcome additions to an already top-notch model.
It's also worth noting that the diopters go up to 10.0.
Verdict:
The aesthetic of the Splaqua Clears is economical and straightforward—and they're available in either black or blue. As such, we've deemed this model as goggles for the working man. It's an honest design for an honest day at the pool.
6. TYR Corrective Optical Goggle
The TYR Corrective Optical model provides optimal versatility when it comes to vision because disassembly is seamless. This feature makes these goggles the perfect choice for competitive swimmers with different RX in each eye.
Fiscally responsible swimmers with two separate RXs only need to purchase two of the TYRs. Then they can reassemble them so that the lenses are matched according to their adjacent eye.
What does this mean exactly?
With most custom-made goggles (that you'd usually buy with contrasting RXs), it'll cost $200. Buying two of the TYR's costs less than that somewhat obscene price.
It's then worth discussing the premier comfort that couples nicely with air-tight anti-leakage capabilities. And let's not forget the adjustable nose piece, making finding the perfect fit a breeze.
Verdict:
For those whose eyes differ in RX, the TYR Corrective Optical goggle is the responsible, budgetary choice. There's no point in dropping dollars on a custom-made model when these are available at a more affordable price.
7. LASIK Surgery
Okay, maybe this veers away from the initial purpose of this list; goggles. But we want you to imagine a world where you don't have to fret over goggles, contacts, glasses, monocles, and whatever other eyewear you can think up.
With LASIK, your vision will be enhanced to the point that you'll see clearly in the swimming pool, the basketball court, and everywhere else in your day-to-day life.
In fact, reports show that 96% of patients leave with their desired vision after LASIK.
While most may panic in the face of surgery, the numbing drops mitigate any pain. There's also no need for bandages or stitches, while vision is corrected almost immediately after the procedure.
Vision:
Once you get LASIK surgery, it's pretty much smooth sailing for your vision from there—although follow-up procedures will be necessary to maintain your correction.
So, these are the 'smooth' man's choice, and we symbolized that with a gif of the world's smoothest man.
We hope our list has provided helpful options for your athletic exploits!