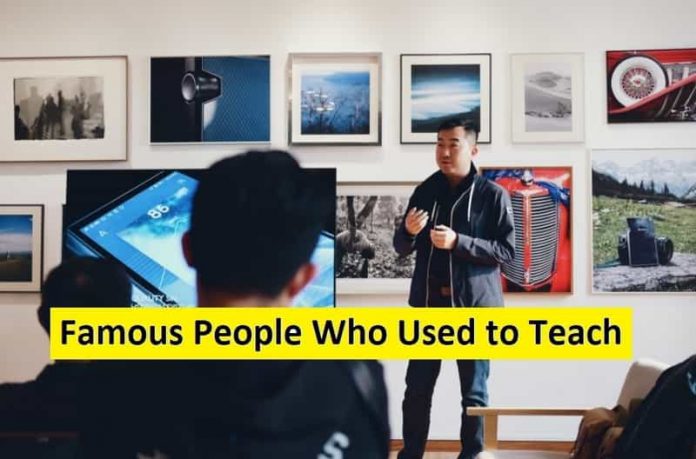 You probably had always wondered what celebrities and world-famous people did before they attained their current status of fame. Bear in mind that fame is a world and a life on its own; meaning, before fame, there was another life. This article from world history homework help experts exposes what famous, influential, and highly celebrated people used to do before becoming who they are today.
1. Gene Simmons
Now known as the bassist of Kiss, but not many people are aware that Simmons used to be a teacher, albeit for six months. He quit teaching because he realized that he wanted a broader audience, and the classroom had become too small for him. He went further to say, a class of 40 was nothing compared to a stage with an audience of 40,000.
2. Sting
You probably only know him as Sting, whose real name is Gordon Matthew Sumner, popularly known as a leading member of the Police; however, he used to be a Primary school teacher and a soccer coach before fame. He quit just when his solo career kicked off. Despite having a stint in the teaching profession, Sting is a strong advocate for increasing teachers' salaries decades later. According to him, teaching is one of the essential jobs in the world.
3. J.K. Rowling
Before Harry Porter, J.K. Rowling taught English in Portugal as a foreign language for quite some years. While functioning as a teacher, Rowling taught during the day and wrote the first draft of the first issue of the Harry Potter series at night and he is also one of the rich celebrities.
4. Sylvester Stalone
Rambo is not all muscles and guns, just in case you were wondering. Stalone is a degree holder, and back in the 60s, while attending the American College in Switzerland, he taught a gym class to earn extra cash.
5. Alexander Graham Bell
Bell is the man responsible for the invention of the Telephone in 1876. He was inspired to make that invention after his work as a teacher for the deaf in Hartford, London, Boston, and Connecticut. He continued tutoring individual students even after the creation of the Telephone.
6. Stephen King
While submitting short stories to magazines in an attempt to achieve his big break as a writer, King worked as a teacher on the side at Hampden Academy in Hampden, Maine. He quit teaching after his first novel, Carrie.
7. Hilary Clinton
After moving to Arkansas in 1974 to join her husband, Bill Clinton, Hilary got a job at the University of Arkansas, Fayetteville, to teach criminal law. She was one of the only two female faculty members at the time.
8. Barack Obama
Before his stint as a state Senator and the President of the United States, Barack Obama was a teacher for 12 years at the University of Chicago, where he taught constitutional law and race theory. As a teacher, Obama has been described by his former students as a diplomatic and challenging lecturer.
9. John Adams
John Adams is another Former President of the United States who spent time teaching in the classroom before becoming a world figure. Adams, an alumnus of Havard University, spent time teaching at the Central School of Worcester even though he would later leave his job after a year to pursue a law career. According to him, education was incredibly boring and unfulfilling.
10. Dan Brown
Dan Bown is best known as a bestselling author, originally had an interest in becoming a musician. While pursuing his interest and career in Hollywood, he taught at Beverly Hills Preparatory School. And later on, while pursuing a career in writing, he taught English and Spanish at the Phillips Exeter Academy in New Hampshire.