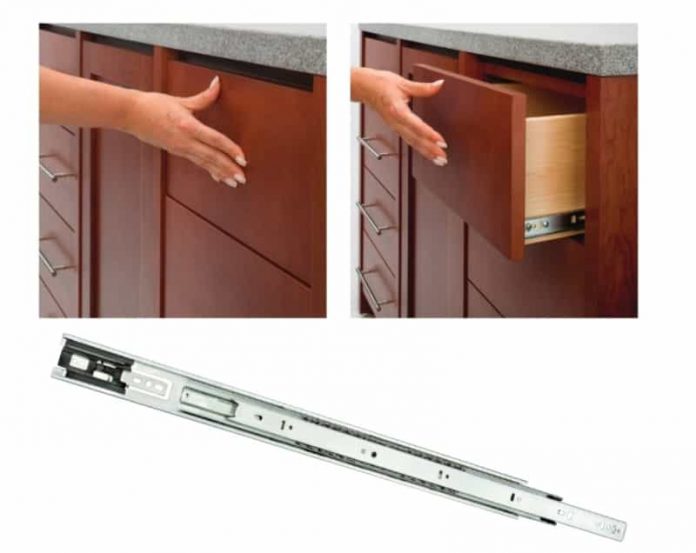 There are a number of different types of draw runners, including the likes of wooden slides, side-mounted ball bearing slides and self-closing under mount slides.
Wooden slides
Drawers have traditionally been slid in with the use of wooden runners, which are wooden strips on horizontal rails positioned at the cabinet face.
In the rare instances where the sides of the cabinet do not guide the drawer, such as when there is a face frame protruding into the opening of the drawer, the runners come with guides that are fitted in order to prevent the drawers sliding to the left or the right and then binding during the closure.
There are a number of advantages to making use of wooden drawer runners. When wooden drawer runners have been well fitted, they work extremely well and are the best choice possible for fine furniture.
Wooden drawer runners also do not require any extra financial investment other than labour, unlike mechanical slides which will require additional expense. They also enable the face of the drawer to function in the manner of a completed face, with no false or dummy face needing to be applied.
Wooden drawer runners also allow the joinery and the sides of the drawer to be able to shine without being intruded upon by metallic hardware.
On the downside, full extensions are not possible with wooden drawer runners, and even a drawer that has been well fitted could become stuck during humid weather in places where the humidity level fluctuates wildly between seasons.
Side-mounted ball bearing slides
Side-mounted ball bearing slides are known for being dependable, durable and inexpensive. They also come with an enormous array of optional extra features, including the likes of extra-heavy load deterrent, lateral files and specialty slides for file drawers.
There are a number of advantages to making use of side-mounted ball bearing slides, including the ease of their installation in casework, which allows them to be placed virtually anywhere.
These slides can be used on drawers that are considerably shallower or deeper than is the case with the slides, and this flexibility can be incredibly important when this combination of flexibility, full extension and affordability are required in drawer construction.
Disengaging a lever enables the removal of the drawers, and then slide them carefully back into position to replace them. Until set screws are installed, the slides can also be adjusted up and down as well as backwards and forwards.
Self-closing under-mount slides
From the start of the 21st-century slides that mix silent, smooth operation with full extension has become a popular trend with cabinetmakers. Not only are these slides invisible to the naked eye, but they also provide additional adjustability when fitted with the correct locking devices, allowing the drawer to be moved in every direction.
On the downside, however, there are strict requirements to follow to be able to use these features.
Although wooden drawer runners are still very popular, many cabinet makers now prefer to make use of mechanical slide hardware, which are smooth to operate, very quiet, and can be fully extended without risk of them falling out.