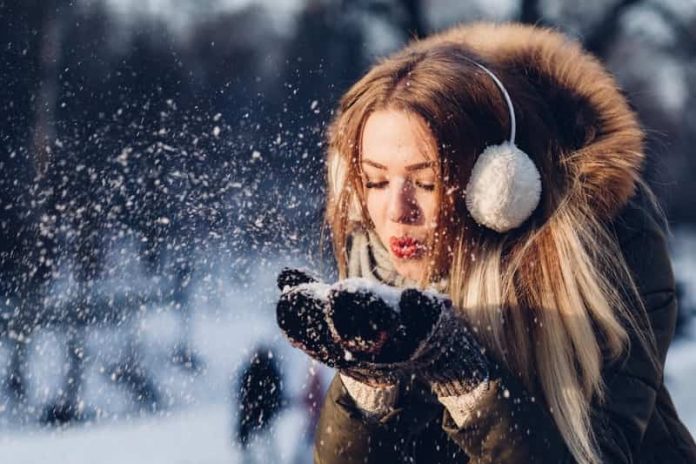 Time flies by so fast, and with winter season speedily approaching, it's time to start sorting out your seasonal wardrobe – if you hadn't already! Tis the season to do away with your fall clothing and make way for thicker and warmer clothing such as stylish coats, chic knit sweaters and fashionable ugg boots to greet the holidays with! It's now time to bundle up and bring out those chic winter accessories to embellish your style and get your outfit from boring to trés chic in an instant! With that said, here are 4 of the cutest and chic accessories every girl needs to be shopping for right now:
1. HATS
Not just for keeping your gorgeous head warm, hats are an essential winter accessory that girls should have ready in their wardrobes at all times. Trust us, your ensemble will go from blah to wow by just adding a chic hat to complement your outfit! Hats are a major accessory in the fashion world, and this year's Fall/Winter 2019-2020 fashion trends put the trendy hats fully in display with its showings of bucket hats, cloche hats, beanies, berets, newsboy caps and fedoras in most of the runways. One hat style that has been making the trends year after year is the beanie hat in different variations, such as the pom pom beanie, the slouch beanie, and the hipster beanie, to name a few. Here's a new variation on that style:
The Ponytail Beanie
Perfect for your next casual yet gorgeous look, the Ponytail Beanie's got rave reviews from hundreds of its customers and is the picture-perfect answer for girls who love to put their hair up! This beanie is made using only 100% vegan-friendly yarn sourced from plant fibers, and it features a small hole at the top where a messy bun or ponytail can fit through. Soft, warm and comfortable, the Ponytail Beanie also comes in a wide range of pretty colors to complement any outfit palette.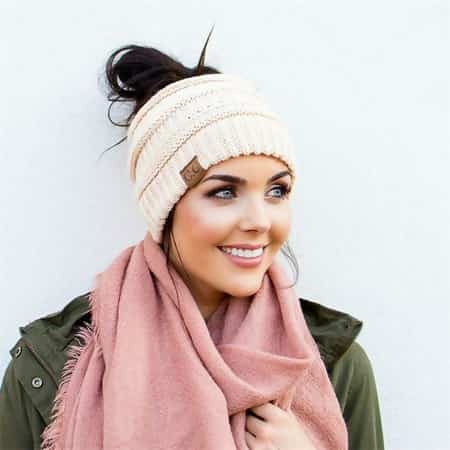 The Beret Hat
Boosting your style with that Parisian vibe is the classic beret hat that never goes out of style. Made up of soft wool or cotton, this head-hugging hat is making waves around the globe, mainly because of fashion bloggers and influencers who can't stop wearing them with their stylish OOTDs! This hat flatters almost all face shapes with the way the soft texture perfectly frames the face, so this piece should be added to your winter wardrobe, stat!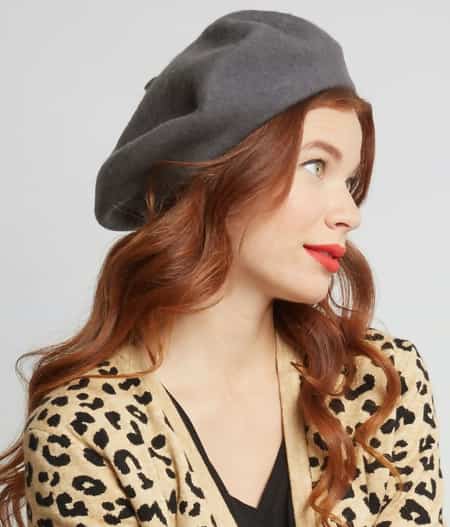 Mod Cloth Isn't She Chic Wool Beret in Grey, $15
2. SCARVES
Scarves definitely bring a stylish element to any ensemble, while being functional too! This ultra-chic winter accessory livens up your outfit, giving off that glam vibe the French are famous for. This year, scarves come in every pattern and material you can think of, from plain to plaid, fringed to tasseled, cotton to cashmere – an endless variety of styles to suit your fashion taste and every mood! This year, the most popular style of scarf is the oversized fit, which is seen from runways and on the street. The warmth and comfort of the oversized scarf gives you a snug feeling, especially once the cold winter season starts! Liven up your outfit just by casually draping this winter essential around your neck. To get you started, here are our top picks for you:
This cozy, plaid scarf styled around your shoulders will definitely leave you feeling warm all day long: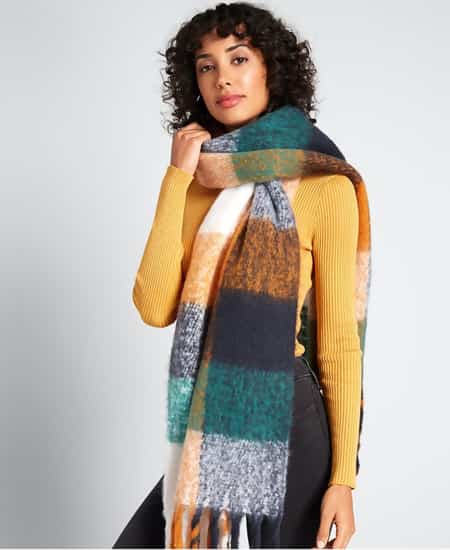 Mod Cloth Snuggle Report Plaid Scarf in Green Multi, $39
Stylish throw blankets that you can actually wear, the blanket scarf is a fantastic style statement that should be in in any girl's closet. For added style points, go for an oversized blanket scarf in a unique color, pattern or texture: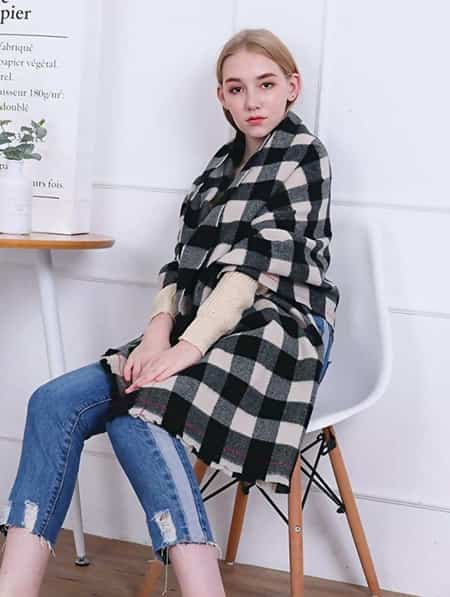 AIZGGE Tartan Blanket Scarf, $16.99
Never out of the fashion loop when it comes to winter season accessories, the infinity scarf is a definite must-have for a casual chic look: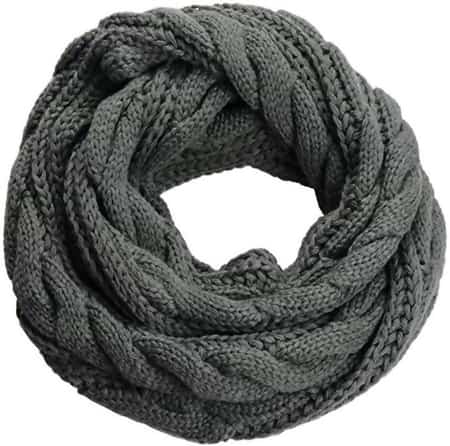 NEOSAN Women's Winter Knit Infinity Circle Loop Scarf, $14.99
3. GLOVES
Gloves are another winter essential we cannot live without that screams both function and fashion. A chic pair of gloves will keep your hands and fingers warm and toasty when you're out enjoying the great, cold outdoors – not to mention amping up your accessory style game! While a nice pair of leather gloves gives off that classy vibe, it certainly doesn't hurt to play up your finger game with cute prints or faux fur lining.
If you're the type who can't live without your phone constantly in your hand, there are gloves that are specially designed to use touch phones without you having to take your gloves off.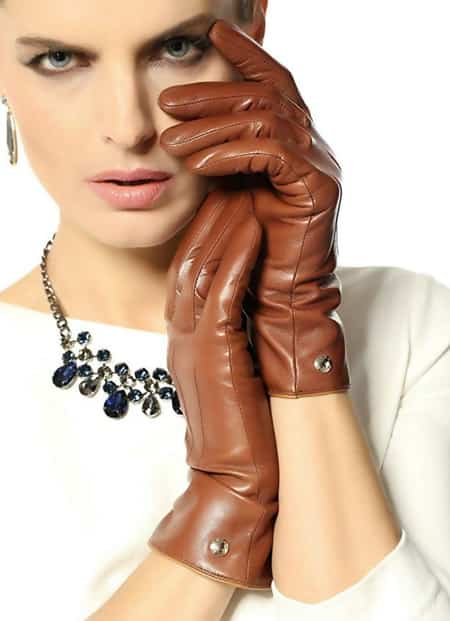 Elma Women's Classic Touchscreen Hairsheep Leather Gloves, $29.99
Another option is to pick open fingertip gloves or fingerless mittens, equally stylish without the hassle: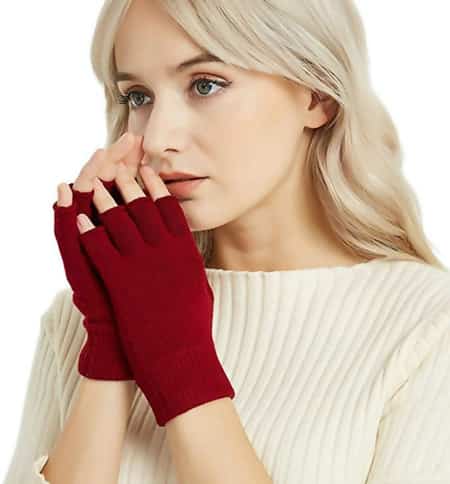 Novawo Cashmere Wool Blend Fingerless Gloves in Wine, $12.99
Want the best of both worlds? Go with convertible mittens: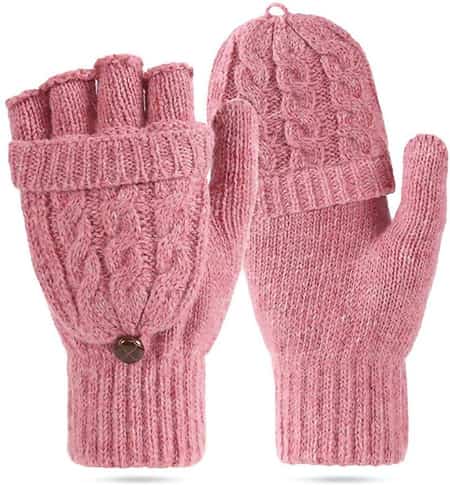 XINGFAN Convertible Fingerless Gloves w/ Mittens Cover Cap in Pure Pink, $11.98
4. EAR MUFFS
Earmuffs are a great way for keeping your ears warm and toasty if you want a change from wearing hats. It's a more hair-friendly solution to keeping warm if you've just styled your hair in an elaborate updo and don't want a hat messing things up and giving you the dreaded hat hair! Or if you're the type of person whose always cold no matter what, you can wear your earmuffs with your hat for that extra warmth.
A classic, stylish faux fur earmuff would do you no wrong in the style department: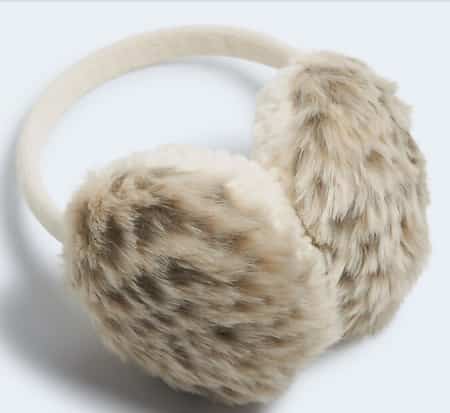 Aeropostale Snow Leopard Faux Fur Earmuffs, $10
Bring out your inner child and playful side with this adorable fuzzy fox: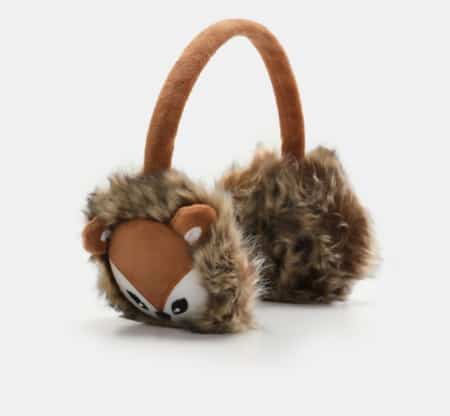 Ardene Fuzzy Fox Earmuffs, $9.90
Have a chic yet fun vibe with this pretty earmuff in a gorgeous dusty pink shade, making everyone around you go "Wow!":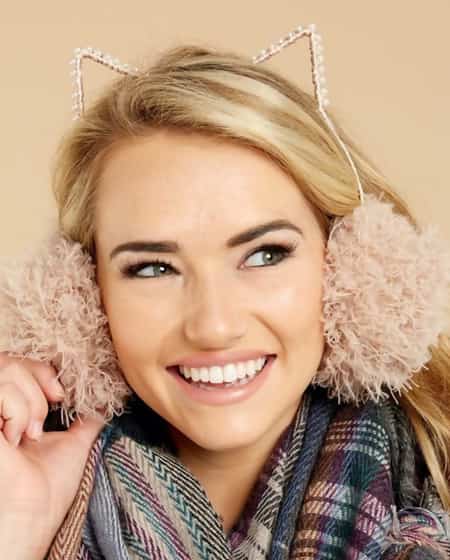 Me-WOW Dusty Pink Earmuffs, $20
Styling your wardrobe and outfits during winter season need not be as problematic as you might think. With these 4 chic winter accessories in hand, you will surely come out with tres chic ensembles even if you're all layered and bundled up! Which one's your favorite winter accessory?