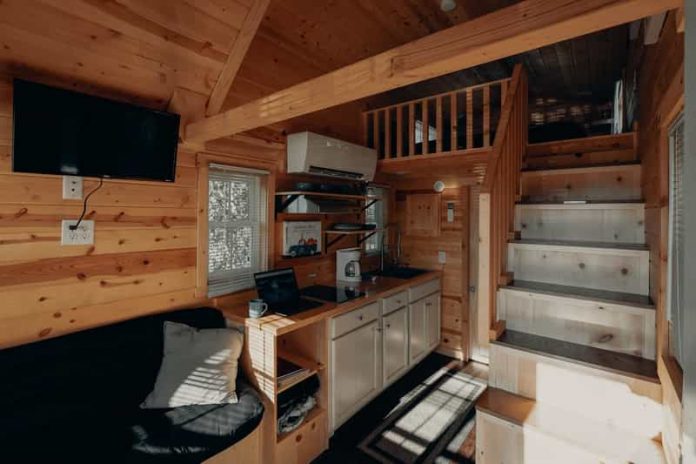 Gone are the days when everyone could easily afford to live in a spacious house in the suburbs. These days, it's all about small apartments and managing with limited space.
Home decorating trends have changed accordingly, and people have shifted from spacious rooms and minimalism to favoring small, cozy interiors and maximism. Every inch of space is used, and your living space is turned into a lively mishmash of colors, textures, and shapes interacting to make the most of what you have.
Let's take a look at some beautiful design ideas for tiny rooms and living spaces.
1. Make Use of The Wall Space
When you have limited storage space, every inch counts. If you're smart about it you can find loads of storage space along your walls. One of the largest spaces that go unutilized is a few inches under your ceiling.
Not only will installing kitchen cabinets or shelves under your ceiling give you loads of extra storage space, but it'll also give you a chance to add something extra to your interior design. There are many cool design options to choose from when it comes to your cabinets and shelves. You can paint them bright and vibrant colors, use wallpapers and patterns that match your walls, and much more.
Another smart way to save floor space and make use of your walls is to use hanging furniture- hang your lamps and tables from the ceiling to give the illusion of space. You can even twine fairy lights or rope to hang your lamps and shelves for some interesting aesthetics or use a fishing line or an invisible rope to make it seem like your furniture is floating.
2. Don't Be Afraid of Bright Colors
People have stopped buying into the idea that bright colors would make small spaces look cramped. Rich, bold colors, beautiful patterns, and wallpapers are all becoming more and more popular.
Add color to your rooms by painting the walls colors like rich, deep greens, purples, browns, warm and cheery yellows, and anything in between. Another trend that's been catching on is to color just one of the walls in a room a different color, and then hanging some interesting and beautiful art over it.
Indoor plants in colorful pots, text along the walls, colorful, hand-painted patterns, and bright cushions and curtains are all great ways to make your rooms colorful and fun.
3. Multipurpose Furniture
When you're faced with the dilemma of managing in a limited space, you can't afford the luxury of having dedicated furniture for all of your tasks. For example, you don't need a separate bedside table and a desk when you can use a single table for both these tasks. If you have high ceilings, opt for a lofted bed to save yourself tons of floor space.
You can save up on floor space by buying a bed frame with storage installed in it. Many beds with drawers in the bed frame and creative storage options are now available- some are even raised a bit for some extra space underneath.
Another option that can transform a multipurpose living space is a murphy bed. When not in use, you can fold the bed up and make it disappear or make a work desk take its place. Some beds even double as closets!
4. Be Smart About The Interior Design
You can use optical illusions to make your rooms look bigger, brighter, and cheery. Vertical lines on the walls can make a room look taller than it is, lots of natural light entering through the windows gives your room a cheerful atmosphere and full-length mirrors can add the illusion of space.
None of these tricks use any extra space, and you can even install a full-length mirror right at your closet doors if you don't have any free wall space in your room.
There are many other ways to make your tiny rooms look beautiful, but the most important trick to remember is that it's essential to efficiently utilize all the space available.