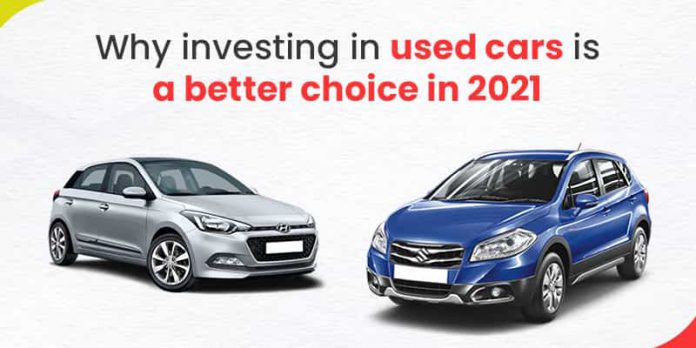 The used market has been growing steadily in the past few years. This steady surge in sales and demand for used cars can be attributed to the online platforms. Today, you need not go out to the local dealership or ask around your friends and peer for suggestions. Simply, go online, check out the listed cars, and get them delivered right at your doorsteps. According to the report published on Statista, "The pre-owned car market had a size of over 4.4 million units across India in the fiscal year 2020. This was more than the size of the new car market for the measured time frame."
The online platform has brought a shift in the psyche of the consumers who can put their trust into the whole process. So, the price for example, earlier, a buyer was never sure of the price of a used car. The result was unending negotiations which at times used to put off buyers from making the purchase. Today, you can check the fair market price of any used vehicle for free to ensure that you are not overpaying for any used car you are interested to buy.
If you are thinking of buying a used car, but still cannot get over your inhibitions, check out the top 5 reasons to opt for used cars 2021.
Affordable price
Top branded used cars are listed online for potential buyers to check out. All these cars are listed for their fair market price generated by taking into consideration depreciation rates, past transactions, current trends, and vehicle information. This brings an exciting opportunity for buyers to get their favorite car at budget-friendly rates which otherwise was out of budget.
Reliable performance
You can put aside your fears of used car performance at rest. All the cars listed online are put through stringent quality checks to determine their performance. As a buyer, you get to check all the vehicle details and information to make up your mind. You do not have to pay for professional services or be in a state of confusion throughout. You can get top-performance cars easily. All you have to do is research to ensure that you get all the necessary information for an informed decision.
Savings
The moment a new car is taken out of a showroom, its value starts to depreciate. With used cars, you end up saving money on your purchase. Used cars make it feasible for everyone to own a car without any financial issues. From thousands to lakhs, depending upon the car's condition, you end up saving on your purchase.
Hassle-free commutation
A car gives you the freedom to travel at your own pace. With a car by your side, you are no longer planning your travel around public transport rather get to enjoy hassle-free travel. Especially, for people who are always on the move, second hand cars bring an exciting option for hassle-free travel.
Seamless process
As we mentioned earlier, the online platform has made the whole used car buying/selling process a seamless one. When, earlier, the deals used to fall flat because of the difference in opinion regarding price and condition. Today, both parties can reach a mutually aggregable price to close the deal at the earliest.
The above-mentioned points are primarily the reason why people opt for used cars. If you are looking to buy used cars, make sure you go online to enjoy a hassle-free experience, and also to save money on your purchase.