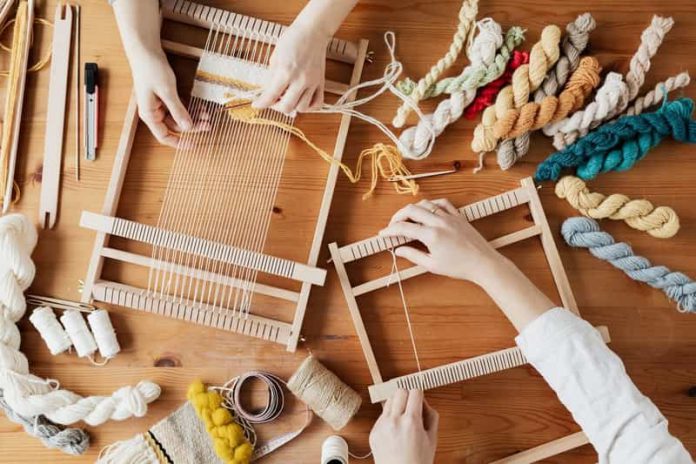 Adding your own personal style to your home decor is easy and affordable with stencils. These fabulous DIY stenciling projects can make your home look even more awesome, regardless of whether you love the modern or rustic decor.
Take a look at these smart ideas you could try. It will make you wish you thought of them yourself.
Kitchen Backsplash
Here are some easy homemade DIY stencil ideas for your kitchen that enable you to create a backsplash without the waste or expense of tiles. An easy and budget-friendly way to transform a space is with geometric shapes like these squares and triangles.
Modern and contemporary kitchen designs can use this multifaceted pattern to add character to small spaces as well as cozy ones. DIY stencil decor ideas like this are perfect for adding a splash of color to white kitchens.
DIY Freezer Paper Stencil Shirt
We have another way for you to show off your style for those of you who like to design your own shirts. You can create some really cool statements with stencils in another way.
Have a look! You can get some pretty awesome ideas by checking out Pretty Providence. An iron, a pencil, a printer, scissors, an ironing board, fabric paint, freezer paper, foam paint brushes, and a plain shirt are all you need.
Stenciled Lamp
With this unique lamp, you can exhibit a warm welcome to the home by stacking your treasures underneath the light.
They look adorable and charming arranged on a side table near your couch. Incorporating the three keywords: welcome, family, and home, you can work your stencil magic on the squared, flat sides.
Flower Pot
Bring colors and vibrancy to your garden by adding a vibrant flower pot that's welcoming. A bold aquamarine painted pot provides the backdrop for a classic white stencil of the word "hello."
It makes a great home for your favorite succulents when it's handled by your hands. Whether you want this as a housewarming gift or to decorate your kitchen countertops, it is a great idea. To add some extra curb appeal to the front porch, I would recommend this plant lady planter.
Floor tiles
Make your laundry room look stylish with stenciled tiles. This stylish laundry area will make keeping up with the ever-growing pile of dirty clothes a little more enjoyable.
Adding style to a small space is as easy as using this intricate stencil design in black and white. While keeping the overall scheme simple and sleek, this tile floor pattern adds all the interest this blank canvas needs.
The perfect stencil DIY to give your bathroom a facelift will give your interior design an elegant touch. You can transform your bland walls into clean and crisp ones by using a buffalo-checked plaid pattern to liven up your floor space.
Stencil ideas like these maintain the room's aesthetic using the classic black and white combination. It makes the room seem so much bigger since such bold flooring makes the wall space appear larger. This color combination and style can work in virtually any bathroom, whether it is the master bath or the kids' shard bath.