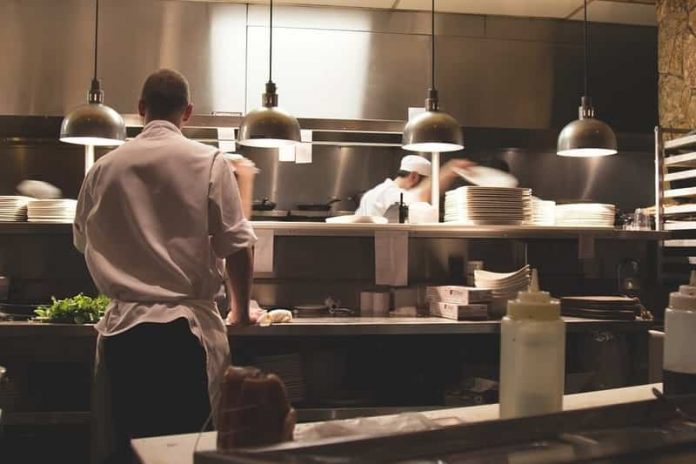 How exciting – you're opening a new restaurant! There are loads of fun things to plan – the menu, the décor, the ambience you want to give – but although it may not be the most exciting of topics, you need to make sure you are up to scratch in terms of health and safety before you open.
Here are the 8 health and safety regulations you need to enforce in your new bistro!
Fire safety
In the case of fires, restaurants tend to be the most susceptible and if a restaurant is affected by a fire, it can be incredibly difficult to recover. The cost of repairs may be too much for the owner, or if the damage is severe, major incidents can mean businesses either never re-open or close within 18 months.
Fires can start in various ways – extractor fans in kitchens can be a culprit and however they start, fires in restaurants can spread quickly. One of the main reasons for accidents like these is a lack of training – especially when staff are provided by agencies. 25% of fires begin with kitchen appliances, 23% happen due to the cookers and 17% are electrical fires.
Here are a few tips for your restaurant:
Ensure your ducting is cleaned appropriately and installed correctly is imperative, as is testing your electrical equipment being tested and maintained at a minimum of annually.
Give your staff the responsibility for checking certain things such as the tumble dryer and ensuring that it isn't on with no one in the building.
Don't overload sockets and train everyone to shut down gas and electrical appliances in an emergency.
Keep the kitchen clean and tidy and ensure that staff are dressed appropriately (i.e no loose clothing or hair).
Put together a checklist for your staff so you can make sure everything is off safely and everything is secure before you lock up for the day.
Review your fire risk assessment regularly and make an emergency plan – be sure to include both disabled people and your customers in this so your workforce is confident with what they need to do.
Fire rated glass doors can help ensure a fire is contained should you be unfortunate enough to experience one.
Food safety
An obvious one here, but as a business serving food, you have a large number of responsibilities when it comes to food safety. A few things you need to think about are:
Making sure the food you serve is safe to eat
Ensuring no harmful ingredients are added and you don't treat food in a dangerous way
The food needs to be the same quality you say it is
Keep records on where you got the food from and be prepared to show this information when asked
Make sure you are not misleading in the labelling, advertising or marketing of your food
If any food is found to be unsafe, you must withdraw it and complete an incident report
Disclose to people why food has been recalled or withdrawn – this is usually done via a leaflet or a poster
You must display your food hygiene rating as a restaurant as you sell food directly to the public
Only use approved additives in your food and only use it if it is approved for use in that food – and any additives must not exceed the maximum permitted level
You need to comply with food hygiene regulations by ensuring food contact materials never transfer anything to the food they touch and to be able to show where the contact materials came from when asked during an inspection.
Ventilation
Your restaurant needs to have an appropriate ventilation system to remain compliant. It sounds obvious but a ventilation system probably gets rid of more than you think – steam, cooking odours and grease-laden air are also included. Natural ventilation tends to be insufficient in a restaurant. Choosing the right extraction and ventilation system can get quite complex so please contact a specialist who will be able to survey your requirements and advise you should you have a specific set of requirements. You'll need to think about several different filters, including grease and carbon, and also fans to ensure cooking fumes are pulled to a point of discharge via the roof.
Use of chemicals
The chemicals used in restaurants can pose a lot of different hazards. Chemicals that are commonly used for cleaning and sanitation can cause some serious harm in the form of skin irritations, infections, burns and respiratory problems. You may also find that things such as latex gloves can induce an allergic reaction.
Lifting and manual handling
Within the food and drink industry, over 30% of injuries are related to manual handling injuries. This can include things such as stacking and unstacking containers, packing products and handling drinks containers. To avoid this, you should identify the tasks which are likely to present a risk of injury (like anything involving repetitive or heavy lifting) and assess each task to decide the factors that could result in this risk.
Knife handling accidents
With people in the kitchen spending a lot of time using knives to prepare food, the risk of injuries involving knives is relatively high in the industry. Ensure you have appropriate training for employees when it comes to the safe use of knives and sharpening them – it can be more dangerous to not sharpen them, Protective equipment should be worn where possible and when washing up, knives should be handled carefully – and should always be stored correctly.
Slips, trips and falls
These are NOT on the menu! With there being a lot of things in the kitchen that could cause the floor to be slippery, such as grease, water and ice, spilt food or condensation, it's very easy for a server or member of kitchen staff to slip and hurt themselves. When you add carrying hot plates and pans into the mix, it's a recipe for disaster. Ensure your staff are wearing sensible shoes and that your doors in and out of the kitchen are marked and safe and ensure they clear up after themselves in the event of a spillage.
Employing young people and children
If you decide you'd like to employ some younger people, there are several rules and even more so in terms of health and safety. You must not employ a child under 14, but this is often relaxed to 13 in certain occupations. There are also laws around the hours they can work – they can't be employed before 7am or after 7pm, which is restricting for a restaurant, and there are further laws around prohibiting a child to serve customers. Therefore, you can consider a consultation with reliable employment law solicitors. They can help you make good decisions from a point of view of a lawyer while hiring someone, as it is important for both sides.