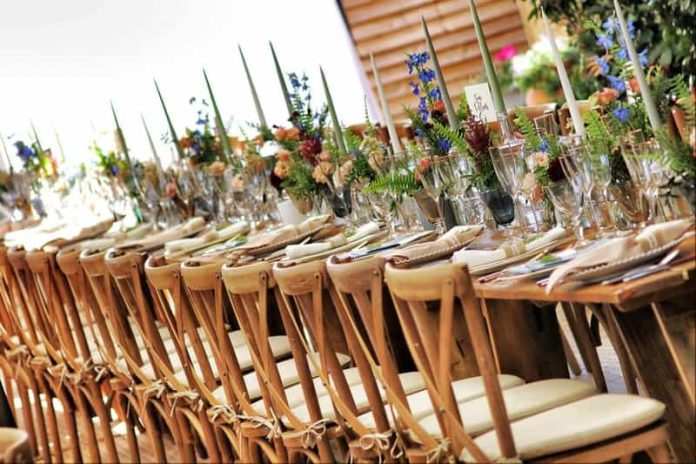 Have you created the perfect summer garden? Now, when the leaves are about to turn to the reds, golds, yellows, oranges, and browns of autumn is the best time to add a table and chairs to your outdoor garden. Enjoy fall in a wholly new way by sitting amongst the trees during the fall months.
You can get dining table sets for the garden and More @ www.1stopbedrooms.com. Before you go browse, here are some things to keep in mind when looking for an outdoor dining set for your garden, and how to implement the designs.
Perfect seating for two
If you want to have a cozy place to sit in your garden with your loved one or best friend, a small round table with 2 seats is the perfect addition to your outdoor space. If you might have a slightly larger group, get a table that can accommodate 3 to 4 chairs. You can place small dining sets like these in sun or shade as needed.
Consider weight and storage
Very few climates allow for leaving outdoor furniture in the elements year-round. Most of the time you will need to store your garden furniture during the harsh winter months at least. You should also be able to put the dining set into storage quickly to avoid damage as storms approach the area. Chairs that can be stackable are great for getting the most out of your storage space, but the entire dining set should be lightweight if you expect to move it frequently.
On the other hand, if you do want your dining set to remain in the garden year-round, you'll want to choose one specifically designed for the outdoors and strong winds. A heavy wrought iron table and chairs with removable cushions is the best option for most climates if you don't want to store the furniture in the off-seasons.
Durability can be gained from indoor or outdoor dining sets
You don't have to feel like you are limited to outdoor dining sets only when choosing a table and chairs for your garden. There are many cafe-style indoor dining room sets made of metal construction that can work just as well in the garden as they do in your breakfast nook.
Especially if you have a screened garden or patio to shelter the dining set there is no reason to limit yourself to outdoor sets. Some outdoor furniture is very heavy to withstand the elements, making it difficult to move around the garden as desired based on the time of day and position of the sun. Outdoor dining sets also typically cost more than indoor dining room furniture, particularly if you restrict your browsing to small cafe or breakfast-style tables.
Look for garden dining sets with removable or protected cushions
Outdoor furniture isn't the only dining set category that offers stain and weather-resistant cushions and pads for the chairs. Dining room furniture meant for small eating areas within kitchens by their very nature have stain-resistant and somewhat water-resistant upholstery.
If the upholstery is not water-resistant, you should not allow it to stay outdoors during storms. You must remember that the cushion beneath that upholstery takes longer to dry, and can easily rot and mildew, causing illness.
A much better option is to choose basic metal chairs suitable for outdoor use with removable cushions or pads that simply tie into place. These can be changed out according to season, easily washed and replaced, and can increase comfort while sitting in the garden.
Other complementary items for your garden dining area
If you want to create a truly comfortable, functional, and versatile dining area in your garden, you will probably want to consider some additional improvements to maximize your enjoyment of the new furniture. Here are a few things to consider as you design your outdoor space.
Consider a platform or patio
If your garden area is somewhat uneven, you might want to consider adding a platform or patio for the dining set to rest upon for better stability. You should never place chairs on uneven surfaces, particularly if all four legs cannot touch the ground at the same time. There is too much risk of injury. Building a platform or pouring a concrete patio are minor investments that increase the safety of your home.
If you want to be able to put your feet on the earth when you sit in your garden, consider grading the area so that it is a flat surface for the table and chairs. You should also avoid placing chairs directly on the ground near a natural water source like a lake or creek bed. Having such features is relaxing, but if you get too close erosion could cause the chair to become unsteady and increase the likelihood of injury.
Consider lighting for evening use
If you are going to be sitting in the garden after the sun begins to set, you should consider what you will do for lighting. If you have nestled the dining set amidst the trees, there will probably be even more shadows making it difficult to see.
You can purchase outdoor lighting that is either temporary or permanent to compliment the garden and light it up for evening use. Solar lights can be planted in the ground for some gentle light just enough to see by.
You can also get lanterns designed to be hung in the trees, and many of these also run on solar power. Keep in mind that such lanterns will need to be seasonally removed if you are in an area with harsh winters that ravage the trees in your yard.
Privacy considerations
If your dining set is nestled against the trees you might already be hidden from the street. But if not, consider adding a simple fence around the area. You don't have to fence your entire yard to get privacy. Some people put up fences only on one side of their yard to block obvious views and discourage passersby from conversing. It is a great way to make sure that you can have privacy when you want to be alone with your thoughts. You can also plant tall shrubs on the street side of your garden for some natural privacy.