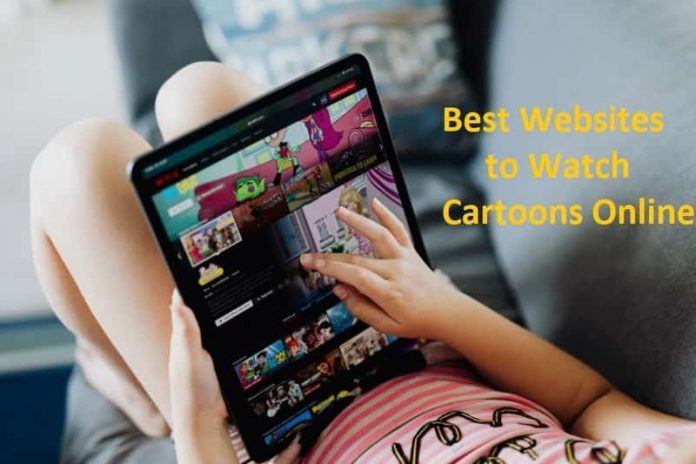 When we hear the word cartoon, something childish and funny comes into our mind. That's what we have perceived right through our childhood, and this was the general perception if you will talk to most people. From the classic cartoons era, which included Mickey Mouse, Tom & Jerry, and Pink Panther, to the present, where Pokémon and SpongeBob SquarePants rule, cartoons have come a long way.
But nowadays, cartoons are more than just animation for the kids. Have a different opinion? Please read on as I discuss cartoons in more detail and then the top 10 websites to watch cartoons online.
If you think older people are not fond of cartoons or don't like it at all, this is not correct as people of all ages love to watch cartoons. Animated sitcoms like The Simpsons are a huge hit worldwide, with the series currently in its 32nd season. This is a classic example of how cartoons have held their turf despite the challenge from many other forms of entertainment.
Watching Cartoons Online is Fun
Watching cartoons on Cable TV was the norm, and many still watch it on their favorite networks. But for people looking for previous episodes of a cartoon character they really adore, this is not the right platform. For anyone looking to watch a cartoon or animated series nowadays, streaming online is the best option. With lightning-fast Internet services available across the globe, it is not difficult to stream a cartoon show.
There are personal favorite websites and digital platforms and apps that we use when it comes to streaming. But not every time works as not everyone can afford premium services having subscription fees. That's why free websites and apps are in much demand as anyone can access them around the clock without any restrictions.
The following is a list of 10 such websites for 2020, which are most popular and considered the best in their category.
Well, the world's most popular streaming site for videos certainly has an enormous library so that anyone can use it for free. Backed by Google, YouTube has evolved since its inception in 2005. Currently, there are over 20 million subscribers for both YouTube Premium and YouTube Music subscriptions, and 2 million subscribers for YouTube TV. With a revenue north of 15 billion dollars in 2019, anyone can have a good guess about the figures for the current year.
With the COVID-19 epidemic playing a major role, streaming services have been a cash cow for their parent companies in 2020. Cartoon shows can be found related to virtually every category to suit not only children but also adults. If you are a premium member, you can enjoy ad-free streaming and access to exclusive content.
With the popularity of YouTube at an all-time high, several major broadcasters and media corporations like BBC, CBS, Vevo, and Hulu offer some of their material through it. That's why viewers have more options than any other website on YouTube to watch cartoons.
Also read; How to buy YouTube subscribers that are real and active
Cartoons On is one of those sites which provides a user-friendly interface so that kids can also use the site to watch their favorite shows too. You can find the best anime series along with top cartoons on this site for free.
Disney has always been the household name in the world of entertainment. And that's why Disney Junior capitalized on this and made a mark for itself in the market. But that's not just because of Disney's brand but also the hard work by the people behind Disney Junior and its content.
Known fondly as the "Mouse House," there are many characters apart from Mickey Mouse that people remember from them. You can find classic Disney shows like Aladdin, Cinderella, and The Little Mermaid, to name a few. Disney Junior is a site full of great cartoon characters and is accessed by people of all age groups.
A great site to watch your favorite cartoons, Watch Cartoon Online, is one of the best sites to watch cartoon shows for free. Without any additional charges, you can spend quality time on Watchcartoonsonline for hours. Many popular cartoons and shows for kids are easily available on this site.
Nickelodeon has always been a favorite among children and young teens for its variety on its channel. Like the channel, shows like Jimmy Neutron to SpongeBob SquarePants are available online so that there is nothing you will miss. People love to watch cartoons online on this site, which can rival Disney's popularity in some time.
Toon Jet is a popular site for people to watch cartoons without any fee. All-time favorites cartoons like Betty Boop, Popeye, Looney Tunes are available, having a built-in audience who searches for cartoons online.
Another free website for watching cartoons, this one lands at no. 7 on our list. Having a large database featuring Action, Adventure, Comedy, Crime, Drama, Family, Fantasy, Food, Horror, and more. This one will fetch your appetite for cartoons perfectly.
One of the most-watched Cartoon channels in the world, it has been around for over 28 years, and a whole generation has grown up watching their programs. Teen Titans Go! and Steven Universe has been one of the most famous cartoons on air recently. And you can find them online for free so that you can revisit your childhood memories without any terms and conditions like paid websites.
Another excellent website offering cartoons and animated shows for people of all ages. If you crave cartoons all day, the content available on this website will be more than enough for you.
Another great website to round off our top 10 list, this one is for people looking for all the classic cartoon characters like Road Runner, Daffy Duck, Tweety, Speedy Gonzales, etc. Just click on your favorite studio, and you will find all the cartoons for free.
Over to you
Please offer your feedback for this blog or ask any question by using the comments section below.