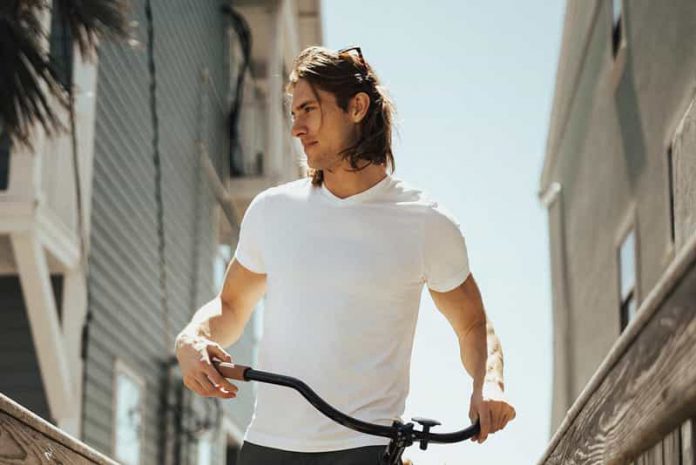 V-necks have been a constant staple in men's wardrobes for years now. This simple garment with a V-cut neckline has graduated from an undershirt to a trendy piece that has peaked in the 2000s and has made a comeback in recent years.
V-necks have been controversial at times, though with camps loving and others hating the tee. But even with the skeptics, V-neck t-shirts are here to stay, so let's look into why men wear them even if sometimes it brings them negative attention.
The V-neck
The V-neck is the younger brother of classic crewneck tees and was invented to be worn as an undergarment. The unique part of this tee was the fact that it didn't have a collar that would be from under button-downs or other clothing.
Guys soon adopted it as an outerwear piece, too, and today, you can find endless colors, fabrics, and styles.
Three reasons why
While every guy has his own reasons for choosing one or the other t-shirt style, these three reasons for wearing a V-neck tee are common to most. Let's explore.
Flattering to the body
One of the reasons many guys love V-neck tees is the fact that the cut has a slimming and elongating effect. Yes, tees with this neckline make shorter guys look taller, and which guy will say no to looking taller?
V-necks are also perfect for those who want to show off their gym gains, especially because the t-shirts with a deeper V cut to expose the chest and slope on the shoulders, revealing the hand muscles.
More fashionable
Yes, fashion is entirely subjective, but V-necks are generally considered a more fashionable and exciting version than the traditional crewnecks.
The V-neck creates a more put-together look and is excellent for semi-casual occasions and sometimes even with formal wear.
Of course, you want to pay attention to your V cut. You don't want to go too deep to avoid looking like guys partying in Ibiza or Miami in 2005. On the other hand, you want the cut to be visible. Otherwise, it's just a crewneck in the end!
Experiment a little and see what type of cut works best for you, but generally, you want the bottom of your V-neck cut to fall no lower than 2-3 inches below the collarbone.
Perfect for layering
V-neck tees are perfect for layering, especially if you like cardigans, blazers, denim or leather jackets, and of course, V-neck jumpers.
To have the best layering outcome, opt for a V-neck tee that's not too baggy yet not too tight. Again, you don't need a wetsuit-like experience.
Another essential point to remember is to opt for high-quality tees that will add class and style to your look. Choose such brands as Fresh Clean Tees for the best options.
V-neck mistakes
While every guy should have at least a few V-neck tees in their wardrobe, and it's pretty easy to find some truly great pieces, there are a few things you should remember and not make mistakes.
No graphics or logos
There might indeed be an excellent graphic V-neck tee somewhere out there, but as a general rule, we strongly suggest always opting for a monochrome t-shirt to avoid looking tacky and cheap.
No exposed chest hair
Chest hair is natural; however, you might want to avoid those types of cuts that expose too much of it.
No old or stretched-out tees
V-necks tend to get stretched out quicker than other styles, and it looks…bad. So if your t-shirt has lost shape, demote it to pajama status!
No oversized tees
V-necks should hug your body nicely. Leave oversized styles to crewnecks!