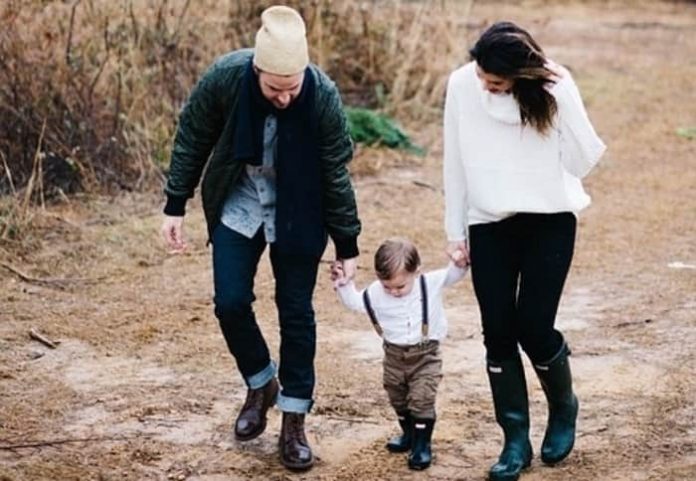 Travelling with a baby for the first time doesn't have to be as daunting as they make it out to be. Your first trip with your baby will be an important opportunity to bond, make new memories as a family and rediscover how different holidays are now that you are parents!
You Don't Have To Wait Until They Are Older
It's common that after you have your baby that many people will tell you, the travelling days are over. This is not the case! You don't have to wait until your baby is older to get out there and travel. Not only will a baby be easier to take on holiday than a toddler, but many airlines allow babies to fly for free until they are 24 months, so if you've been dreaming of a far-flung destination, this might be the most cost-effective time to go there.
Incorporate Flying Around Your Baby's Bedtime
In order to help your baby adjust to travelling book a flight around your baby's bedtime. Get them ready before flying in their pajamas, feed them, read them a bedtime story and stick to the normal routine you would at home, of course without the luxury of a baby bath. This will hopefully help your baby to fall asleep during the flight.
Be Upfront With Your Airline About Feeding
You can breastfeed your baby on a plane. Most airlines have a breastfeeding friendly policy that enshrines this right and you will be able to breastfeed without being challenged. If this is your first time feeding you could request a window seat, so you don't have to lean into the aisle with the baby. You can also chat with staff who might be able to offer you a quiet space at the back of the plane where you can have more privacy. Most airlines also allow the formula to be brought on board, however, check with your airline if they have facilities for expressed milk as not all with enough fridge space. Some airlines recommend that you bring expressed milk in a cooler bag to ensure that it is kept fresh.
Protect Their Ears During Take-Off And Landing
Babies ears are sensitive and the cabin pressure during takeoff and landing can be a painful experience. To avoid this, feed your baby during this time. The sucking motion will help keep the pressure at bay. If your baby does not want to breastfeed or bottle-feed, you can also simulate the sucking motion by giving them a pacifier.
Invest In A Baby Carrier
Leave the pram behind and invest in a baby carrier. Carrying your baby in a sling or structured holder always allows your baby to be close to you, this important reassurance can help them sleep easier, feed easier and will also give your arms a rest from holding them on your lap during the flight. It's also a good idea to have one just in case your destination isn't stroller friendly. It can also be a lifesaver when trying to access public transport, especially as a lot of city metros aren't stroller friendly with stairs to access the trains and turnstiles that won't fit a pram. If you do want to take a pram you should consider sending it ahead via a luggage shipping service so that you have less to lug around the airport.
Pack A Lightweight Stroller
If you want to use a stroller as well as a baby carrier, make sure you have chosen a lightweight one that is easy to collapse. A stroller won't only be somewhere for your baby to sit whilst you explore, it can also double up as a place for naps, an alternative to a high chair and can help keep the sun at bay with an umbrella. It's important before you pack a stroller that you make sure your destination is stroller friendly. There's nothing worse than bringing it all the way there to realize you won't be able to use it.
Stock Up On SPF 50
If you are going to a sunny destination it is important to make sure you bring plenty of high factor sunblock with you. Baby's skin is more delicate than humans and they can't yet regulate their body temperature. Ensure that you use SPF 50 sunblock, cover your baby's head with a hat, protect their eyes with sunglasses and invest in a good sun umbrella. Make sure your baby drinks plenty of water and stays hydrated. Sunburn or sunstroke on a baby can have a serious impact so is not something to be considered lightly.
Choose To Go Direct
It may be tempting to keep costs down by choosing a flight with stops along the way but paying extra and opting for a direct flight is the best choice. Not only will you be more likely to get your little one settled but if you are travelling via two flights or more, then each time you board a new plane you will have to start the process all over again. It can be an exhausting, daunting task. Don't put yourself under unnecessary pressure and pay extra for the direct flight, you'll thank yourself for it later.
Get Health Insurance & Know Where The Nearest Doctor Is Located
Babies, unfortunately, are more susceptible to sickness, so it's a good idea to purchase comprehensive travel insurance that will give you peace of mind. It's also important to find out where the nearest doctor or hospital is to your accommodation in case of an emergency. If you are staying in a hotel, they will be able to provide this information for you and often have a doctor they use for holidaymakers. This may not be the case if you stay at an AirBnB or a private rental.
Bring Plenty Of Wipes
Baby wipes have a variety of purposes, make sure you bring plenty of packs with you. Not only will they be used during nappy changes, but they can help clean sticky hands, wipe down dirty tables and act as a quick face wipe to freshen up sweaty parents. If your baby has sensitive skin or if you prefer a brand, make sure to bring this with you as you may not be able to get it abroad. The last thing you want is for your baby to take a reaction on holiday.