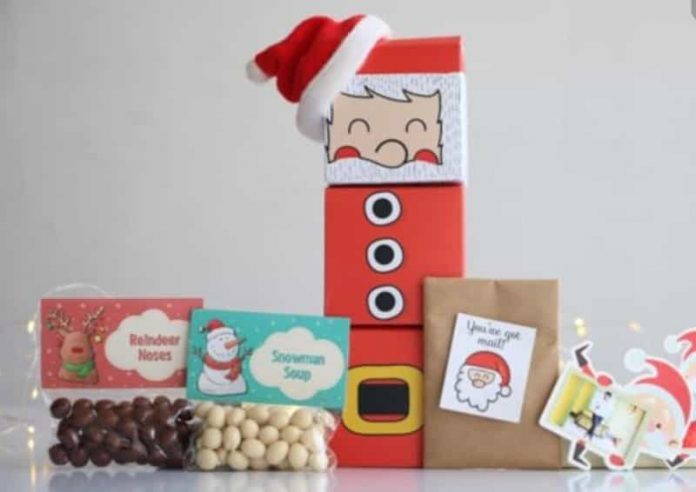 Christmas is in the air. Fairy lights, wintry evenings and the cities decked up in Christmas decor, Christmas has finally graced 2020. No matter how lonely this year was, Christmas is now here to uplift our mood. It is time to rejoice in the festivities and share food, laughter, love among family and friends. Since 2020 has been tough on all of us, appreciating and surprising your loved ones, this Christmas will not only bring them joy, but it will do the same for you. We have made a list of things you can do to make Christmas merrier and joyous for yourself as well as your loved ones. After a disaster that was 2020, we deserve this.
1. Watch Christmas Movies Together and Maybe Sing-Along to Mariah Carey
Spending time with your loved ones is the most valuable thing you can do during festive times. As someone rightly said, the most important thing you can do for your loved ones is giving them your time and attention. Having fun while spending time together is a bonus, of course. And for that bonus put on a movie that feels like Christmas and happiness. The Grinch is one of the films that will drop you right in the Christmas feels.
Another thing to do in the holidays with your family is to play Mariah Carey and join her in singing "All I Want For Christmas." Everyone knows this obviously, but still making a note of it in this blog, just in case.
2. Play Secret Santa
Secret Santa Gifts are now something that has the connotation of an office setting and a sense of team building to it. But let us not forget how fun and thoughtful a way to bring joy to your loved ones this whole exercise is. Trying to know one of your family members to buy them a gift that they will appreciate, or hunting for the perfect gift for a special someone in itself is a gesture of love. Finding the best Christmas gift for her takes a different thought process than a gift for a male member of the family. The effort and thought that goes behind every memorable gift is what matters and makes the gift unique. So, organize a Secret Santa event at your home to get the best of Christmas.
3. Go Christmas Shopping Together
We know you can go Christmas Gift shopping together since the gifts are supposed to be a surprise. But there are a lot of other things at Christmas that you need to go to the store, for example, decorations, groceries and even festive wear. Shopping alone though is sometimes hassle-free but it's a waste of an opportunity to have fun with your loved ones during Christmas. So, make it a trip.
4. Cook Together
There are few other joys which bring as much happiness as cooking together with your loved ones. The banter, chit chat while preparing the food that you are going to enjoy with friends and family, it's a picture-perfect moment. And Christmas is a great time to take full advantage of this activity which is otherwise tedious unless you are a passionate cook. Cooking is an art but not for everyone. But Cooking together with the people you love is something anyone can enjoy. If you don't enjoy cooking, you can always enjoy sharing stories with them.
5. Play Fun Games
No matter what the occasion is, the fun games are always a hoot. That's why they are called games. Duh! Jokes aside, playing a board game or even something as basic as Never Have I Ever has its perks. However, the drinking game is something that is enjoyed with friends generally. It can still be fun when played with family members as long as you can hold onto your secrets.
6. Decorate the tree and the house together
Take part in the Christmas activities with your friends and family even when the activities are as mundane as cleaning the house or decorating it and the Christmas tree (the back of it as well!!). These everyday things also bring us joy when shared with loved ones. Hanging the fairy lights and creating a beautiful festive space is as much a work of art as any other.
7. Dress Up as Santa
If your family has little kids who believe in and cherish Santa Claus, dressing up as Santa Claus is something you should do. Children are the epitome of pure unadulterated joy and excitement adults rarely feel. And this is an opportunity for the adults to have their share of such excitement. Dress up as the warmest Santa ever and have a day of kids listening to whatever you say. Incredible, isn't it?
8. Visit a Local Christmas Festival Together
Christmas festivals are fun. Especially with friends or family. Whether it is a festival of trees, a parade of lights or a welcoming of Santa coming to town, attend a colourful local festival in your city. Even the tree auctions are fun when you have a hot drink in hand and someone to talk to.
9. Make Handcrafted Gifts For Loved One
There is a charm in handmade gifts that no other things can compete with. Even if the gift is a handmade bookmark, it will always be unique for the person who receives it. From handmade soaps to jars of sweets, there is an endless number of Christmas gift ideas that you can make for your loved one and also rejoice in creating something beautiful at the same time.
10. Make DIY Christmas Ornaments
There are so many tutorials on Pinterest, Youtube and other social media that teach the easiest way of making Christmas ornaments. You can sit together with your family, get some DIY supplies and make a fun day out of it.
11. Go Ice Skating
If you live in a place where it snows during winter, most specifically, during Christmas, Ice Skating with your friends is something you shouldn't miss on. The fun is incomparable to anything else. Watching your friends fall on their face while you laugh is just way too entertaining to let it go. Isn't it?
12. Buy 'interesting' Christmas Sweaters For Your Family.
Lady Diana wore the Christmas sweaters and rocked it. So go sweater shopping and get your family and yourself matching Christmas sweaters. The uglier, the better! And have a day of wearing them together and maybe try your hands at Christmas karaoke.
13. Attend The Midnight Service at Your Church
It is referred to as 'Midnight Mass', the service held on Christmas Eve, starting about an hour before midnight, is a tradition. It is held and celebrated as a form of dedicating the holiday season to God. Even if you are not religious, it can be a beautiful way to add some holiday spirit to your festivities, and some of your family members might find it to be surprisingly meaningful to attend. After all, it is a season of peace and love.
14. Build A Snowman
Again, if you live in a place where it snows (please also consider yourself the luckiest to receive a beautiful snow season every year), build a snowman. You will find that building a snowman is as much fun even now as it was before when you were a kid. The pleasure of building it with your loved ones escalating into a snow fight promptly is something you will cherish forever, no matter what age you are. And you can reminisce about your childhood memories while doing it.
15. Sit By The Fire & Sip Hot Chocolate
One of the most peaceful moments of holiday seasons is the evenings when you are sitting by the fireplace and sipping a mug of hot chocolate surrounded by your loved ones. Savour these moments while the holiday season lasts and before you and your loved ones have to get back to work and life in general.
The Christmas season is one of love and peace. The world itself changes into cosy and quiet winter days livened only by the festivities. The decor in the streets, cinnamon smelling candles, earthy pine cones and the lights make us smell Christmas in the air. If we are mindful of the beauty around us, the Christmas spirit isn't hard to achieve. Not just for yourself, but also your loved ones. May you enjoy the festivities and a very merry Christmas along with your loved ones.