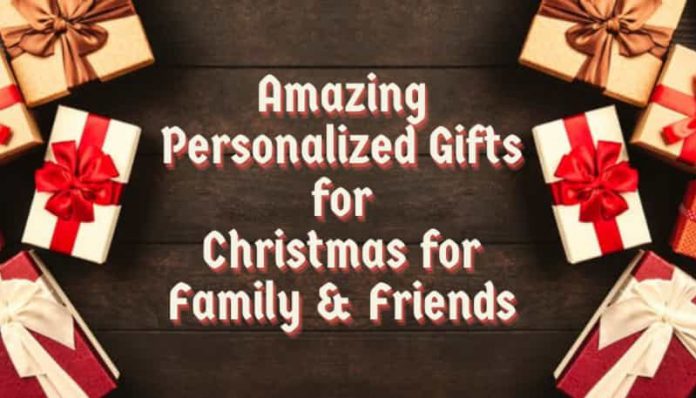 It is almost the last week of November and we are excited for December. It is Christmas time; the most waited time of the year. The Christmas celebration is always extended up to the New Year's celebration. During this time of the year, we manage time to meet and greet our beloved friends and family. We spend a good time to create cherished memories with our beloved people. To make this celebration more remarkable, we exchange gifts with each other. Here is a list of amazing personalized gifts for Christmas for your family and friends.
1. Personalized Family Mugs
Christmas in most countries falls in the winter. Winter is incomplete without sitting in the morning sun and relaxing with a hot coffee/teacup in hand. And there is a saying, whoever drinks morning tea/coffee together, stays strongly connected to them with the bond of love. You can use presto the mugs with family pictures and it would be a very special personalized gift. You can order personalized gifts online from the renowned gift shops in the country or around. They provide a discount on the festive season along with many varieties of gift items.
2. Personalized Face Socks
Most of the gifts at Christmas are lovable, cute. But there are some gifts which always stand out as the different ones. They are funny and bring a light mood. A personalized face sock is a pair of stockings stuffed with different faces presto on them. You can choose the faces and make it a great and hilarious personalized gift on Christmas. Along with the photographs, there will be smaller love signs and 'XOXO' signs on them. It would be perfect if it is your significant other's personalized Christmas gift with his/her face on the socks. A Christmas personalized gift delivery site would send your gift to your given address on time.
3. State Scented Candle
For the Christmas celebration, people fly and come to different places, to celebrate it with their beloved people. So, they miss their home and place. This gift will be a perfect Christmas gift for them. These are soy wax candles that are flavored with scents from almost 50 countries around the world. While they light the candle, the aroma will remind them of the comfort of their home. From Magnolia field of Tennessee to cornfields of Indiana- this beautiful Christmas gift will make your beloved feel at home even in a ghost town. This is also a good gift for those who could not be able to come home on the holidays.
4. Wooden Photo
Photos have always been one of the best amazing personalized Christmas gifts. There are a variety of photo frames available on online websites. From glass to fiber to faux- all these have been on the gift list for a long. But a wooden palate is something new in this traditional gift category. For gifting a family portrait or a pet-o-graph, this is a very unique gift. Also, if you are wishing a couple a happy Christmas, you can send their portrait in a rustic look on this easily carry-able photo frame.
5. Personalized Red Christmas Truck Throw Pillow
Pillows are comfort gifts for people you have feelings for. To the one you love, to the one you care for, to the one you miss- for everyone this personalized gift is ideal for the occasion. This is a white square pillow with a presto picture of a red truck carrying the Christmas tree in it. And above the picture, there is a Merry Christmas greeting printed. Below the whole setup, you can personalize your family name; eg: The Wilson Family, The Hardy Family. It would be an ideal Christmas personalized gift near me.
6. Personalized Yoga Mat
Everyone in today's life, people are conscious- about health, food habit, and lifestyle. And for everyone, the trusted place is Yoga. Yoga is no less than dedication. It needs complete stuff along with peace of mind. So, in a family full of people exercising yoga, everyone having their personalized yoga mat will help them keep it simple. You can send these Christmas personalized gifts to Germany or any other place your beloved resides. The name of the mat will help them identify in a pile of mats which one is theirs.
7. Classic Rocking Horse Gift
This is a perfect personalized gift for the little angel you know. To see their happiest face on this festive season, a classic rocking and riding horse gift will be their best Christmas gift. Made with solid pine wood, this special Canadian handmade gift is a fine choice to make someone's Christmas a happy and remarkable one. It will be their free time playhouse when they will ride the horse and imagine themselves to be the brave prince or princess whose fairy tale stories they have heard for n-number of times.
Christmas is knocking on the door and a lot of preparation is to be done. The above gifts will make your gift exchange plan on Christmas a solid hit.