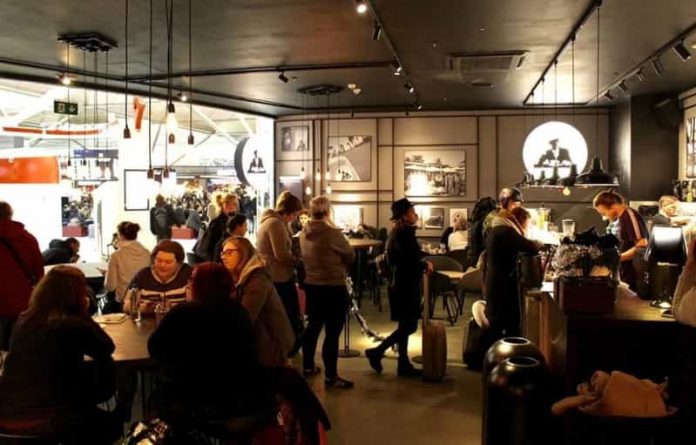 Eating while traveling is seemingly a norm among travelers. People leaving homes in a hurry dismiss meals and get caught up with hunger in transit as they try to beat the traffic to arrive at airports on time. Others choose to eat because they feel that they should even though that's not necessary. As you travel through Changi airport, therefore, you can dine in one of the myriad restaurants and cafés as you wait for your airplane. Or if you aren't traveling, there are still several restaurants open for the public, where city dwellers can come and wash away the everyday urban hassles.
As you walk around the airport's 13-square kilometer site, you can spot restaurants and cafes to grab a meal from or pick a takeaway snack in the four terminals; T1, T2, T3, and T4. The Jewel Changi situated on the northern side also has several restaurants, food outlets, and cafés that will take care of your hunger.
The best dining areas in Changi airport include:
1. The % Arabica
The café is located in the Jewel Changi, unit 01-K208. It operates continually, every day and is a great haven for coffee lovers. The % Arabica offers prime coffee with unique taste profiles, from freshly to meticulously roasted coffee.
2. The Arteastiq restaurant
Both travelers and city dwellers can retreat in the Arteastiq and dine in classy comfort. It's located in the Jewel Changi, unit 05. The restaurant offers comfort food and has an extensive bar menu, with beer on tap. Besides, the dining experience has been embellished with feet tapping jazz tunes. The tunes offer a classy, relaxed English atmosphere and this gives a welcoming ambiance.
3. The 4 fingers crispy chicken
This fast-food restaurant has alleviated the Changi airport dining experience tremendously. It offers crispy chicken wings which are everyone's favorite, with two tasty sauces, 'soy garlic' and 'hot and spicy.' It's open for both the public and transit and can be found in T1, level 3 in the central departure lounge. Another similar restaurant is open for the public, situated in terminal 3 in basement 2.
4. A-One signature restaurant
Located in T3, the restaurant ornates the Changi airport dining with a variety of claypot – cooked cuisines. Notable cult dishes include clay pot-dried Chilli Frogs meat and clay pot rice with chicken in Gong Bao Sauce. The restaurant is open to the public.
Another similar store is found in the Jewel Changi building, unit B2-200.
5. The Aloha Poke Restaurant
The restaurant is situated in the Jewel Changi, unit 5. It offers a wide range of popular Hawaiian streetside staples, including Poke Bowls, Kona craft beer, Tiki cocktails, and other Tiki treats.
6. The Andersen's of Denmark outlet
The outlet offers takeaway Danish that is made based on an original Danish recipe. The ice cream is enriched with different fruit flavors with a variety of fruit choices. You can find waffle cones too taken together with the ice cream. This restaurant is located in the Jewel Changi.
7. Andes by Aston restaurant
Located in T1, the restaurant is available for the public and people can access it in the level 3 section. It operates between 10.30 a.m. to 11 p.m., every day and offers a wide selection of steak cuts, chicken seafood, and spaghetti. Besides, the restaurant provides two side dishes from a selection of chips, salads and others, in addition to every meal ordered.