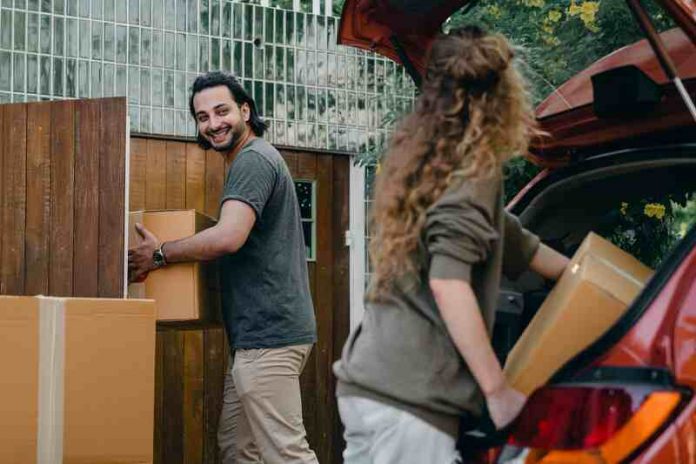 Moving is an inevitable part of life. While some may view it as a fun activity, unfortunately for many people, it isn't a particularly exciting or entertaining phase of their lives.
According to the data reported by USPS, a growing number of people are moving long-distance. And California is one of the top states people are fleeing from, citing increasing housing costs and taxes as the primary reason for their shift.
So, if you are also one of those who've decided to ditch California and move to another state, in that case, you might already have done the paperwork, saved deposits, and exchanged contracts. You finally have the keys to your new home – but what's next? You probably can't wait to settle into your new humble abode and relax. As exciting as it sounds, it's also nerve-wracking because countless tasks need to be done beforehand.
After all, moving is a careful balance of remembering to transfer utilities and disconnect the services while doing your best to make the transition smooth. But there's no need to fret – we're here to ease the process. Ahead is a roundup of crucial tasks to tackle before settling in your new home. The quicker you tick these tasks off the to-do list, the faster you can enjoy your new living space.
1. Book a Reliable Moving Company
If you are a resident of San Diego, a California city whose population has declined substantially over the past year, and decided to embark on a long-distance move due to the highest tax rates. In that case, you must engage the services of a reputable mover.
Extra hands can relieve the strain of moving and allow you to unwind. Not only this, but professional movers also handle your possessions with extreme care. So, look for the best long distance movers in San Diego with years of experience managing various moving aspects.
They can fit bulky items and pack each box adequately to prevent jostling during transit. In addition, these pros can mitigate the anxiety associated with the stressful moving process.
2. Update the Locks
Imagine it's your first night in your new home. After a hectic day, you are now lying in the comfort of your bed. However, the calmness of the night gets abruptly shattered as you hear the noise of keys being inserted, followed by the turning of the front door lock and some stranger entering your home.
Of course, a scene like this will get your heart pounding in your chest. But as you go down to see who the intruder is, you quickly realize that the stranger standing before you has access to your home's key because they had a spare key from the previous home occupant.
You never know how many spare keys previous tenants distributed to their friends or family members. Therefore, one vital task you must never ignore is to update your locks. Also, make sure to update the security systems.
3. Find the Main Shut-Off Valve and Circuit Breaker
While figuring out things in a new home may take some time, knowing where the main water valve and circuit breakers are can significantly help in emergencies. That's because, in the event of a plumbing leak, you will want to turn off the supply quickly to prevent water overflow. In the same way, you must shut off the breaker in case of a short circuit.
Generally, you can find the circuit breaker in a secluded area such as a garage or basement. As for water valves, you can find them on the exterior wall of the home or in crawl spaces. However, locating where the breaker box and the valves are isn't enough. You must also know whether you can shut off the water valve by hand or require a pipe wrench. Likewise, you should know which circuit breaker goes into which room.
4. Spring Clean the Entire House
Before you start unpacking the boxes and putting things in their spots, it's always best to do deep cleaning. Even though most properties undergo a professional cleaning once previous home occupants vacate, homes are usually left vacant for quite a time before new tenants arrive.
Therefore, before you move in and start a new chapter, clean and sanitize the entire house. It's the best time because you will have nothing in your way. You can either take help from professional cleaners or do it yourself. While professional cleaners can alleviate your stress, this might not be an ideal choice if you are on a shoestring budget.
So, get your hands on cleaning supplies and start cleaning from top to bottom. Mop the floors, disinfect the toilet, remove dust from ceiling fans and cabinets, scrub and clean countertops and shelves, wash curtains, vacuum the carpets, and wipe down the appliances.
5. Organize Utilities and Internet Connections
Naturally, you don't want to spend the first night in your new living space in pitch black. Nor do you want to shower with cold water for the first few weeks at the new home. Therefore, ensure to organize your utilities before the official date.
Inform your current energy, water, and gas suppliers about your move-out data – after all, you don't want to be responsible for paying for someone else's usage. Once done with this, reach out to a utility provider sooner than later so they have sufficient time to set up connections at the new place and prepare the paperwork in advance.
Also, work-from-home is the new norm in today's digital world, so set up your internet connections. Some internet service providers may transfer broadband services from one place to another. However, if you are moving long-distance, you may want to cancel your current subscription and look for another that provides strong connectivity at your new place.
Final Words
Whether you are shifting to a new house for the first time or are a pro at moving, the above tips can help streamline the move-out and move-in process. And once done with these tasks, you can now take a breath, pour in a glass of champagne or brew a cup of coffee, and congratulate yourself.
And while unpacking the stuff at the new home may require some time, don't hesitate to take a break and stroll around to explore new surroundings. Discover community centers, sightseeing spots, and shops that will now become the new hangout place for your family.
It might also be an excellent idea to turn the unfamiliarity of a new neighborhood into an inviting residence. So, introduce yourself to the neighbors. After all, making these connections is essential since these people can inform you about the goings-on in the new place and help make the transition smoother.