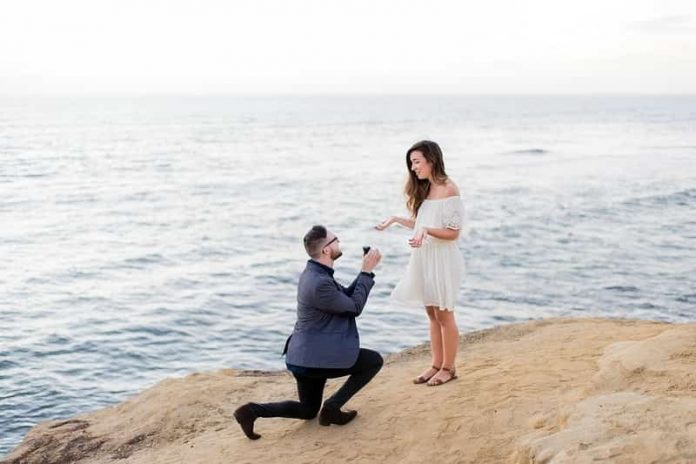 Some milestones are irreplaceable and unparalleled. Like a high school prom night to graduation farewell but Proposing the love of your life is the most overwhelming and surreal experience. After all, asking for your partners or soulmate's hand forever is one of the biggest moments of your life, everyone wants to have the most memorable and unforgettable one.
The thing people ask after being engaged is "How did he propose?" and let me tell you women love to discuss or show off how/where/when you proposed her. So, give her a reason to show off to her friends and propose her in the most exciting way. These interesting proposal ideas will make you the idol husband/boyfriend ever in eyes of all her close friends and family.
So, you're ready to ask the most awaited question. But don't know how to do it? Don't worry we got your back. We have complied 11 Romantic and Unique Proposal Ideas that will make your marriage proposal interesting and unique. Let's Get Started!
1. A Holiday Proposal
Holiday season is the best time of the year to propose the person that you love the most in your life. As we all know, holiday season gives us the most relaxing feeling as we're away from our hectic and stressful work life. So, express your feelings with her this holiday season. It would be a great idea to deliver a ring box with a breakfast tray. Or propose her at some memorable or historical place that she finds most interesting or close to her heart.
From proposal in the flight to proposal during the long drive, find the best way to propose her during these holidays. So, you can celebrate the engagement during the holiday. You can go anywhere, where no one knows you. So, anybody can't spoil your moment.
2. With Family/Friends at Dinner
Nothing can be better than celebrating happiness with your loved ones. Bring all her loved ones under one roof and propose her in the presence of your family. Intimate moments with the people you love is the best way to do it. After proposal, even you'll get the time for the celebration with your family members and closed ones.
3. Festive Christmas Proposal
The Christmas season brings happiness and love in our lives. Make this year's Christmas never-to-be-forgotten. Help her decorate the tree, make her cookies and when she goes to sleep. Be her Santa with the most stunning Engagement Ring and keep her near pillow. She'll get surprised when she'll see ring near her pillow in the morning.
A cake with your proposal lines and put the ring on the top. Trust me giving roses is not a cliché and is still very romantic. And now, Christmas is just around the corner and if you're serious about making her Christmas evening memorable then start your preparations from today!
4. Write a Poem or Letter
Loves to read or write? Then write your heart down on the paper is the most romantic and sweetest thing you can do. Use your poetic skills to propose her and then put Wedding Ring with the letter on her table, with some chocolates.
You are not a good writer, then not to worry. You can write down the book with the points on "Why you want to marry her?", "The reason she should say, yes" or "The vows". Trust me she is going to keep this book close to heart and you the closest.
5. Private Beach Proposal
You love intimacy and privacy. You can take her to the beach and have a beautiful setup of petals and lighting on the captivating seashore. Have your private moment, talk to her, eat your favorite food and dance on a romantic song.
You do not want lavish things, then you can take her one evening to the beach. And tell her what you feel and ask her to marry you. Your emotions, love with natural beauty is enough to make this moment special and unforgettable.
6. Romantic Walk Proposal
Walk after a busy day or a movie date. Instead, her to walk down to the house. Hold her hand, confess your feelings to her and on the right note go down on your knees and propose her. You can take help from the friends and put gifts for her on every turn and on the final destination "the ring".
A musician for a lovely romantic song and has an intimate dance on the roads of the city. Or a kid can bring her a rose with the ring. Wandering around the street is actually very romantic, try it out.
7. Dream-Come-True Proposal
Every person has their own dreams, and nothing can be better if you fulfill their dreams. You might not know that, but every woman has imagined herself as the bride and had dreamed her proposal a thousand times. What can be better than giving her dream proposal? No matter, what kind of proposal she like? Ask her best friend throughout the planning, as she has listened to this dream million times. So, she can guide you better with the preparations. In this way, you can bring a smile on your dream girl's face.
8. Light Proposal
Who doesn't love lights? Everyone does, especially women. You can write "Will You Marry Me" from lights in some café or on your terrace. Or Decorate her room with lights. How lovely it would be to come home full of lights after a hectic day.
You are ready to break the boundaries then you can also write on the sky with artificial stars. One night lie down on your terrace or drive down to the countryside and shower stars on her with the beautiful proposal.
9. In Her Favorite City
She always wanted to visit her own city where she had grown up. City she loved the most and have a special connection to it. Take her to the city and surprise her with the question and the ring.
Can also pick some specific place in the city, from which she can relate or relive her life's beautiful moments. A great way to start your new journey from the place she has started her life. And if you are going to a new city then pick a place where she would feel the most comfortable.
10. Under the Sky
The sky accompanies stars to witness one of your life's milestone. If she loves to stare at the night sky and the stars, then nothing will make her happier then stars. Lie down under the sky hold each other's hand and ask her to marry you.
Can bet she can't forgive those moments till her last breath. This also proves that you know her preferences the best and can make her happy till eternity.
11. Lazy Afternoon Proposal
Want to go to exotic places or fancy dinners to make her feel special. You can also make a lazy afternoon memorable. Just the two of you watching your favorite movie with popcorns and when the actor proposes the actress, you pause the movie and go down on your knees with the same lines. Sorry, I don't know anything more beautiful than this.
The most important and final tip would do plan a secret photographer to seize your moment. It will make you happy every time when you'll see those pictures. Now, what are you waiting for? Go propose you lady in your style and make her yours forever and ever!