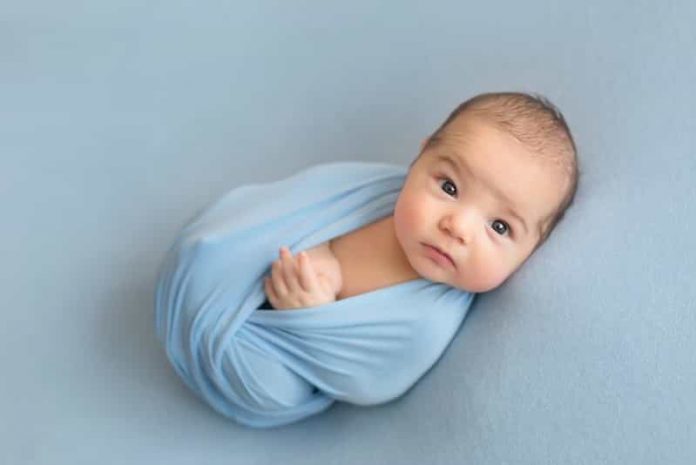 A newborn photoshoot is a great way to capture some special memories of your little one's first few days on earth. These keepsakes are also perfect for sharing with friends and family who can't meet the baby right away or for featuring on your birth announcements.
But unlike asking your older child to "say cheese," styling and posing newborns takes a bit more work. If you're ready to plan your newborn photo session, here are a few ideas for choosing the right poses for your little one.
1. "Tushy-Up" Pose
This popular pose is as cute and playful as the name suggests! Using props like blankets with a pillow underneath, for this pose, you'll need to lay the baby on their stomach, with their bum slightly raised. Their feet may cross beneath their bottom, and their hands should fold or cross under their head or chin.
Another variation on this pose sees both the baby's bottom and head elevated, creating a slight "U" shape. This pose is great for adding to a photo birth announcement as well. Indeed, these announcements give your friends and family a sneak peek of your little one before they get to meet him or her, as well as a keepsake they can hold onto forever.
2. All Wrapped Up
Another popular pick for newborn photos requires a soft blanket. This could be a swaddling blanket in a soft pattern or a muslin or linen wrap or cloth. The former is great for showcasing a baby-themed pattern, a floral or striped print, or even a blanket themed around a favorite sports team. Meantime, the latter is great for creating more rustic newborn photos and adds texture to the picture.
To snap this type of picture, start by swaddling the baby in your blanket of choice. Then, you'll want to create a backdrop by placing another blanket over a couch or pillow. The goal should be to prop the baby up slightly to allow your photographer to capture your sweet little one's face.
3. Chin-on-Hands
This pose is one of the easiest to achieve. You won't need to prop up your little one or add a wrap. Instead, lay your baby on his or her stomach, folding their arms in front of them and positioning their appendages under their chin, or turning their head and resting their cheek on their hands.
4. With a Sibling
If this isn't your first little miracle, don't forget to include your other children in your newborn photos as well! A snap of your baby curled up asleep or lying on their back with their sibling looking down on them is not just a great photo; it's also an amazing keepsake for two siblings just starting their special bond.
Choosing the Right Newborn Poses
If you're starting to think about poses and props for your newborn photo session, know that these ideas are a great starting point. However, keep in mind that newborns need a little extra care when posing compared to older children. If you aren't planning to work with a professional photographer, make sure you take special care not to move or bend a limb in a direction that may be uncomfortable or even harmful to your little one.
In particular, support their head and neck while posing. It's a good idea to have someone else on hand to help with posing and stay close to your baby while you're snapping pics. If you're worried about posing, you could skip the ones on this list and instead opt for "baby-led poses." This means capturing the cute poses your baby makes all on their own!