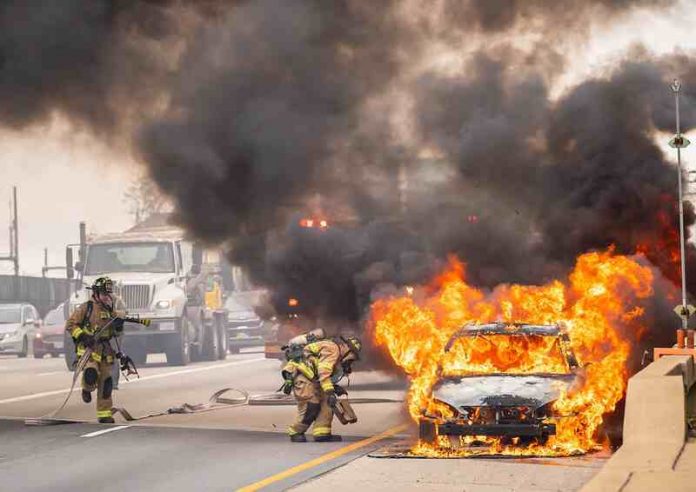 Despite improvements in car manufacturing, issues still occur, making certain cars more dangerous than others. This is especially true of vehicles that are recalled because of safety concerns.
All cars pose dangers to drivers. That said, some are more hazardous than others, especially if they are not built properly. This is seen most clearly when vehicles are recalled fairly. In recent years, Honda has recalled several vehicle models for issues relating to seatbelt latch malfunctions. Other dangerous cars present the risk of fires, including recalled Teslas, Hyundai Velosters, Dodge Rams, and Ford Expeditions. Even unrecalled vehicles might be dangerous, especially if they do not have rear side airbags, have large blind spots, or are fairly small.
19 of the Most Dangerous Cars of the Past 10 Years
Car recalls are fairly common and are usually born out of user reports of hazards. Common reasons for car recalls include ignition and braking issues and the possibility of fires. Teslas, notably Model Y and Model 3 vehicles, have recently sparked concerns over spontaneous combustions. Other dangerous cars that have been recalled recently include Jeep Wrangler SUVs, Nissan Rouge SUVs, Subaru Solterra EVs, Chevrolet Silverados, Dodge Rams, and various Ford, Honda, and Hyundai models. If you are injured in an accident caused by one of these dangerous vehicles, you can contact a car accident lawyer for help.
Tesla Model Y and Model 3
Recently, Tesla has come under investigation by the National Highway Traffic Safety Administration (NHTSA) over concerns about phantom braking and engine fires. This investigation led to a recall of certain Model Y Tesla cars, which posed serious dangers to drivers. Self-driving cars, such as Tesla Model Y cars, can limit driver ability to engage in certain activities or even leave their vehicles in certain situations. As of 2023, reports indicate that of 182 documented fire incidents, five occurred with Tesla Model Y cars. At least one of these fire incidents was caused by a Tesla Model Y shutting down while driving and igniting. Other causes of fires included cars igniting while charging and spontaneously igniting.
Issues with overheating extend to other Tesla models, notably Model 3 vehicles. These cars were involved in at least 11 fire incidents as of 2023. Some incidents involved Tesla Model 3 cars igniting while charging or catching on fire during collisions. Another incident involved a Tesla Model 3 combusting while parked. Another still involved a Tesla Model 3 catching fire while stopped at a traffic light. These vehicles are without cooling systems, which largely contributes to their increased risk of catching on fire.
Honda Acura, Accord, CR-V, Insight, and Odyssey
Although Honda, in its recall notice to the NHTSA, claimed that no injuries or deaths were reported concerning defective seatbelts, it has begun to recall several hundred-thousand cars. These include models from 2018 to 2020, such as the Honda Acura RDX, Accord, Accord Hybrid, CR-V, Insight, and Odyssey. The issue at hand is the latch feature on seatbelts in the front seat. Without a working latch, drivers or front seat passengers might be more likely to sustain serious injuries in a car accident. Seat belts cannot protect passengers from going through windshields during a collision or prevent hard impact with airbags when not properly latched.
Jeep Wrangler 4xe SUV
In December of 2022, Jeep recalled over 62,000 Wrangler 4xe SUVs. The recall was brought about because of engine issues, including the possibility of engines shutting down while cars were driving. This presented the increased risk of serious accidents, which unfortunately did occur on multiple occasions. While Jeeps are otherwise relatively safe vehicles, Jeep Wranglers may be more likely to fall over in an accident than other cars.
Volkswagen Atlas
Over 140,000 Volkswagen Atlas vehicles, including Atlas Cross Sport models, were recently recalled. The recall was due to issues with front seat airbags that failed to recognize the presence of a passenger and thus failed to activate during an accident. The recalled vehicles were models made between 2018 and 2021. Previous issues with these vehicles included water leaks that caused airbag deployment at random times, not during an accident, which presented the risk of injury to drivers and front seat passengers.
Hyundai Veloster
Parking sensors within Hyundai Veloster models caused concern over possible short-circuiting, leading to a recall of over 26,000 vehicles made between 2012 and 2013. The concern about fires was due to incident reports from drivers as well as the possibility of flammable liquid leaking into the sensor area.
Nissan Rouge SUV
The particular shape of the ignition key of Nissan Rouge SUVs posed the risk of possible collapse while driving, causing vehicles to shut off spontaneously during operation. This led to an increased risk of accidents, especially on high-speed limit roads, such as highways. Both normal Rouge SUVs and sports models made between 2014 and 2022 were affected by the resent Nissan recall.
Subaru Solterra EV
Concerns over the efficacy of hub bolts on the wheels of Subaru Solterra EVs resulted in a recent recall of over 1,000 vehicles. Loose or ineffective hub bolts pose the risk of wheels falling off while driving, which could cause vehicles to suddenly slow down or veer into other lanes, resulting in an accident.
Ford Expedition and Navigator SUV
Reports over interior fires caused Ford to investigate possible issues with Expeditions and Lincoln Navigators built between 2015 and 2017. Subsequently, those models have been recalled. Motor failure, possibly caused by the blower motor of these vehicles, led to fires and injuries. Another recall of the 2021 models of the same vehicles was issued after drivers reported fires underneath the hoods of their cars.
Hyundai Accent and Elantra
Hyundai Accents, Elantras, and Elantra Hybrids, made between 2019 and 2023, could have seatbelt pretensioner issues that result in shrapnel deploying, causing injuries to drivers and passengers. Pretensioners allow seatbelts to tense up when passengers or drivers lurch forward, preventing them from going into windshields or being thrown throughout a cabin during an accident. Regarding the recalled Hyundai Accents, Elantras, and Elantra Hybrids, pretensioners malfunctioned, causing debris to emit from the area and harming passengers.
Toyota Camry
Issues with the vacuum pumps in 2018 and 2019 Toyota Camry sedans could lead to braking issues. While brakes might not totally cease to work, their efficacy could decline in a moment, increasing the risk of accidents. While the issue pertains to all Toyota Camry sedans built during the cited years, the risk of braking issues might increase for drivers who tend to idle for long periods of time.
Dodge Ram
A few years ago, in 2017 and 2018, Dodge recalled several models of its Ram pickup trucks because of transmission failure issues. The issues led to overheating and posed the risk of possible fires, leading to a recall of nearly 200,000 vehicles.
Chevrolet Silverado
The possibility of brake fluid leaks in Chevrolet Silverado models led to the car company issuing a recall of several hundred-thousand vehicles in 2023. If leakage was excessive, an electrical short circuit of the pressure switch could occur, causing a fire. The recent recall applied to heavy-duty and medium-duty Chevrolet Silverados.
What Makes Some Cars More Dangerous Than Others?
Some key features can make certain cars more dangerous than others. Increased danger does not necessarily indicate some vehicles are more prone to getting in car accidents, though it can. For example, large blind spots can make drivers of big trucks less likely to see cars changing lanes, resulting in an accident. Additionally, a lack of rear side airbags or poor crumple zones can increase the risk of injuries in an accident.
No Rear Side Airbags
Not all cars have rear side airbags. While front airbags are mandated in all cars, that is not the case for backseats. In fact, side airbags become less common the further back rows go. For example, large vehicles, like seven-seater cars, may not have airbags in the third row, which could increase the risk of serious injury for passengers. While newer models might be more likely to incorporate rear side airbags in the third row, that is not necessarily the case for older vehicles.
Poor Crumple Zones
Crumple zones in the front and rear of a vehicle are designed to absorb the force of an impact during a car accident, reducing the impact felt by passengers. Some cars have worse crumple zone ratings, meaning they absorb less impact. Drivers can learn more about the crash safety tests for their specific vehicles by searching their make and model using the NHTSA's safety ratings search.
Large Blind Spots
Bigger cars have bigger blind spots. For example, virtually all types of pickup trucks, regardless of manufacturer, will have larger blind spots than sedans. This most often impacts drivers when changing lanes or turning. A larger bling spot inhibits a driver from seeing another car following them closely or changing lanes. Even if you are not operating a vehicle with a large blind spot, you might be injured in an accident if such a vehicle is driving close to you.
Vehicle Size
Vehicle size can also make some cars more dangerous than others. Bigger vehicles, like trucks and SUVs, can withstand collisions more easily and might protect drivers and passengers from serious injuries. Smaller vehicles, like Smart cars and Fiats, can't handle impact in the same way. These cars might not protect passengers in the event of a collision, increasing the danger and the likelihood of passengers sustaining severe injuries.