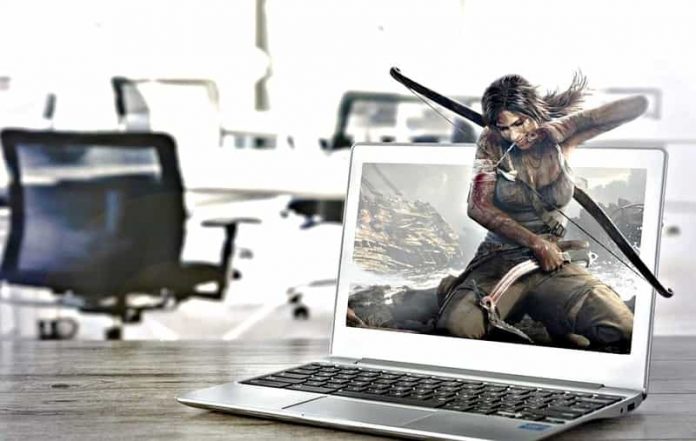 As the holidays approach, now is the right time to start sourcing for amazing gaming laptop offers. The past decade has been very friendly for most gaming laptops as they have gotten thinner and ridiculously powerful. Thanks to their impressive specs, thrilling displays, and stylish designs, most of them offer mesmerizing experiences in a convenient package.
Now, with all these great features, it can be daunting to get one that is ideal for your needs. To help you navigate through all the laptops on offer, we have collated a list of great laptops to check out this holiday season:
1. Lenovo Legion Y7000
The Legion Y700 from Lenovo is a true definition of quality gaming at a pocket-friendly price tag. Retaining at $1,099 only, it features a powerful GTX 1060 GPU and Core i7 in a sleek chassis with a polished keyboard, a spacious 15.6″ display, and a long-life battery.
Other premium features include:
CPU-i7-8750H
GPU: Nvidia GTX 1060
RAM; 16GB
Storage: 256GB SSD
1 TB 7,200 rpm hard drive
Weight: 5.3 pounds
2. Alienware m17 R2
This gaming beast offers a raw gaming experience and a big 17-inch display in a stylish design that is both adorable and charming. It's RTX GPU, and overclockable i9 processor is ideal for countering your enemies in VR or watching movies. The upgraded cooling system offers a more relaxed and quieter gaming experience too. Its stunning display and integrating eye-tracking feature make it one of the most powerful gaming machines available.
Other features include:
CPU: Intel Core i9
GPU: Nvidia GTX 1660 Ti/2080 Max-Q
RAM: 32GB
Storage: 1TB SSD
Display: 17.3-inch
Weight: 5.7 pounds
3. Razer Blade 15 gaming laptop
Razer's latest gaming powerhouse is available in a dazzling white box that is sure to draw everybody's attention in the room. And this doesn't compromise the interior. It is powered by RTX GPU and an Intel Core i7 processor making it a power personified gaming beast.
Razer Blade 15 comes with a 16GB RAM, which is expandable up to 64 GB with upgradable storage of either 512 or 256 GB. It also has HDMI 2.0B, Thunderbolt 3 Type-C, 3 USB Gen 2 Type-A, and mini display ports. Other notable features include an above-average life 80WHr battery, 2.667 MHz DDR4 RAM, Bluetooth 5, Intel Wireless AX200, and Windows Hello IR camera.
For the design, Blade 15 is symmetrical, with squared edges and a compact metal chassis. What about performance? This gaming laptop is not all just about games. Its i7-8705H processor and 16 GB RAM means it can multitask efficiently. You can watch a movie on Netflix while running over 20 Google tabs, and you won't experience any lag.
For battery life, it can offer you up to 6 hours of regular usage. Although this falls short, it comes with a decent 230-watt charger, ensuring that even when using the CPU maximally while gaming, you will still be able to charge the laptop positively.
Other features include:
Windows 10
Plenty of power
Lots of ports
Light and thin design
Sturdy quality
Impressive gaming performance
Up to 240Hz Full HD or OLED 4K Display
Up to 6-Core Intel® Core™ i7
16GB Dual-Channel SODIMMs
If you are looking for a best gaming laptop in Singapore, this should be one of the best to be getting.
4. ASUS ROG
This ASUS gaming laptop features a 2.4GHz iCore 5-9300H quad-core processor (upgradable up to 4.1GHz) and a decent 8GB RAM. Also, its modest NVIDIA GeForce GTX 1650 graphic card with a 4GB memory means you can enjoy action-packed games lag-free on its wide 15.6 inches display with a native screen resolution of 1920 by 1080. What's more, it is VR ready and comes with a 256 SSD for all your storage needs. So, get your goggles and start your adventure!
5. HP OMEN 15.6″ Gaming Laptop
This laptop sports 16GB of RAM with a 2.6GHz 8th generation Intel Core 9750H processor, giving users lots of power for playing action-packed games, streaming movies, and editing photos or videos smoothly. Its graphics are also very appealing courtesy of its powerful NVIDIA RTX 2070 card with 8GB memory and an anti-glare display with 1020 by 1080 resolution for ultra-wide viewing.
You may also like, "The Beauty Of Online Games For Kids"
Conclusion
Whether you are looking for a high-end or premium model or you want something modest with a pocket-friendly price tag, these picks can direct you towards the best gaming laptops currently available. Try any of them today; you will be glad you did!