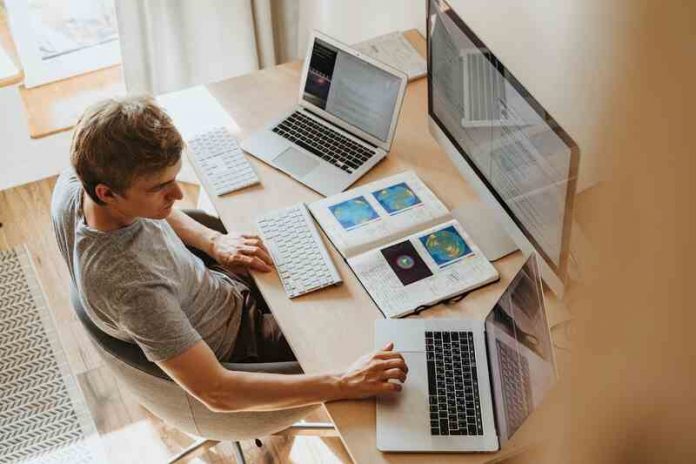 Most of us have been working from home for the past two years. While some were set up for working from home, many of us were not. Most of us are still looking for ways to upgrade our spaces. There are so many gadgets and accessories available to help make us optimize our work from home spaces. We also need to have all the right tools to make sure our home workspaces are a place where we can focus and not worry about being distracted. We've created a list of tools and gadgets to help upgrade your space and improve your productivity.
1. Ergonomic chair
We all know the struggle of having an uncomfortable chair and the amount of back pain that can cause. Many of us, especially those who work in industries like London IT support, end up sitting for most of our day without even realizing. Investing in an ergonomic office chair will help to reduce the struggle of back pain from a basic chair. Investing in a good chair will definitely help improve your health in the long run. When looking for an ergonomic chair, here are some things you should look for: Lumbar support, high quality materials and knee support. With an ergonomic chair you'll have a lot less back pain making work that much more bearable.
2. Standing desk or standing desk converter
We know that sitting for extended periods is not good for us. Many people also prefer to have the option of standing while we work. This is why we have seen standing desks grow in popularity over the years. Standing desks can get expensive but now many companies have a standing desk converter that you just place on top of your regular desk.
3. Wrist support
The way that our technology and gadgets are designed causes many people to suffer from wrist pain. One way to avoid this is by using some form of wrist support. There are two common forms of wrist support, one that is part of a mouse pad or a separate wrist support cushion. Wrist support is needed for trackpad, keypad and mouse pad use and it is advised to use these supports for both hands. There are also wrist guards available for cases of more severe wrist pain.
4. Webcam and microphone set up
Remote working also means lots of online meetings and video calls. Most laptops come with a webcam built in but these are generally quite a low quality webcam. A good webcam is especially important for people who have to lead meetings or do presentations. Buying a quality webcam will ensure that no matter how old or new your laptop is, you will have a quality webcam. It is also important to make sure that the webcam you purchase has a good microphone built in. That way your presentations will always be of the highest quality and will not have an effect on your performance.
5. Noise canceling headphones
Most of us have a set of headphones and many of us have a separate set for work and for entertainment. SInce it can be difficult to focus in an environment that is noisy, it is recommended that your work headset is noise-canceling. A good set of noise-canceling headphones is life changing, especially if you have family at home or live in a noisy area.
6. Mobile hotspot
A mobile hotspot is an essential for those of us who enjoy working from a coffee shop or co-working space. Although these places generally have wifi available, it is not always the most secure. Using your own hotspot will ensure that your personal data is always safe. There are many forms of mobile hotspots available and many of them can go up to 150Mbps, so you won't have to worry about a delay in your connection. The rise of 5G means that we can find even faster speeds, which is especially great for people who travel and depend on a hotspot as their main internet connection.
You may not need all of these gadgets and tools but they can definitely improve your workspace. Investing in gadgets that can improve your workspace will only benefit you and your health in the long run.