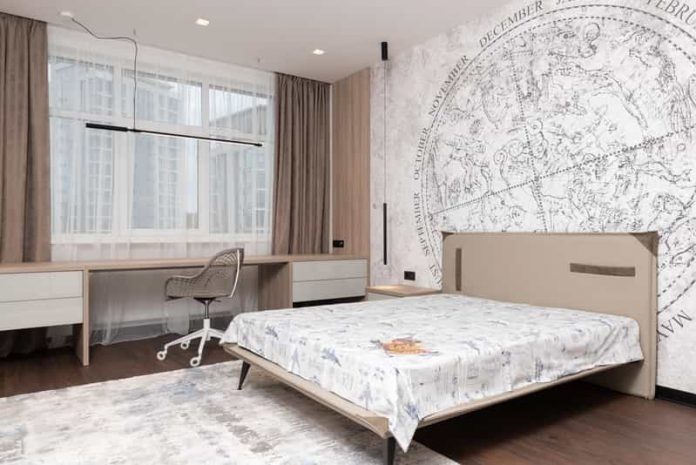 Bedroom furniture serves as the foundation for creating a dreamy room that looks and feels like it belongs in a magazine.
But when you're decorating a bare room, picking out furniture can seem daunting. For one thing, you have to ensure everything you buy is within your budget, and for another, the pieces you pick might define your design style for years to come, especially if you're decorating from scratch. But buying bedroom furniture doesn't need to be tricky.
Before you go shopping, do your research, whether that's scouring the web for mattress reviews or investigating the durability of thrifted furniture. To help you get started, here are some timeless bedroom furniture ideas that defy rigid style expectations and work well with everything.
Frame Your Bed
Your bed is the focal point of your room, and choosing the right bed frame can help you draw the eye toward it. But beyond just the aesthetic factor, a high-quality bed frame is as essential for a good night's sleep as the right mattress.
If you're on the hunt for a new one, consider opting for a Puffy adjustable bed frame that will allow you to customize your comfort based on your needs and preferences. With an adjustable base, you can even customize the height of the frame, offering you extra space for storage underneath the bed.
Besides being a bedroom essential, an adjustable bed frame has many benefits, including improving circulation, easing indigestion, and relieving aches and pains.
Multipurpose Furniture
The key to ensuring your bedroom furniture stands the test of time is not just picking out durable pieces but also paying particular attention to the ones that can serve a dual purpose.
Multipurpose furniture can save you a ton of space, and it can come in handy whenever you decide to redecorate your bedroom.
For instance, consider swapping out the traditional nightstand for a wooden step ladder that provides storage space and gives your room a bohemian look. Another versatile piece of furniture worth the investment is an ottoman. You can sit on it, use it as a side table, or pop open the top to store any extra items.
Creative Lighting Solutions
Lighting is an essential component of any bedroom. Not only can inviting more light make a small space look larger, but it also adds an instant touch of coziness.
When adding more light into your room, try to get creative with your pieces. If the majority of your bedroom is minimalist, the lighting you choose can significantly impact the overall appearance of your room. In case you don't have sufficient space to overload your room with table and floor lamps, consider opting for hanging pendants or wall sconces. You can also place a wall aquarium with led aquarium light as it will not consume space if attached with wall. Having an aquarium in your living space have many health benefits too.
Your bedroom should also look and feel airy, so it's essential to ensure you're allowing enough sunlight into your room. The best way to guarantee this is by installing linen curtains in a neutral color to open up your room and usher in more light.
Wall Shelves
Unless you have a spacious master bedroom, a large chest of drawers might be an unnecessary waste of space. One way to jazz up empty walls is by putting up wall shelves that match the rest of your bedroom furniture.
In addition to saving space, the biggest advantage of wall shelves is that you can use them for anything, whether that's to proudly display your collection of books, records, or artwork. You can even jazz up the shelves with plants and unique decor pieces to create more interest.
Tips for Choosing the Right Bedroom Furniture
Investing in new furniture requires thorough research, but also a few essential personal considerations. The last thing you want to do is purchase the first thing you see without a second thought.
To ensure you don't suffer from any post-purchase regrets, here are some tips to help you pick the right furniture.
Evaluate your space
Perhaps it goes without saying, but going furniture shopping is a bad idea if you don't know your room's exact dimensions.
If you have a large master bedroom, furniture that's too small and minimalist will look out of place and incohesive. By contrast, if your room is on the smaller side, large furniture pieces will eat up space you can't afford to lose.
To strike the perfect balance between the size of your room and furniture, it's important to note your room's dimensions and look for pieces that fit within those specifications.
Consider your style
While it's best to pick bedroom furniture that can work well with any decorating style, defining your preference beforehand can help you pick pieces that complement each other well.
When narrowing down your interior design style, consider what you want from your bedroom.
If it's a serene space that's free of all clutter, then minimalism might be up your alley, but if you want the freedom to incorporate colors, patterns, and loud accents, bohemian might work better for you.
In case you can't commit to a specific design, try to find versatile and traditional furniture pieces that won't go out of style.
Assess your budget
Your budget might be one of the most important considerations when it comes to buying new bedroom furniture. Before shopping, it helps to make a note of the things you want to invest in.
For instance, a bed frame and a top-rated mattress are both essential elements of any bedroom, so it makes sense to invest in high-quality pieces. But on the other hand, you probably don't want to spend too much money on a giant shelf.
The key to shopping smart is working with your budget and finding cheaper alternatives for items that aren't comfort essentials. Thrifting is a great option for finding durable and unique furniture pieces at affordable prices.
Ultimately, picking bedroom furniture is all about making sure you find pieces that suit your tastes and work well with your room. After all, your bedroom is a personal space, so just trust your instincts.