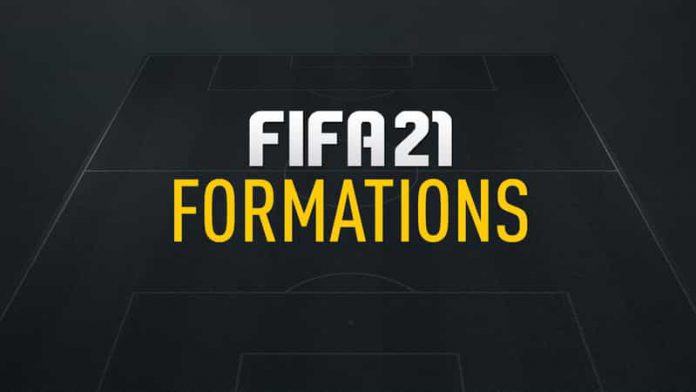 FIFA21 is now a part of us, and ever since its release, we've noticed quite some trends and one of the most crucial being that of its tactical segmentation.
The formation is one of your crucial chances in football and since FIFA is reality imagery, your formation could mean the difference between successful gameplay and its opposite.
Many people believe formations are equal and if you think likewise, it's time to consider formation with a bit of change of perspective.
Formations are suitable for different playing styles; some are perfect in having you keep in possession of the ball, while another may be great at helping you to be on the defensive side to repel an endless wave of attacks by the opponent.
There are two sides of the coin when it comes to changing formation; it either works for or against you, but if you have a clue about yours, chances are that you'll be good to go.  
Given that, you might be curious to know how you can leverage formation to get a tactical edge from the opponent, and hopefully, you are in the right place for that.
So if you need a FIFA formation guide that'll showcase to you the short but hard facts, you should keep reading.
4-3-3 (Holding)
Any of the available styles here have the potential of giving you an edge, but if you're looking for a real all rounder and the best 4-3-3 that is suitable for everyone, holding would be your best bet.
The attacking version gives you immense goal-scoring opportunities by helping you overload the defense of your opponent, although if you aren't a good finisher, the tide may be in the favor of your opponent.
4-2-3-1
As a possession-based team that ventures into making short passes, this formation may not be a thing for you.
However, it will help you to successfully launch counter-attacks and could make you drive nuts the opponent on passive possession.
4-1-4-1
In the previous FIFA games, this formation was hell too defensive, uninspiring, and rigid, but FIFA 21 had these sorted out with the creative runs and improved movements.
More than ever, you can now be on the defensive and still retain your players' flexibility.
4-2-2-2
This is a popular formation in the previous FIFA and seems to have carried its fame down to FIFA21. 
 You may find it hard to dominate possessions, but if you have faster strikers in place you'll have lots of attacking options, flexibility, and a solid base.
Wrapping Up
When it comes to Formations everyone has their preferences and to uncover some of your potentials, you need to adapt to making experiments because, for every new update, your preferred formation could be no longer as it used to be.
If you'll like to improve your FIFA21 gaming experience, you might want to check out the influence of a FIFA Autobuyer in your FUT gameplays. If so, I can't recommend any other but a premium FIFA Autotrading bot from FUTMillionaire.
Now to you, what's your favorite formation and why?