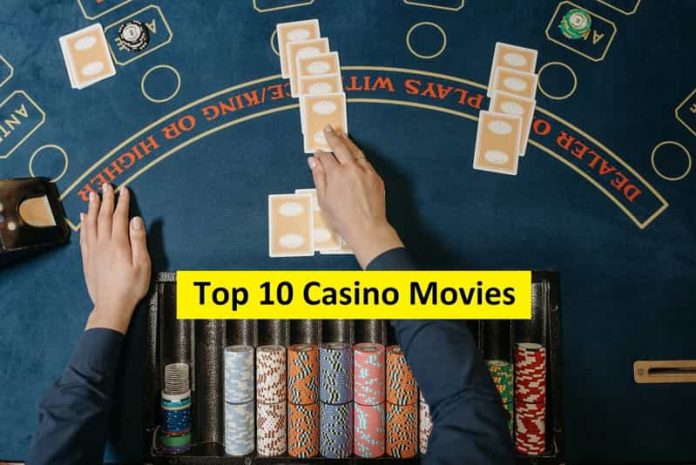 It's fair to say that these days, casinos online and online gambling are common themes in entertainment. Specifically, the seventh art has expressed its appreciation towards the highly popular industry many a time. There are hundreds of casino-themed movies.
So, if you're in the mood for a round of poker until the chips are down, or you feel like a spin of the roulette wheel, keep reading.
Here are the best 10 casino-inspired films:
The Cincinnati Kid (1965)
Casino (1995)
Fear and Loathing in Las Vegas (1998)
Rounders (1998)
Ocean's Eleven (2001)
Casino Royale (2006)
21 (2008)
Molly's Game (2017)
Uncut Gems (2019)
The Card Counter (2021)
We listed all the casino movies chronologically rather than by another criterion. Enjoy.
1. The Cincinnati Kid (1965)
The Cincinnati Kid is a classic casino-themed movie and a must-see. It's an intense American drama taking place during the Great Depression. Some even name it a coming-of-age story about a prospective poker player. Watch Eric Stoner crawl his way up to the high-limit gambling circles in this cinematic casino classic.
The reason why the movie is called the Cincinnati Kid is the allusion to the protagonist's purity and innocence. Following the "started-from-the-bottom" mantra, The Cincinnati Kid set the foundation for generations of up-and-coming high-stake gamblers.
2. Casino (1995)
The reputation of some casino movies speaks volumes even before they are seen. Scorsese's Casino is a legendary gambling-themed cinematography masterpiece from 1995. In it, viewers are involved in a love triangle infused with poker chips, roulette wheels, and blackjack cards. Enjoy the immaculate performances by Sharon Stone and Robert De Niro as the narrative gets denser. The storyline gets more intricate when substances are used and friendship is challenged. Almost 30 years after the release, Casino is still one of the highest-ranking movies on IMDb and Rotten Tomatoes. So, if you haven't seen Casino, know that you won't be wasting your time once you do.
3. Fear and Loathing in Las Vegas (1998)
Some blockbusters stay such years down the road. Fear and Loathing in Las Vegas is a cult movie featuring all the charms of Sin City. The point of the casino film Fear and Loathing in Las Vegas was that life is a journey, not a destination. Rather than looking for the ultimate goal, the protagonist enjoys the drug-induced haze throughout. While gambling is but a segment in Terry Gilliam's cinematic oeuvre, it's still present in the haphazard characters' lives. Buckle up because Fear and Loathing will require your attention from minute one. Lasting just a tad under 2 hours, the Johnny Depp-starring box office hit will leave you either shocked or impressed.
4. Rounders (1998)
In the same year Fear & Loathing came out, another casino movie showed up on the market. Rounders, starring Matt Damon, John Malkovich, and Edward Norton, is a gambling drama inspired by poker. The epic, anticipation-loaded poker scene where Damon and Malkovich are faced is perhaps the most famous casino movie scene ever. Additionally, Rounders has been reviewed by many professional gamblers as one of the most viable casino-themed films. If you're into authentic gambling in cinema, watch Rounders this year!
5. Ocean's Eleven (2001)
Matt Damon seemed to have enjoyed the taste of Las Vegas in Rounders since we enjoyed his acting (and gambling) skills in 2001's Ocean's Eleven. However, this time, he works in a team paired with George Clooney. There isn't much we can tell you about this casino movie without spoiling it, so we'll just stick with this. Make sure to give Ocean's Eleven a go if you're looking for an adrenaline rush.
6. Casino Royale (2006)
Yes, his name is Bond, James Bond. In the 2006 rendition of the James Bond saga, Daniel Craig shows off his poker skills against Mads Mikkelsen's villainous character. Casino Royale is indeed the third adaptation of the original 1953 same-titled box office hit. However, with the charisma of Craig and Eva Green, the Martin Campbell-directed version is more memorable than any of its predecessors.
7. 21 (2008)
In 21, we are finally shifting from poker to blackjack. This casino-themed movie tells a real-life story about a group of MIT students who successfully beat the dealer. Thanks to Twenty-One, counting cards, as the best blackjack strategy, was introduced to wider audiences. If you're interested in how to legally win blackjack, either online or in land-based casinos, you might want to check out 21 first. These guys got caught but the skills they had can be legally utilized in modern-day gambling venues.
8. Molly's Game (2017)
Another biography, Molly's Game speaks about an ex-professional athlete who turned to the gambling universe as a means to make a living. Starring Jessica Chastain, Molly's Game is about the action-packed casino journey of a woman in the male-dominated industry. Kicking off as a host in underground casinos, Molly Bloom climbs her way up to high-stake poker tables and VIP gambling establishments. At one point, she became so successful that the FBI was after her for being involved in a Ponzi scheme.
9. Uncut Gems (2019)
Exhibiting the dangerous side of wagering real money, in Uncut Gems, Adam Sandler makes an unforgettable comeback. Leading a sin-driven lifestyle, the protagonist experiences all the hazards this life has to offer. Uncut Gems can be seen as a cautionary tale for anyone considering alternative and unorthodox survival methods in today's fast-paced world.
10. The Card Counter (2021)
Last but not least, we're wrapping up with a recent casino-themed movie. The Card Counter stars Oscar Isaac, and it is a dark drama about playing blackjack for real money. On a deeper level, The Card Counter displays the internal battle a person experiences when making potentially life-changing decisions. Directed by Paul Schrader and featuring Willem Defoe, the 2021 casino movie showcases the duality of success and the bittersweet taste of being good at gambling.