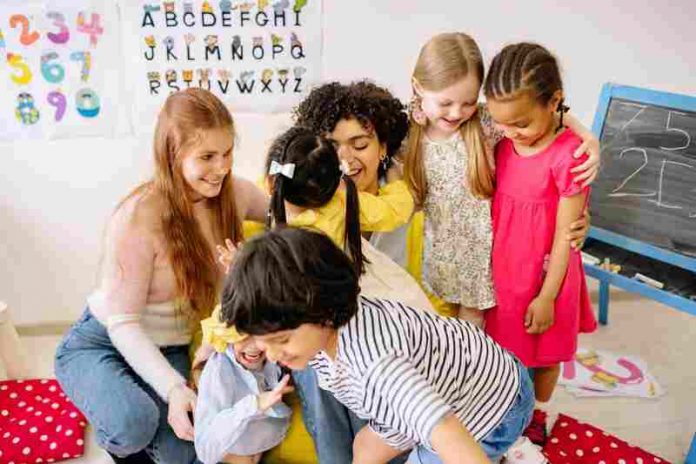 As childcare providers, you have one common goal – to create a healthy and happy childcare space for kids. Providing a nurturing environment where children can learn and grow is both a privilege and a responsibility. You want to ensure that every child in our care feels safe, loved, and valued.
This article will explore practical ways for childcare facilities to provide a space that promotes health, happiness, and safety. From the physical environment to staff training, we'll cover everything you need to know to create a space that parents and children will love.
Physical Environment Safety
When designing the physical environment of a childcare space, it's essential to keep in mind the age group of the children who will be using the space. Younger children, for instance, require closer supervision and more attention to their physical needs. Creating separate areas for different age groups allows for better care and management from staff members.
In addition to age-appropriate areas, childcare providers should ensure that the space is designed with children's safety in mind. To prevent tipping, all furniture, fixtures, and equipment should be securely fastened to the walls and floors. Sharp edges on furniture should be covered, and hazardous materials should be kept out of reach of children.
The space layout should also be considered, whereby staff can create clear pathways for children to move through the space, ensuring they don't encounter any hazards. All doors and windows should be secured with locks or other safety mechanisms to prevent children from wandering off or accessing unsafe areas.
When selecting materials for the physical environment, it's essential to choose materials that are safe and non-toxic. Providers should avoid materials containing harmful chemicals or substances that children can ingest. Carpets, for instance, can accumulate dust and other allergens that can affect children's health. Providers should consider using flooring materials that are easy to clean and maintain, such as vinyl or tile.
Health and Hygiene Safety
Health and hygiene safety practices are necessary to prevent the spread of germs and illnesses. In addition, maintaining a clean environment is essential for children's health.
Handwashing is one of the most effective ways to prevent the spread of germs. It is good practice to have a handwashing policy that requires your staff and children to wash their hands regularly. The policy should also include instructions on how to wash hands and when to do so.
You should also have clear policies regarding illnesses, including exclusion criteria for sick children, procedures for notifying parents and the local health department, and requirements for staff to stay home if they are ill.
Immunizations are also essential to protect against infectious diseases. Staff and children should have up-to-date immunizations, and your facility should have a process to verify compliance.
Cleaning and disinfecting surfaces and toys regularly are also crucial to prevent the spread of germs. Your staff must follow proper food safety practices to prevent foodborne illnesses, including safe food handling procedures, proper storage of food and drinks, and guidelines for food brought from home.
Staff Training and Supervision
When it comes to child care, safety is paramount. As a childcare provider, you must provide a safe physical environment, maintain proper health and hygiene practices, and ensure your staff is well-trained and adequately supervised.
Child development training is essential for your staff members to provide appropriate care and activities that suit each child's developmental level. Safety is also a priority. Therefore, staff members should receive training on safety procedures and emergency protocols, including fire safety, first aid, and emergency evacuation procedures. Additionally, staff members must be trained to identify the behaviors and handle conflicts between children with care and understanding.
Supervision is another crucial aspect of ensuring the safety of children at your facility. Staff members should be supervised to ensure they provide appropriate care and activities for the children and follow all safety and health guidelines. Regular evaluations and feedback on performance are excellent ways to ensure that your staff members meet your facility's standards.
It is also essential to adhere to staff-to-child ratios to ensure that each child receives adequate attention and supervision. As a childcare provider, you may require specific ratios depending on the children's age group. For example, in infant and toddler rooms, it may be 1:4 or 1:5, while in preschool rooms, it may be 1:8 or 1:10.
Communication and Parent Involvement
Maintaining open and effective communication with parents is crucial in ensuring children's safety and well-being. Parents want to know that their child is receiving the best possible care, and as a childcare provider, you are responsible for keeping them informed.
To establish clear communication channels with parents, you should keep parents regularly updated on their child's development, behavior, and any health or safety matters. Sharing information about policy changes or incidents that occur in the childcare facility is also essential. You should encourage open communication with parents, listening to their thoughts and suggestions to improve care.
Parent involvement is another critical aspect of ensuring childcare facility safety. Parents should be allowed to participate in their child's care and provide feedback. You can strengthen communication and meet the child's needs by scheduling regular meetings with parents.
Involving parents in safety procedures and emergency planning is also essential. You should inform parents of the facility's safety policies and procedures and provide them with information on emergency preparedness. You should work with parents to ensure that children's medical information is up-to-date and emergency contacts are readily available.
Conclusion
Ensuring the safety of children at your childcare facility is a top priority for everyone involved. Proper measures allow you to create a safe and secure environment where children can learn and play without worry.
It is important to recognize that ensuring childcare facility safety is a collective effort, and everyone has a role to play. You can work with parents and regulatory agencies to create a safe and nurturing environment for children to grow and thrive.
With the right approach, you can ensure that the children in your childcare facility are safe, healthy, and happy. Let's prioritize their well-being with the care and attention they deserve.