WASHINGTON, March 14, 2013 — Individuals with disabilities were less likely to be employed than individuals without disabilities, and those who were employed typically held jobs with lower earnings and also earned less than their colleagues with no disability, according to the U.S. Census Bureau's American Community Survey. Based on the new Disability Employment Tabulation, the statistics show that between 2008 and 2010, individuals without disabilities were about three times more likely to be employed than individuals with disabilities. Overall, individuals with disabilities accounted for 9.4 million, or 6.0 percent, of the 155.9 million civilian labor force.
More than half of all workers with a disability were concentrated in four general occupation groups: service workers (except protective services) with 18.2 percent, followed by administrative support (15.1 percent), sales workers (10.4 percent) and management, business and finance (8.9 percent).
Among specific occupations, janitors and building cleaners had the highest number of employees with a disability at 315,000, or 11.8 percent of all workers in that field, followed by drivers/sales workers and truck drivers with 263,000 people, cashiers with 256,000 and retail salespeople with 223,000.
Among occupations with 100,000 or more people, dishwashers had the highest disability rate at 14.3 percent, followed by refuse and recyclable material collectors (12.7 percent), personal care aides (11.9 percent), and janitors and building cleaners (11.8 percent). The rates for refuse and recyclable material collectors, personal care aides, and janitors and building cleaners were not statistically different from one another.


More than half of workers with disabilities (52 percent) earned less than $25,000 in the previous year, compared with just 38 percent of workers with no disabilities. This translates into an earnings gap where individuals with disabilities earn about 75 percent of what workers without disabilities earn.
"Even within the largest occupations, employed workers with disabilities, on average, earned less than similarly employed workers without disabilities," said Jennifer Cheeseman Day, the assistant chief for employment characteristics in the Census Bureau's Social, Economic and Housing Statistics Division. "Several factors may account for this earnings gap, such as differences in age, work experience, number of hours worked, or other factors. For example, 46 percent of workers with a disability worked full time, year-round compared with 62 percent of workers with no disability."
The Disability Employment Tabulation 2008-2010 — available on American FactFinder (the Census Bureau's online statistics search tool) — is sponsored by the Department of Labor's Office of Disability Employment Policy and Office of Federal Contract Compliance Programs.
"Reliable, accurate data on disability employment is an essential tool for furthering education, research and policy initiatives that improve employment opportunities and outcomes for people with disabilities," said acting Secretary of Labor Seth D. Harris.
The Disability Employment Tabulation, which has similar content to that found in the recently releasedEqual Employment Opportunity Tabulation, now presents in-depth labor force characteristics of individuals with disabilities, with more details on employment status, occupation, education and earnings.
In addition, the latest tabulation provides information about the labor force across several variables, including, age, sex, race, Hispanic origin, occupation groups, citizenship and earnings by employment status.
Overall, janitors and building cleaners were among the most common occupations for individuals with a disability for non-Hispanic whites (184,000 people), non-Hispanic blacks (60,000) and Hispanics (54,000).
Individuals with disabilities accounted for 6.3 percent of the male civilian labor force and 5.7 percent of the female civilian labor force.
The three most common occupations for men with disabilities were drivers/sales workers and truck drivers (246,000); janitors and building cleaners (217,000); and laborers and freight, stock, and material movers (171,000). For women, they were cashiers (195,000); secretaries and administrative assistants (189,000); and nursing, psychiatric and home health aides (172,000). The number of male laborers and freight, stock, and material movers was not significantly different from the number of female nursing, psychiatric and home health aides.
The American Community Survey allows us to obtain statistics for detailed geographic entities with this tabulation, allowing individuals, businesses and local governments the opportunity to study employment and labor force diversity by disability status within their communities.
The American Community Survey provides a wide range of important statistics about people and housing for every community across the nation. The results are used by everyone from town and city planners to retailers and homebuilders. The survey is the only source of local estimates for most of the 40 topics it covers, such as education, occupation, language, ancestry and housing costs for even the smallest communities. Ever since Thomas Jefferson directed the first census in 1790, the census has collected detailed characteristics about our nation's people. Questions about jobs and the economy were added 20 years later under James Madison, who said such information would allow Congress to "adapt the public measures to the particular circumstances of the community," and over the decades, allow America "an opportunity of marking the progress of the society."
About The U.S. Census Bureau:
The Census Bureau serves as the leading source of quality data about the nation's people and economy. We honor privacy, protect confidentiality, share our expertise globally, and conduct our work openly. We are guided on this mission by our strong and capable workforce, our readiness to innovate, and our abiding commitment to our customers. For more information visit http://www.census.gov
Source: U.S. Census Bureau
LOS ANGELES, Calif. – March 11, 2013, Approximately 24,000 marathon runners and hundreds of thousands of spectators will take to the streets on Sunday, March 17th for the ASICS LA Marathon—and many of those streets will be closed for a portion of the day to create a safe environment for the iconic race that runs from Dodger
Stadium to Ocean Avenue in Santa Monica.
Marathon officials have posted comprehensive information about street closures on the following page:www.lamarathon.com/community/street‐closures. In addition to specific closures,the page also has "exit route" information for residents of the cities of Beverly Hills and West Hollywood. A fully detailed course
map is available here: www.lamarathon.com/event/course‐map.
"Participating cities have done a greatjob in ensuring thatthe course will provide a safe environment for runners and spectators, while seeking to minimize the inconvenience to localresidents and business‐owners," said Nick Curl, LA MARATHON LLC Chief Operating Officer. "We appreciate the enthusiasm and
support of Southern Californians who make it possible for us to stage this great civic event."
In addition to the marathon's website, detailed information for spectators, including street closures, parking information and more, can be found at the following city websites:
 West Hollywood: www.weho.org/index.aspx?page=23&recordid=1974
 BeverlyHills: www.beverlyhills.org/exploring/eventsandactivities/losangelesmarathoninbeverlyhills
 Santa Monica: www.smgov.net/marathon/marathon.aspx
Race officials remind those who plan to attend the start(approx. 7:25 a.m.)that the Golden State Gate via
the 5 Freeway will be the only entrance to Dodger Stadium.Up‐to‐the‐minute information about traffic and weather will be available via AM 570 KLAC‐AM's live radio broadcast and on Twitter(@LAMarathonINFO).
About The ASICS LA Marathon:
They inspire athletes and connect communities. With thousands of volunteers,tens of thousands of participants and hundreds ofthousands of spectators,the ASICS LA Marathon is one of the largest
organized road races in the country. The Stadium to the Sea course, which starts at Dodger Stadium and finishes by the Santa Monica Pier, is considered one of the most scenic in the world. The race has been
named Best Big City Race by Runner's World and Best Marathon in the West by Competitor Magazine. For more information visit http://www.lamarathon.com
Source: ASICS LA Marathon/Sugerman Communications Group
Editor's Note: Diversity News Magazine and Diversity News TV teams are approved to cover the event and they will be covering and reporting live from the 2013 ASICS LA Marathon.
On Monday, January 28, 2013 adBrite sent an Operations Update Publisher partners to cease operations as of February 1, 2013.
Here is what the email reads:

| | |
| --- | --- |
| From: | adBrite support (support@adbrite.com) |
| Sent: | Mon 1/28/13 12:25 PM |
| To: | diversitynews@hotmail.com |

Dear adBrite Publisher,


Over the last few weeks, adBrite and its management have been evaluating the go-forward plan for the business. Given market conditions and certain financial liabilities, in working with our lenders,we have decided to cease operations on Feb 1, 2013.

This is a difficult decision for all of us at adBrite. However, after much deliberation this seems to be the best course of action despite the impact it will have on all the employees, clients and partners who helped build this business. There will be a team in place as needed to assist with winding down.

Thank you for being part of the adBrite community.

The adBrite Team
AdBrite, Inc.:
AdBrite, Inc. was an online ad exchange, based in San Francisco, California, which was founded by Philip J. Kaplan and Gidon Wise in 2002.[2] Originally founded as Marketbanker.com, the site was relaunched as AdBrite in 2004 as an advertising network and then in 2008 as an ad exchange.
AdBrite remaint an independent ad exchange, reaching more than 160 million U.S. unique visitors each month[3] and providing site-level transparency, display and video capabilities, and an open platform for data providers and real-time bidders.[4] AdBrite is led by Hardeep Bindra, CEO, and Joaquin Delgado, CTO, who both previously worked at Yahoo! Right Media, another ad exchange. AdBrite is backed by Sequoia Capital,[5] and DAG Ventures.
On January 28, 2013, AdBrite sent an email to all of its publishers and advertisers stating that it would cease operations as of February 1, 2013 after a deal to sell the company fell through[6]
Source & Logo: Wikipedia
Editor's Note: DiversityNewsMagazine.com and DiversityNewsPublications.com are some of the media partners affected but the reason is that consumers are not buying products from online ads and that's affecting every one on this industry. If you do not want website to cease operations, please click on the ads and shop online.
This post is brought and partial sponsored by PageTime Inc., remember to contact them to support their business.
Dennis Haysbert to be in-show Announcer during Two-Hour Live Broadcast to air on
Feb. 1, 8-10 p.m. EST on NBC.
LOS ANGELES, CA (January 22, 2013) – The NAACP announced today that comedian, author, radio and talk show host, Steve Harvey will host and Samuel L. Jackson, Jamie Foxx, Queen Latifah, Wanda Sykes and Tony Goldwyn will be part of an all-star line-up to present at the 44th  NAACP IMAGE AWARDS.  In addition, Dennis Haysbert will be the in-show announcer during the LIVE broadcast from Los Angeles' historic Shrine Auditorium on Friday, Feb. 1, 8-10 p.m. ET (PT tape-delayed) on NBC.
"I'm honored to be hosting the 44th NAACP Image Awards, and celebrate the variety of film, TV, literary, music contributions, and special honorees this year. We're live on stage, got great things in store for the night!" commented Mr. Harvey.
The NAACP Image Awards are being produced by Reginald Hudlin and Brad Lachman. Bill Bracken will serve as Supervising Producer and Byron Phillips as Producer. The production team also includes Tony McCuin as Director and Melanie Massie as the Talent Executive.
Nominees for the NAACP Image Awards are determined by the number of entries received by the deadline.  To be eligible, projects must have had a national distribution date between January 1, 2012, and December 31, 2012. For the 2012 voting period, over 1,200 submissions were received by the artists, managers, publicists, production companies, record labels, studios, networks and/or publishers. From those entries, a nominating committee of 300 industry professionals and NAACP leaders from across the country select five nominees in each of the 53 categories. Those results were announced at a press conference. To determine the winners, the members of the NAACP vote via a secured online site. The results are tabulated by the Image Awards auditors, Bert Smith & Co., and the results are confidential until the envelope is opened LIVE on stage during the NBC telecast on Friday, February 1, 2013.
Event sponsors include:  FedEx, UAW/Chrysler, AT&T, Hyundai Motors, Wells Fargo, General Motors, Walmart, Bank of America, Walgreens, Gilead Sciences, AARP, Ford Motor, Anheuser Busch, Pepsico.
About The NAACP Image Awards:
The NAACP Image Awards is the premier multicultural awards show.  It celebrates the accomplishments of people of color in the fields of television, music, literature and film, and also honors individuals or groups who promote social justice through creative endeavors. For all information and latest news, please visit the official NAACP Image Awards website at http://www.naacpimageawards.net/
About the NAACP
Founded in 1909, the NAACP is the nation's oldest and largest civil rights organization. Its members throughout the United States and the world are the premier advocates for civil rights in their communities, conducting voter mobilization and monitoring equal opportunity in the public and private sectors. For more information visit http://www.naacp.org/
Sources: NAACP and The Lippin Group
Feature performances by Katy Perry, Usher, Glee! and more.
WASHINGTON, DC – (Saturday, January 19, 2013) Today, the Presidential Inaugural Committee (PIC) announced additional program details about First Lady Michelle Obama and Dr. Jill Biden's concert honoring military families, including its official title, "Kids' Inaugural: Our Children. Our Future." Tonight's event will feature performances from some of America's top artists. Attendees will include the families of active duty, reserve and retired service members. The full concert will be streamed online at 2013pic.org/live.
"The Kids' Inaugural is about celebrating who we are as Americans and the people who make our country great – our men and women in uniform, our military spouses, and our amazing military kids. So it's no surprise that when Jill and I decided to host this event, everyone wanted to join us – from Katy Perry to Glee, from Nick Cannon to Usher.
They know that military kids serve this country right alongside their moms and dads, and we're really looking forward to celebrating our military families this weekend," said First Lady Michelle Obama. The First Lady recorded a video message encouraging everyone, no matter where they live, to view the concert online.

The concert is part of the ongoing work of the First Lady and Dr. Biden's Joining Forces initiative to rally all Americans to recognize, honor, and support our troops, our veterans, and our Gold Star and Blue Star families.
"For the last four years, the First Lady and Dr. Biden have shown that they understand that every member of the family serves a deployment and that it's not just the service member that must spend time away from loved ones," said Kathy Roth-Douquet, CEO of Blue Star Families. "The Kids' Inaugural is recognizing this sacrifice by giving these families a way to participate in the weekend's historic events and simply enjoy a night of fun."
PIC also announced the full list of talent for the Kids' Inaugural. The concert will feature performances by Black Violin, Far East Movement, Glee! cast members Amber Riley, Darren Criss and Naya Rivera, iLuminate, Katy Perry, Mindless Behavior, The Soul Children of Chicago and Usher. Nick Cannon will host the event, with D-Nice as DJ and Rocsi Diaz and J.R. Martinez as presenters.
"Kids' Inaugural: Our Children. Our Future." will be held at the Washington Convention Center, located at 801 Mount Vernon Place NW in Washington, D.C. Doors will open at 4:00pm and the program will begin at 6:00pm. The event is invitation-only and a ticket is required for entry.
More information on the Kids' Inaugural and all Official 2013 Presidential Inaugural Committee events can be found at www.2013pic.org and on Twitter @obamainaugural.
Source: PIC

On Thursday, January 17, 2013 NBC Rock Center with Brian Williams television show investigates about The Church of Scientology controversies.
The most famous Scientologist to leave Scientology and speak out against it, sits down for an exclusive television interview with Harry Smith. Paul Haggis, the Oscar-winning writer and director of "Crash" opens up about what attracted him to Scientology and why he ultimately walked away from it after 34 years. Plus, Pulitzer Prize-winning author Lawrence Wright who wrote the new book Going Clear: Scientology, Hollywood and The Prison of Belief, and former members of the Church of Scientology who say they were pressured to abort their child and were punished when they chose not to. The church denies the allegations.

The Sea Organization, or Sea Org, is a unit of the Church of Scientology, comprising the church's most dedicated members. The church refers to it as a religious order. As of 2009 it had around 6,000 members.[2] The Sea Org was established on 12 August 1967 by L. Ron Hubbard, the science fiction writer and church's founder, initially on board three ships, theDiana, the Athena, and the Apollo. In 1971 it assumed responsibility for the ecclesiastical development of the church, and in particular for the upper levels of its training, known asOperating Thetan or OT levels.[3]
It moved to land bases in 1975, though maritime customs persist, with members wearing naval-style uniforms and addressing each other, women included, as "sir."[4] In 1988 the church purchased a 440-foot ship, the "Freewinds," which docks in Curacao in the southern Caribbean and is used as a religious retreat and training centre, staffed entirely by Sea Org members.[2]Sea Org members sign one-billion-year contracts with the church, in exchange for which they are given free room and board, and a small weekly allowance. They are allowed to marry, but must relinquish their membership if they have or want to raise children.[5]
The Billion-year contract
According to Hubbard, the Sea Org's mission is "an exploration into both time and space."[6] Sea Org members act as goodwill representatives and administrators of Scientology; all policy and administrative posts in the church's key organizations are held by Sea Org members.[3] Most members are given room, board and a small weekly allowance of about $24 per week, though some sources list $50.[9]
In accordance with Scientology beliefs, members are expected to return to the Sea Org when they are reborn; the Sea Org's motto is "We Come Back."[1] Members must therefore sign a symbolic billion-year "religious commitment," pledging to "get ethics in on this planet and the universe."[10] The church contends that the contract is merely symbolic of the dedication members are expected to give to the organization, and that they are free to leave if they wish. After signing, members report to the Estates Project Force, the Sea Org's induction programme; Melton writes that members may take several years between signing the commitment and attending the induction. Once induction is completed, the final decision to join is made.[11]
Members who leave the Sea Org are issued a "freeloader's bill," retroactively billing them for any auditing or training they have received. Although the bill is not legally enforceable, these Scientologists may not receive services at any Scientology organization until they pay the bill and perform an ethics course.[12]
About Going Clear: Scientology, Hollywood, and the Prison of Belief:
A clear-sighted revelation, a deep penetration into the world of Scientology by the Pulitzer Prize-winning author of The Looming Tower, the now-classic study of al-Qaeda's 9/11 attack. Based on more than two hundred personal interviews with current and former Scientologists—both famous and less well known—and years of archival research, Lawrence Wright uses his extraordinary investigative ability to uncover for us the inner workings of the Church of Scientology.
At the book's center, two men whom Wright brings vividly to life, showing how they have made Scientology what it is today: The darkly brilliant science-fiction writer L. Ron Hubbard, whose restless, expansive mind invented a new religion. And his successor, David Miscavige—tough and driven, with the unenviable task of preserving the church after the death of Hubbard.
We learn about Scientology's complicated cosmology and special language. We see the ways in which the church pursues celebrities, such as Tom Cruise and John Travolta, and how such stars are used to advance the church's goals. And we meet the young idealists who have joined the Sea Org, the church's clergy, signing up with a billion-year contract.
In Going Clear, Wright examines what fundamentally makes a religion a religion, and whether Scientology is, in fact, deserving of this constitutional protection. Employing all his exceptional journalistic skills of observation, understanding, and shaping a story into a compelling narrative, Lawrence Wright has given us an evenhanded yet keenly incisive book that reveals the very essence of what makes Scientology the institution it is.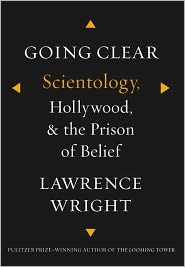 About Lawrence Wright: Lawrence Wright is a graduate of Tulane University and the American University in Cairo, where he spent two years teaching.   He is a staff writer for The New Yorker, and the author of one novel, God's Favorite, and six previous books of nonfiction, including In the New World; Saints and Sinners; Remembering Satan; and The Looming Tower, which was the recipient of many honors–among them, The Pulitzer Prize, the Los Angeles Times Book Prize, and the New York Public Library's Helen Bernstein Book Award for Excellence in Journalism.    He is also a screenwriter and a playwright.   He and his wife are longtime residents of Austin, Texas. Lawrence Wright official website: http://www.lawrencewright.com/
Sources: NBC, Amazon.com, Wikipedia
Editor's Note: We have attended to The Church of Scientology Celebrity Center in Hollywood for many community events and we can tell you that we do not see anything of what is been reported or written on the book about how they treat brainwashed people. The only thing that we can say is that is up to you, if you let somebody take advantage or brainwash you about religions.
WASHINGTON, DC –Monday, January 14, 2013, The Presidential Inaugural Committee (PIC) released new details today about the Inaugural Parade, including information about parade floats and the announcers selected for the historic event.
The parade will include eight custom-designed floats commissioned by PIC for the parade. Four floats will represent the First Family and Second Family's home states, and four floats will honor the extraordinary progress we've made as a nation.
The Hawaii State Float – Hawaii is the birthplace of President Obama. The float features a large volcano modeled after the famous Diamond Head Volcano and a tribute to the late Senator Daniel Inouye.
The Illinois State Float – Illinois is the birthplace of First Lady Michelle Obama. The float features American flags, the state flag and a panorama of the Capitol.
The Pennsylvania State Float – Pennsylvania is the birthplace of Vice President Joe Biden. The float includes a replica of the Liberty Bell and the Pennsylvania State Seal.
The Delaware State Float – Delaware is the home state of Vice President Joe Biden and Second Lady Dr. Jill Biden. The float includes a replica of State Capitol Bell Tower.
The Martin Luther King, Jr. Float – The float's design features an image of Dr. King and a representation of his quote "out of the mountain of despair a stone of hope."
The Civil Rights Movements Float – The Civil Rights float features images representing historic struggles of many of the civil rights movements in our country. The images represented include Immigration, Women's, LGBT, Civil and Labor Rights. The float also includes Martin Luther King's quote "The Arc of the moral universe is long but it bends toward justice."
The Tuskegee Airmen Float – The float is a tribute to the brave young men who were the first African-American military aviators in the United States Armed Forces. The float features a model North American P-51 Mustang.
The Inaugural Theme, "Our People. Our Future." Float – The American people are the focus of this float. Riding on the float are the citizen co-chairs for the National Day of Service.
Earlier today, the PIC also released a new video featuring behind-the-scenes footage of the floats, which are being constructed by Hargrove, Inc. Please click HERE to watch the new video.

The PIC today also released the names of the Inaugural Parade announcers. Charles Brotman, a veteran announcer of 14 Presidential Inaugural Parades, will lead a diverse group of local personalities. Brotman's voice has been heard at Inaugural parades since 1957, and this year he will announce participants from Lafayette Park for President Obama, Vice President Biden, and parade watchers at that location. The announcers will also work from six additional locations along the entire parade route to inform the crowd lining Pennsylvania Avenue.
Joining Brotman will be Bob Madigan from Silver Spring, Maryland; Carol Renee Eubanks from Hollywood, Florida; Jim Bohannon from Montgomery Village, Maryland; Christine E. Brennan from Washington, DC; Robert D. Goldwater from White Plains, New York; and military announcers from the Joint Task Force – National Capital Region (JTF-NCR).


Police say some of the 14 workers held hostage overnight during a robbery at a Los Angeles clothing store were assaulted, and one was stabbed.
WASHINGTON, DC –  The Presidential Inaugural Committee (PIC) announced today the musical artists selected to perform at the 57th Presidential Inauguration.  Beyoncé, Kelly Clarkson, and James Taylor will all perform at the inauguration, which will take place on the West Front of the U.S. Capitol on January 21, 2013.
"Vice President Biden and I are honored to have these wonderfully talented musical artists perform at the Inaugural ceremony," President Obama said today. "Their music is often at the heart of the American story and speaks to folks across the country."
Beyoncé will sing the National Anthem, Kelly Clarkson will perform "My Country Tis of Thee," and James Taylor will sing "America the Beautiful."
President Obama was involved in the selection of participants in the Inaugural program, including the musical performers. Other ceremonial participants include Myrlie Evers-Williams, who will give the invocation; Richard Blanco, who will serve as the Inaugural poet; and Reverend Louie Giglio, who will deliver the Benediction.
Participant Biographies:
Beyoncé has become one of the most widely recognized and highly respected women in pop culture. She emerged as a founding member and lead singer and songwriter of Destiny's Child and later developed into an iconic solo artist, actress, philanthropist and businesswoman. She has released four #1 solo albums  and has sold over 75 million albums worldwide. Her work has earned her numerous awards and accolades, including 16 Grammy Awards.  Billboard named her the Top Female Artist and Top Radio Songs Artist of the 2000s decade. The Recording Industry Association of America also recognized Beyoncé as the Top Certified Artist of the 2000s.
James Taylor's music embodies the art of songwriting in its most personal and universal form.  In a career spanning four decades, with close to 100 million albums sold and five Grammy Awards, his immediately recognizable warm baritone, introspective lyrics and unique guitar playing still blaze a path to which musicians throughout the world aspire.  In 2011 James was awarded the National Medal of Arts by President Obama at The White House and in 2012 he was awarded the distinguished Chevalier of the Order of Arts and Letters by the French government.  Both medals are their nation's highest honors for artistic excellence recognizing outstanding achievements and support of the arts.
Kelly Clarkson has released five studio albums and one greatest hits album, sold more than 20 million albums worldwide and has had 10 singles in the top 10 on the Billboard Hot 100 Chart. A global superstar, Clarkson has won two Grammy Awards, four American Music Awards, two ACM Awards, a CMA Award and 12 Billboard Music Awards. Her most recent studio album, Stronger, is certified Platinum by the R.I.A.A. and was recently nominated for four 2013 Grammy Awards.