Esteban Escobar a.k.a. Steven Escobar from Diversity News Radio and Diversity News Magazine Has been Nominated for Two 2013 EOTM Awards for 'Outstanding Internet Radio' and 'Outstanding Journalist.'
On Friday, April 26, 2013, Diversity News Productions producer of Diversity News Radio and part of Diversity News Publications publisher of Diversity News Magazine announced that Esteban Escobar A.K.A. Steven Escobar  (Journalist, reporter, editor, columnist, writer, producer, director, publicist, radio personality, accounts receivable specialist, humanitarian and philanthropist) has been nominated for two 2013 EOTM (Entrepreneurs on the Move) Awards on 4-25-2013 for Outstanding Internet Radio Show; Diversity News Radio, On Air with Steven Escobar and Diversity News Radio Top 10 Most Requested Songs with Steven Escobar. Previously he was also nominated on 2-22-2013 for Outstanding Journalist.
Hit Billboard songwriter and recording artist Fawn said, "Steven works harder than any other radio host and journalist I know. I am so happy he is being recognized for his excellence."
The EOTM Awards takes place on Sunday, August 4, 2013 in West Hollywood at The Pacific Design Center 8687 Melrose Avenue, in West Hollywood, CA 90069.
About Steven Escobar:
Esteban A. Escobar (born in El Salvador, Central America on September 6th) is an award winning American (Journalist, reporter, editor, columnist, writer, producer, director, publicist, radio personality, accounts receivable specialist and philanthropist).
Steven Escobar is the Executive Editor-In-Chief of DiversityNews Magazine. Esteban "Steven" Escobar is also the Producer, Director of Diversity News TV, the host of Diversity News Radio, on Air with Steven Escobar, the President of Diversity News Publications and he owns E.E.Enterprises, an affiliate of The Diversity News Publications Family of Companies. For more information visit his IMDB at http://www.imdb.com/name/nm4164655/
About the EOTM Awards:
The EOTM Awards is an accolade presented by the EOTM Radio & TV Network celebrating entrepreneurial achievements and performances in business, philanthropy and the arts (recordings, television, radio, and literature, film, directing and writing). The EOTM Awards Show will also present "Christopher Kennedy Lawford" to key individuals and organizations that promote human rights and social justice. For more information visit http://www.eotmawards.com to find out more about the show.



About Diversity News Radio On AIR with Steven Escobar and Diversity News Radio Top 10 Most Requested Songs with Steven Escobar: "Diversity News Radio, On AIR with Steven Escobar" is an interactive, live internet talk-radio show that focuses on singers, business leaders, actresses, actors, recording artists, music composers, authors and writers and more of all genres and mediums. The show format features live music, interviews, breaking news, gossips, announcements, confessions, events, advertisements and much more. Host Steven Escobar explores the careers, advice, writing style and personality of each guest. Callers are encouraged to call (760) 888-5783 to listen or ask questions. The stream and archives are available at http://www.blogtalkradio.com/diversitynewsradio. or http://www.diversitynewsradio.diversitynewspublications.com. The show is live every Saturdays and Sundays is the coutdown of songs with starts with #10 to #1 at 3:30 to 4:15 p.m. Pacific Standard Time. The show is hosted on BlogTalkRadio.
About Diversity News Magazine:
Diversity News Magazine purpose is to educate and inform the diverse community worldwide. It focuses on local, national and international news, entertainment, features, sports and more importantly, newsworthy items that would be of interest to our diverse cultures. For more information visit Diversity News Magazine at www.diversitynewsmagazine.com/
MEDIA CONTACT FOR STEVEN ESCOBAR:
Alex Leon, Director of Marketing & PR
World Wide Vital Marketing & Public Relations Inc.
TELS: (323) 465-3945 or (213) 321-9408
worldwidevitalpr.wordpress.com/
worldwidevitalpr@gmail.com
EDITOR'S NOTE: Please post press release or mention event in your magazine, website, radio and television shows and if you would like more information contact Alex Leon via email at worldwidevitalpr@gmail.com
This article post is brought to you and partial sponsored by Radio-TV Interview Report (Click logo to visit website)
Hit Singer/Songwriter and Recording Artist Fawn is included in the Music Industry Book 'Marketing and Merchandising for Musicians' book by Robert Safir. today April 17, 2013.
On April 17, 2013, World Wide Vital Marketing & Public Relations announced that hit singer-songwriter and recording artist Fawn, also known as 'Songirl', is in the music industry book, 'Marketing and Merchandising for Musicians' by Robert Safir.
The book addresses the issues and differences in today's music industry compared to the industry of yesteryears, and gives the reader concrete advice on how to make a living at music through marketing and merchandising. It cover topics such as How To Keep Up With 'The Change,' Music Libraries, Latest Trends Towards Digital Music, Music Merchandising, Music Licensing, Developing Merchandise, Marketing Your Music The Traditional Way, Understanding Marketing, Knowing Your Audience, The Record Business and many more.
Fawn said, "I was very excited to be included in this book with other industry professionals, especially since it's a book that helps people advance their careers." She continued, "It can be rough out there in this music business, and I think Robert did a great job exploring the industry today and giving people some concrete tools to get their music and themselves out there."
Robert Safir states, "The old way of 'making it' in the music business—get a recording contract, then relax and enjoy the ride while your record label does all the work—is gone forever. Succeeding as a musician today calls for new skills, new attitudes, and a new approach." He explains, "Today, more than ever, how far you get in the business depends on you. The technology-driven, do-it-yourself ethos that revolutionized the way music is recorded and distributed has also transformed the way musicians and songwriters market themselves and their creations."
In 'Marketing and Merchandising for Musicians,' veteran composer, producer, and engineer Robert Safir gives the reader 'nuts-and-bolts' type of information needed to craft a promotional strategy that will draw attention and get results.  The book teaches it's audience to learn how to understand markets and target them with precision, grow a fan base, make CDs and websites, sell music online, leverage social media as a promotional tool, create T-shirts, hats, and other merchandise, keep up with the rapid changes in the industry, and more. Robert continues, "There are great opportunities in today's music business, but achieving success is as tough as it's ever been, maybe tougher. And there's a lot to learn. This book will give you every possible advantage. It's up to you to get your music career on the fast track."
You can find 'Marketing and Merchandising for Musicians' on Amazon.com, Barnes and Noble and all the major outlets.
Robert Safir:
http://www.robertsafir.com/
Fawn:
http://www.imdb.com/name/nm2779641/
MEDIA CONTACT FOR RECORDING ARTIST FAWN:
Alex Leon, Director of Marketing & PR
World Wide Vital Marketing & Public Relations Inc.
TELS: (323) 465-3945 or (213) 321-9408
worldwidevitalpr.wordpress.com/
worldwidevitalpr@gmail.com
EDITOR'S NOTE: Please post press release or mention event in your magazine, website, radio and television shows and if you would like more information contact Alex Leon via email at worldwidevitalpr@gmail.com
The Hawaii Senate Judiciary Committee approved an anti-paparazzi bill that would allow people who are photographed on their private property or while taking part in "personal or family activities" to sue the photographer for invasion of privacy.
The bill — dubbed the "Steven Tyler Act" due to the Aerosmith lead singer's role in initiating and drafting the initial legislation — was amended by Senate Committee Chairman Clayton Hee to limit the bill's scope and clarify the wording. The bill is now expected to be voted on by the full state Senate.
Tyler and Mick Fleetwood of Fleetwood Mac testified before the Senate committee last week, urging members to approve the act. The stars argued that they should be able to enjoy time with their families on Hawaii's beaches without being constantly stalked by paparazzi.
Hee amended much of the bill's language, which was originally written by Tyler's attorney, to mirror California's anti-paparazzi law. The amendments include specifying what defines private property where a plaintiff would have a reasonable expectation of privacy, deleting language about civil fines and clarifying the definition of "personal or family activity."
The bill would also outlaw the use of telephoto lenses and other advanced camera and recording equipment to view people on private property. Although the bill is supported primarily by celebrities and is aimed at paparazzi, it would apply to everyone.
Media organizations have criticized the bill for being too vague and infringing upon the First Amendment rights of photographers. The National Press Photographers Association, joined by 14 media organizations including the Reporters Committee for Freedom of the Press, submitted a letter to the Legislature arguing against the measure.
"[The bill] imposes civil penalties of alarming breadth and burdens substantially more speech than is necessary to advance a compelling government interest," the NPPA letter stated. "While we recognize the right of privacy, we oppose a broadening of these protections by abridging the clearly established tenents of First Amendment Jurisprudence."


While most states have some sort of privacy laws that affect photography, California's privacy laws have provisions taking aim at overzealous photographers seeking to snap celebrity photos. The state's so-called "anti-paparazzi" law, which was first passed in 1999, prohibits trespassing with the intent of capturing photographic images or sound recordings of people in "personal or familial activity."
The state's vehicle code was also recently amended to include penalties for anyone who interferes with the driver of a vehicle, follows too closely or drives recklessly "with the intent to capture any type of visual image, sound recording or other physical impressions of another person for a commercial purpose."
The California laws permit the subjects of illegally obtained photos to file a civil suit, and anyone who publishes illegally obtained photos can also be subject to fines.
Source: By Lilly Chapa from Reporters Committee for Freedom of the Press
Special Story Written By JR for Diversity News Magazine
On Thursday, February 7, 2013 several A-list celebrities and other notables were seen celebrating the grand opening of the Morrison Hotel Gallery at the Sunset Marquis Hotel in West Hollywood at 1200 Alta Loma Rd. in West Hollywood, CA 90069.
Produced by The Press House, the trendy event went from 7:00 PM to 11:00 PM and featured the incredible images of some of the best music photographers in the world. Some of the iconic photographers' works on display in the gallery, and throughout the hotel property are: gallery co-owner Timothy White, gallery co-owner Henry Diltz, Neal Preston, Bob Gruen, among many others.
Also on hand, (featured in the image) about are gallery owners Richard Horowitz and Peter Blachley, along with Julian Lennon, whose work is also a part of the gallery. Also in the picture are Henry Diltz and Timothy White.
(Note: Please click on pictures to view regular size)
Guests were treated to complimentary h'orderves and drinks, while mixing and mingling through the stellar exhibit. Photographs of several music and celebrity icons included: Ray Charles, John Lennon, The Who, Billy Bob Thornton, Mick Jagger, , Steve Martin, David Bowie, The Beatles,Steve Jobs, Sly Stone, Patti Smith, Miles Davis, Martin Scorsese, Joni Mitchell, John Belushi, John Mellencamp, The Rolling Stones, James Taylor, Frank Zappa, Cher, Carly Simon, Andy Warhol, and many more.
When asked why The Press House was producing this event, Dawn Kamerling said, "It's what we do. We not only get press for our clients, but we put together events." She explained, "We make things happen and make every one happy. And we love doing it!"
Julian Lennon commented that it was a "Terrific party!" Timothy White agreed, adding "Fantastic party and a great night!" The Morrison Hotel Gallery co-owner Peter Blachley commented, "We're thrilled! Great party. We couldn't be happier."
Photos credit to: Ryan Aarstad and FFD Images
GRAMMY Foundation® and The Recording Academy®
Partner to Institute First Annual Music Educator Award.
Santa Monica, Calif. (Jan. 30, 2013) — The GRAMMY Foundation® — one of two affiliated charities of The Recording Academy® — announced today that Ryan Seacrest has been appointed Honorary Chair of the GRAMMY Foundation Board. The GRAMMY Foundation offers year-round music education programs for high school students and schools; and advancement, archiving and preservation, and grant-making programs to safeguard important collections and fund research at the intersection of music and science. Seacrest joins current GRAMMY Foundation Board Chairman and new venture backer Rusty Rueff; Vice Chair Tim Bucher, founder and CEO of TastingRoom.com and Silicon Valley-based entrepreneur; Secretary/Treasurer Geoff Cottrill, chief marketing officer of Converse; and Chair Emeritus Beatriz R. Perez, chief sustainability officer of the Coca-Cola Company, in leadership positions at the organization.
"I speak for all of the officers and directors of the GRAMMY Foundation in wholeheartedly welcoming Ryan to our Board," said Neil Portnow, President/CEO of The Recording Academy and GRAMMY Foundation. "I've known Ryan personally and professionally for many years, and his energy, integrity and keen vision will bring an increased strength to our mission and programs."
"Contributing to the great work of the GRAMMY Foundation will be an honor and privilege, as music has forever been a powerful force in my life," said Seacrest. "It's truly exciting to join the Board and help launch the Music Educator Award, which will recognize one of America's greatest treasures: music teachers."
In recognition of the significant role of teachers in shaping their students' musical experiences, the GRAMMY Foundation and The Recording Academy are partnering to present the first Music Educator Award. Open to current U.S. music teachers kindergarten through college, the Music Educator Award will be awarded annually starting in 2014 during GRAMMY Week. The nomination process will launch online beginning Feb. 10 at www.grammymusicteacher.comand the deadline for submissions is April 15.


Seacrest holds preeminent positions in broadcast and cable television, nationally syndicated radio and local radio as both an Emmy®-winning producer and host. He is celebrated internationally as host of the top-rated primetime talent showcase "American Idol" on Fox, serves as an executive producer and host of "Dick Clark's New Year's Rockin' Eve With Ryan Seacrest" on ABC, and has a groundbreaking agreement with NBCUniversal that includes on-air broadcasting and producing duties across the NBC and E! networks. On radio, Seacrest is host of "On Air With Ryan Seacrest," his market-topping No. 1 nationally syndicated Los Angeles morning drive-time show for Clear Channel's 102.7 KIIS-FM, as well as a nationally syndicated Top 40 radio show.
He launched Ryan Seacrest Productions in 2006, which has since become an Emmy-winning television production powerhouse creating unscripted, scripted and digital programming. RSP produces the E! hit series "Keeping Up With The Kardashians" and spin-offs "Kourtney And Kim Take Miami" and "Khloe And Lamar." RSP is currently producing "Married To Jonas" on E! and "Shahs Of Sunset" on Bravo. The company also produced the Emmy Award-winning reality series "Jamie Oliver's Food Revolution."
Seacrest is an investor in media and entertainment companies: he recently made an investment in Civic Entertainment Group, a marketing services company, as well as in the new cable channel, AXS TV. He has strategic partnerships with several blue-chip brands, including Coca-Cola, Procter & Gamble and Ford.
He is also chairman of the Ryan Seacrest Foundation, a nonprofit organization dedicated to enhancing the quality of life for seriously ill and injured children through unique programs that utilize multimedia and interactive platforms. RSF is building broadcast media centers within hospitals for children to explore the creative realms of radio, television and new media. RSF has opened broadcast media centers in Atlanta, Philadelphia and Dallas.
About The GRAMMY Foundation:
The GRAMMY Foundation was established in 1989 to cultivate the understanding, appreciation and advancement of the contribution of recorded music to American culture. The Foundation accomplishes this mission through programs and activities that engage the music industry and cultural community as well as the general public. The Foundation works in partnership year-round with its founder, The Recording Academy®, to bring national attention to important issues such as the value and impact of music and arts education and the urgency of preserving our rich cultural heritage. For more information about the Foundation, please visit www.grammyfoundation.org
About The Recording Academy:
Established in 1957, The Recording Academy is an organization of musicians, songwriters, producers, engineers and recording professionals that is dedicated to improving the cultural condition and quality of life for music and its makers. Internationally known for the GRAMMY Awards — the preeminent peer-recognized award for musical excellence and the most credible brand in music — The Recording Academy is responsible for groundbreaking professional development, cultural enrichment, advocacy, education and human services programs. The Academy continues to focus on its mission of recognizing musical excellence, advocating for the well-being of music makers and ensuring music remains an indelible part of our culture. For more information about The Academy, please visit www.grammy.com.
Source: The Recording Academy
Legendary producer, musician and TV personality awarded NAMM's highest honor
Carlsbad, CA (January 24, 2013) – The National Association of Music Merchants (NAMM) honors legendary music producer Randy Jackson with its highest honor, the "Music for Life" award. Jackson is recognized for his pervasive influence in the music world, and his longtime encouragement of budding music-makers.
Introducing the GRAMMY-winning producer, musician, songwriter, best-selling author, entrepreneur and beloved television personality to a packed house during the 2013 NAMM Show's Breakfast of Champions, NAMM president and CEO Joe Lamond refers to Jackson as one of music's true renaissance men.
"Throughout his career, Randy Jackson has served as an ambassador for music in all its forms – as a musician, a writer, collaborator, and producer," said Lamond. "His enthusiasm for the musicians he interacts with on "American Idol" is unabashed and real, and truly comes from an organic place. Randy Jackson knows music because he lives music."
NAMM's "Music for Life" award was created to recognize individuals and organizations that demonstrate, support and exemplify NAMM's vision that the joy of making music is a precious element of daily living for everyone. Past recipients have included musicians such as Stevie Wonder, Yoko Ono, Quincy Jones, Henry and Felice Mancini, as well as members of Congress, governors, business leaders, the Smithsonian, and Sesame Workshop.
Growing up in Baton Rouge, LA, Jackson was immersed in the region's veritable music gumbo on the streets, in church and at home. Developing an affinity for myriad styles, he naturally picked up the bass guitar at 13-years-old and began on a dynamic and diverse path. He has performed with Journey, Aretha Franklin, Bob Dylan, Jerry Garcia, Keith Richards and countless others. Jackson produced and collaborated with music luminaries from nearly all disciplines. All in all, he's received more than 1000 gold and platinum plaques with collective sales exceeding 200 million. Jackson moved seamlessly into his role as "American Idol's" longest-standing judge, combining his producer's sensibilities and his musician's ear to help make the show one of the highest rated in television history.
His charitable work includes Save the Children, the Gibson Foundation, Ronald McDonald House charities, the T.J. Martell Foundation, and NARAS Music for Schools. He is the architect of multi-million dollar fundraiser "Idol Gives Back," which delivered relief to beleaguered Louisiana in the wake of Hurricane Katrina. He also contributed to the remake of "We Are The World," benefiting Haitian relief efforts.
The NAMM Show gathers 95,000 members of the music product industry from around the world to preview new product debuts from thousands of brands across every category. Learn more about the 2013 NAMM Show at http://www.namm.org/thenammshow/2013.
About NAMM
The National Association of Music Merchants (NAMM) is the not-for-profit association with a mission to strengthen the $17 billion music products industry and promote the pleasures and benefits of making music. NAMM's activities and programs are designed to promote music making to people of all ages. NAMM is comprised of approximately 8,500 Member companies located in more than 87 countries. For more information about NAMM or the proven benefits of making music, interested parties can visit www.namm.org, call 800-767-NAMM (6266) or follow the organization on Facebook, Twitter and YouTube.
Sources: Lippin Group/NAMM
Dennis Haysbert to be in-show Announcer during Two-Hour Live Broadcast to air on
Feb. 1, 8-10 p.m. EST on NBC.
LOS ANGELES, CA (January 22, 2013) – The NAACP announced today that comedian, author, radio and talk show host, Steve Harvey will host and Samuel L. Jackson, Jamie Foxx, Queen Latifah, Wanda Sykes and Tony Goldwyn will be part of an all-star line-up to present at the 44th  NAACP IMAGE AWARDS.  In addition, Dennis Haysbert will be the in-show announcer during the LIVE broadcast from Los Angeles' historic Shrine Auditorium on Friday, Feb. 1, 8-10 p.m. ET (PT tape-delayed) on NBC.
"I'm honored to be hosting the 44th NAACP Image Awards, and celebrate the variety of film, TV, literary, music contributions, and special honorees this year. We're live on stage, got great things in store for the night!" commented Mr. Harvey.
The NAACP Image Awards are being produced by Reginald Hudlin and Brad Lachman. Bill Bracken will serve as Supervising Producer and Byron Phillips as Producer. The production team also includes Tony McCuin as Director and Melanie Massie as the Talent Executive.
Nominees for the NAACP Image Awards are determined by the number of entries received by the deadline.  To be eligible, projects must have had a national distribution date between January 1, 2012, and December 31, 2012. For the 2012 voting period, over 1,200 submissions were received by the artists, managers, publicists, production companies, record labels, studios, networks and/or publishers. From those entries, a nominating committee of 300 industry professionals and NAACP leaders from across the country select five nominees in each of the 53 categories. Those results were announced at a press conference. To determine the winners, the members of the NAACP vote via a secured online site. The results are tabulated by the Image Awards auditors, Bert Smith & Co., and the results are confidential until the envelope is opened LIVE on stage during the NBC telecast on Friday, February 1, 2013.
Event sponsors include:  FedEx, UAW/Chrysler, AT&T, Hyundai Motors, Wells Fargo, General Motors, Walmart, Bank of America, Walgreens, Gilead Sciences, AARP, Ford Motor, Anheuser Busch, Pepsico.
About The NAACP Image Awards:
The NAACP Image Awards is the premier multicultural awards show.  It celebrates the accomplishments of people of color in the fields of television, music, literature and film, and also honors individuals or groups who promote social justice through creative endeavors. For all information and latest news, please visit the official NAACP Image Awards website at http://www.naacpimageawards.net/
About the NAACP
Founded in 1909, the NAACP is the nation's oldest and largest civil rights organization. Its members throughout the United States and the world are the premier advocates for civil rights in their communities, conducting voter mobilization and monitoring equal opportunity in the public and private sectors. For more information visit http://www.naacp.org/
Sources: NAACP and The Lippin Group
Presentation to Trailblazing Actress and Activist
To Be Made During Live Broadcast on Feb. 1, 8-10 p.m. EST on NBC.
LOS ANGELES, CA (January 18, 2013) – Kerry Washington will be presented with the NAACP President's Award at the 44th  NAACP IMAGE AWARDS, broadcast live from 8-10 p.m. ET (PT tape-delayed) on Feb. 1 on NBC, it was announced today by the NAACP.
The NAACP President's Award, chosen by NAACP President and CEO Benjamin Todd Jealous, is bestowed in recognition of special achievement and distinguished public service.  Past honorees include Van Jones, President Bill Clinton, Soledad O'Brien, Ruby Dee, Muhammad Ali, and most recently, the Founding Members of the Black Stuntmen's Association.
"For the first time in 40 years, we have a black woman playing the leading role in a primetime drama on network television. Kerry Washington is a modern trailblazer," states Jealous.  "Her talent and will have taken her to heights we have not seen in years. She extends the tradition of women like Ruby Dee, Cicily Tyson, and Lena Horne. Rather than seeing her professional success as cause for political silence, she has chosen to use it as a platform for social change. Her championing of the rights of women around the world, and her early work to campaign for President Barack Obama are examples of her willingness to be a politically active and risk-taking woman in real life even as she plays one on TV."
NAACP award-winning actress, Kerry Washington, is a versatile and fearless actress with an impressive and diverse body of work.  With the critical and commercial success of her most recent projects (Django Unchained and ABC'sScandal) garnering industry-wide acclaim, as well as her involvement with President Obama's re-election campaign, Washington has proven herself to be an emerging power player in Hollywood as well as a social and political activist within the community.
Washington is an active member of the V-Counsel, an esteemed group of advisors to V-Day, the global movement to end violence against women and girls, and she serves on the board of Voices of a People's History, a non-profit arts and education group.  She also sits on the Artist's Committee for the largest national advocacy association for the arts, Americans For The Arts.  In 2008, Washington received several accolades including the Women's Project Women of Achievement Award, the GWU Alumni Association's Recent Alumni Achievement Award, and the Congressional Black Caucus Foundation Phoenix Award, for Washington's commitment to social advocacy. In 2009, Washington received the US Conference of Mayors Artist-Citizen Award for public leadership in the arts.  That year she was also named a member of President Obama's Committee for the Arts and Humanities, headed by First Lady Michelle Obama.
Originally from The Bronx, New York, Washington is a graduate of The Spence School. In 1998, she graduated Magna Cum Laude and Phi Beta Kappa from The George Washington University.
The NAACP Image Awards are being produced by Reginald Hudlin and Brad Lachman. Bill Bracken will serve as Supervising Producer and Byron Phillips as producer. The production team also includes Tony McCuin as director and Melanie Massie as the talent executive.  The live show will originate from The Shrine Auditorium in Los Angeles.
Event sponsors include  FedEx, AARP, UAW/Chrysler, Wells Fargo, Ford Motor Company, Anheuser Busch, Hyundai Motors, AT&T, Southwest Airlines and Walgreens.
About the NAACP Image Awards:
The NAACP Image Awards is the premier multicultural awards show.  It celebrates the accomplishments of people of color in the fields of television, music, literature and film, and also honors individuals or groups who promote social justice through creative endeavors. For all information and latest news, please visit the official NAACP Image Awards website at http://www.naacpimageawards.net

About the NAACP:
Founded in 1909, the NAACP is the nation's oldest and largest civil rights organization. Its members throughout the United States and the world are the premier advocates for civil rights in their communities, conducting voter mobilization and monitoring equal opportunity in the public and private sectors. For more information visit http://www.naacp.org/
Sources: NAACP and The Lippin Group

On Thursday, January 17, 2013 NBC Rock Center with Brian Williams television show investigates about The Church of Scientology controversies.
The most famous Scientologist to leave Scientology and speak out against it, sits down for an exclusive television interview with Harry Smith. Paul Haggis, the Oscar-winning writer and director of "Crash" opens up about what attracted him to Scientology and why he ultimately walked away from it after 34 years. Plus, Pulitzer Prize-winning author Lawrence Wright who wrote the new book Going Clear: Scientology, Hollywood and The Prison of Belief, and former members of the Church of Scientology who say they were pressured to abort their child and were punished when they chose not to. The church denies the allegations.

The Sea Organization, or Sea Org, is a unit of the Church of Scientology, comprising the church's most dedicated members. The church refers to it as a religious order. As of 2009 it had around 6,000 members.[2] The Sea Org was established on 12 August 1967 by L. Ron Hubbard, the science fiction writer and church's founder, initially on board three ships, theDiana, the Athena, and the Apollo. In 1971 it assumed responsibility for the ecclesiastical development of the church, and in particular for the upper levels of its training, known asOperating Thetan or OT levels.[3]
It moved to land bases in 1975, though maritime customs persist, with members wearing naval-style uniforms and addressing each other, women included, as "sir."[4] In 1988 the church purchased a 440-foot ship, the "Freewinds," which docks in Curacao in the southern Caribbean and is used as a religious retreat and training centre, staffed entirely by Sea Org members.[2]Sea Org members sign one-billion-year contracts with the church, in exchange for which they are given free room and board, and a small weekly allowance. They are allowed to marry, but must relinquish their membership if they have or want to raise children.[5]
The Billion-year contract
According to Hubbard, the Sea Org's mission is "an exploration into both time and space."[6] Sea Org members act as goodwill representatives and administrators of Scientology; all policy and administrative posts in the church's key organizations are held by Sea Org members.[3] Most members are given room, board and a small weekly allowance of about $24 per week, though some sources list $50.[9]
In accordance with Scientology beliefs, members are expected to return to the Sea Org when they are reborn; the Sea Org's motto is "We Come Back."[1] Members must therefore sign a symbolic billion-year "religious commitment," pledging to "get ethics in on this planet and the universe."[10] The church contends that the contract is merely symbolic of the dedication members are expected to give to the organization, and that they are free to leave if they wish. After signing, members report to the Estates Project Force, the Sea Org's induction programme; Melton writes that members may take several years between signing the commitment and attending the induction. Once induction is completed, the final decision to join is made.[11]
Members who leave the Sea Org are issued a "freeloader's bill," retroactively billing them for any auditing or training they have received. Although the bill is not legally enforceable, these Scientologists may not receive services at any Scientology organization until they pay the bill and perform an ethics course.[12]
About Going Clear: Scientology, Hollywood, and the Prison of Belief:
A clear-sighted revelation, a deep penetration into the world of Scientology by the Pulitzer Prize-winning author of The Looming Tower, the now-classic study of al-Qaeda's 9/11 attack. Based on more than two hundred personal interviews with current and former Scientologists—both famous and less well known—and years of archival research, Lawrence Wright uses his extraordinary investigative ability to uncover for us the inner workings of the Church of Scientology.
At the book's center, two men whom Wright brings vividly to life, showing how they have made Scientology what it is today: The darkly brilliant science-fiction writer L. Ron Hubbard, whose restless, expansive mind invented a new religion. And his successor, David Miscavige—tough and driven, with the unenviable task of preserving the church after the death of Hubbard.
We learn about Scientology's complicated cosmology and special language. We see the ways in which the church pursues celebrities, such as Tom Cruise and John Travolta, and how such stars are used to advance the church's goals. And we meet the young idealists who have joined the Sea Org, the church's clergy, signing up with a billion-year contract.
In Going Clear, Wright examines what fundamentally makes a religion a religion, and whether Scientology is, in fact, deserving of this constitutional protection. Employing all his exceptional journalistic skills of observation, understanding, and shaping a story into a compelling narrative, Lawrence Wright has given us an evenhanded yet keenly incisive book that reveals the very essence of what makes Scientology the institution it is.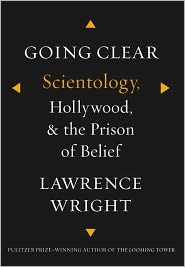 About Lawrence Wright: Lawrence Wright is a graduate of Tulane University and the American University in Cairo, where he spent two years teaching.   He is a staff writer for The New Yorker, and the author of one novel, God's Favorite, and six previous books of nonfiction, including In the New World; Saints and Sinners; Remembering Satan; and The Looming Tower, which was the recipient of many honors–among them, The Pulitzer Prize, the Los Angeles Times Book Prize, and the New York Public Library's Helen Bernstein Book Award for Excellence in Journalism.    He is also a screenwriter and a playwright.   He and his wife are longtime residents of Austin, Texas. Lawrence Wright official website: http://www.lawrencewright.com/
Sources: NBC, Amazon.com, Wikipedia
Editor's Note: We have attended to The Church of Scientology Celebrity Center in Hollywood for many community events and we can tell you that we do not see anything of what is been reported or written on the book about how they treat brainwashed people. The only thing that we can say is that is up to you, if you let somebody take advantage or brainwash you about religions.
WASHINGTON, DC –  The Presidential Inaugural Committee (PIC) announced today the musical artists selected to perform at the 57th Presidential Inauguration.  Beyoncé, Kelly Clarkson, and James Taylor will all perform at the inauguration, which will take place on the West Front of the U.S. Capitol on January 21, 2013.
"Vice President Biden and I are honored to have these wonderfully talented musical artists perform at the Inaugural ceremony," President Obama said today. "Their music is often at the heart of the American story and speaks to folks across the country."
Beyoncé will sing the National Anthem, Kelly Clarkson will perform "My Country Tis of Thee," and James Taylor will sing "America the Beautiful."
President Obama was involved in the selection of participants in the Inaugural program, including the musical performers. Other ceremonial participants include Myrlie Evers-Williams, who will give the invocation; Richard Blanco, who will serve as the Inaugural poet; and Reverend Louie Giglio, who will deliver the Benediction.
Participant Biographies:
Beyoncé has become one of the most widely recognized and highly respected women in pop culture. She emerged as a founding member and lead singer and songwriter of Destiny's Child and later developed into an iconic solo artist, actress, philanthropist and businesswoman. She has released four #1 solo albums  and has sold over 75 million albums worldwide. Her work has earned her numerous awards and accolades, including 16 Grammy Awards.  Billboard named her the Top Female Artist and Top Radio Songs Artist of the 2000s decade. The Recording Industry Association of America also recognized Beyoncé as the Top Certified Artist of the 2000s.
James Taylor's music embodies the art of songwriting in its most personal and universal form.  In a career spanning four decades, with close to 100 million albums sold and five Grammy Awards, his immediately recognizable warm baritone, introspective lyrics and unique guitar playing still blaze a path to which musicians throughout the world aspire.  In 2011 James was awarded the National Medal of Arts by President Obama at The White House and in 2012 he was awarded the distinguished Chevalier of the Order of Arts and Letters by the French government.  Both medals are their nation's highest honors for artistic excellence recognizing outstanding achievements and support of the arts.
Kelly Clarkson has released five studio albums and one greatest hits album, sold more than 20 million albums worldwide and has had 10 singles in the top 10 on the Billboard Hot 100 Chart. A global superstar, Clarkson has won two Grammy Awards, four American Music Awards, two ACM Awards, a CMA Award and 12 Billboard Music Awards. Her most recent studio album, Stronger, is certified Platinum by the R.I.A.A. and was recently nominated for four 2013 Grammy Awards.